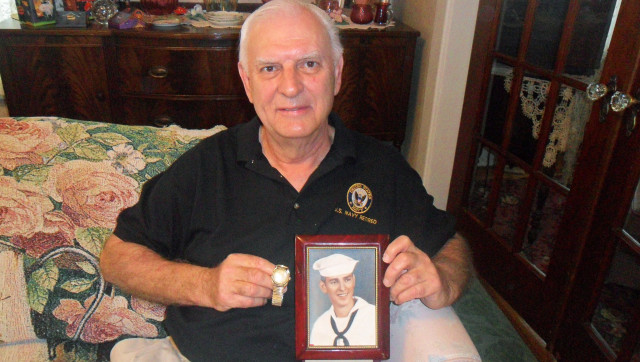 Courtesy of Ed Grigor
ENDICOTT, N.Y. — A man in upstate New York finally has his wristwatch back, 53 years after it was stolen.
Ed Grigor says he had long ago forgotten about the 23-jewel wristwatch stolen when he was in the Navy.
According to Press Connects, when Grigor graduated from high school, his aunt gave him the gold wristwatch, with his name and the date engraved on it.
He had just about forgotten about the watch until last month, when Grigor got a call from a Las Vegas couple who said they were in possession of the missing timepiece.
"I get calls like this all the time," Grigor told Press Conference. "And coming from Vegas, it must be hoax."
Turns out it wasn't a joke -- Pat and Mark Herrick explained they were able to track down Grigor because his name was engraved on the back of the watch.
Pat Herrick's mom owned a guest house and soda shop frequented by young Navy servicemen stationed in Virginia Beach. When they ran low on money, she would hold collateral until they could pay their bills, but some never came back. When Pat's mom died, the watch was found among the unclaimed items still in her possession, reported Press Conference.
After some quick searching on the Internet and in the New York white pages, the Herricks tracked down Grigor and mailed him his long lost watch.
Grigor has since nicknamed his watch the Time Traveler.
Check out more images of Grigot and his watch below:
NY Man Gets watch Back After 53 Years
FOLLOW HUFFPOST