D.C.'s Hipness On Twitter: VerdeHouse Goes For #hipDC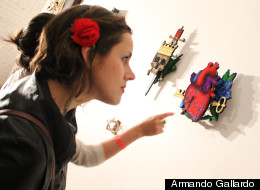 WASHINGTON -- It may take more proof than this to convince the naysayers of D.C.'s hipness.
Will Sommer in the Washington City Paper reported Monday that VerdeHouse -- a company that turns empty spaces into event venues -- is attempting to rehabilitate D.C.'s reputation as a very, very unhip place through a Twitter campaign.
The company is asking twittering-types to use the hashtag #hipDC while spreading the message of D.C.'s hipness. The campaign comes on the heels of Rebecca Greenfield's article in The Atlantic -- an article that has been exhaustively, exhaustingly picked-over -- in which Greenfield argues that, despite Forbes making a list that says D.C. is the country's second-coolest city, just after Houston, D.C. is not hip and never will be. (The difference between coolness and hipness is not explored in the relevant literature.)
What's been tweeted so far? Alas, not a lot that is likely to convince Greenfield that she was wrong.
The first use of #hipDC came on Oct. 16, in a tweet sent out by VerdeHouse -- which appears to be the only Twitter user employing this hashtag until Monday.
Since then, the majority of #hipDC mentions have been devoted to taking note of the #hipDC campaign itself, but a few have gotten more into the city's specifics:
@Alex_in_DC

Alex Dodds
Because everyone at your friend's kegger spends their days changing the world.
#hipDC
@verdeHOUSE
@MLGreenhouse

Morgan Greenhouse
@bonafidel

Ashley Fidel
What does
#hipDC
mean to me? Pretending to pick up a salad and then finding the most amazing food truck outside my office!
@verdehouse
Of course Morgan Greenhouse, one of the above tweeters, is the founder and CEO of VerdeHouse; another also works at VerdeHouse.
Then there's this exchange:
@willsommer

Will Sommer
Postscript: In Greenfield's second Atlantic article about D.C. really not being hip -- she cites as dispositive that people took such strong objection to the first article -- one comment seemed perfectly on-point:
Long story short, DC will never have hipness. But it does have the bulk of our money (7 of the 10 richest counties in America surround this swampy jewel), so I guess it'll just have to be content with that.
PSS: GQ thinks we dress badly, too. #welldressedDC is next?
Art All Night is hip, isn't it?: