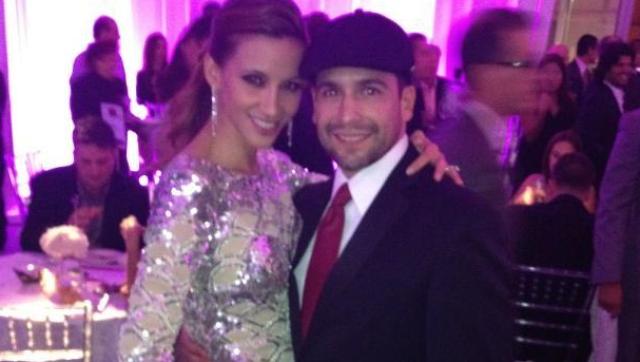 Una noche por demás explosiva fue la de este domingo en "Mira Quién Baila", edición a la que le queda tan sólo tres galas antes de la final. La sorpresa Bobby Pulido y Argelia Atilano nominados y enfrentados pero con gran enojo. Mientras que con un récord de votos con más de 2,000,000, Maripily Rivera quedó eliminada y quedó en la competencia Alicia Machado con un 62%.
La gala giró en torno a lo que llamaron "la guerra de las divas": Maripily y Alicia Machado, quienes después de semanas y semanas de pelea, hoy parecieron reconciliarse, por lo menos ante las cámaras.
La producción aprovechó el morbo que despertó el conflicto y las puso a bailar en la misma coreografía: un tango a duo con el bailarín Paul, quien supuestamente era disputado por la venezolana y la puertorriqueña.
No faltó el ritmo caribeño con una salsa para Alicia y una bachata para Maripily. Finalmente llegó el momento tan esperado: saber a quién la gente apoyó y eligió para que siguiera en la competencia y esa fue Alicia Machado quien recibió la noticia con lágrimas de emoción.
Por la otra parte, Maripily tomó la eliminación como una dama, con una sonrisa de oreja a oreja, agradecida con la oportunidad, con los que votaron por ella y hasta le pidió al público que siga apoyando el show aunque ella haya quedado fuera de la competencia.
Los tres competidores invitados a realizar un nuevo baile fueron Fernando Arau, quien claramente tiene una actitud de ganador después de los malos momentos que pasó en las galas anteriores, Argelia Atilano y Bobby Pulido, estos dos últimos fueron finalmente los nominados.
Pero no todo fue tomado con tanta felicidad y armonía como se vio en pantalla. HuffPost Voces pudo saber que, desde temprano Alicia Machado ya sabía el resultado y eso la tenía feliz y tranquila a la hora del show. Que Maripily estaba muy triste porque la línea de celulares por la que se podía votar, no está en Puerto Rico, por lo cual, nadie de la isla pudo apoyarla.
Que Bobby Pulido está furioso con la nominación pues asegura que sus errores fueron por culpa de la producción ya que su bailarina no ensayó con el vestido, al hoy tenerlo puesto ya él perdía el visual de por dónde cargarla y eso lo sacó de concentración. Y como fresa del pastel, Argelia también siente que fue injusta su sentencia pues, para ella, este domingo fue su mejor noche.
MIRA LOS FAMOSOS QUE VAN A 'MIRA QUIÉN BAILA':
SUBSCRIBE AND FOLLOW
Get top stories and blog posts emailed to me each day. Newsletters may offer personalized content or advertisements.
Learn more