And another makes eight!
Justin Bieber revealed his latest tattoo on Instagram yesterday (Oct. 28), sharing a photo of his new design. The singer, 18, got an owl tattooed on his left arm, right next to his "Believe" ink.
"Befo the paps get me," Bieber wrote, showing off the owl, which covers most of his left forearm.
This is the second tattoo Bieber has debuted within the past few weeks, revealing a crown on his right chest just last month. "New tattoo its a crown if you couldn't tell," he tweeted, along with a shirtless photo of himself.
Bieber has a total of eight tattoos, including one of the Japanese Kanji symbol for music on his right arm, which he had done in July. Along with "Believe," the crown and his new owl ink, the "As Long As You Love Me" singer has a praying hand etched onto his leg, a bird on his hip, the Hebrew word for Jesus on his ribcage and an image of Jesus on his left calf.

Check out a photo of Bieber's new tattoo below: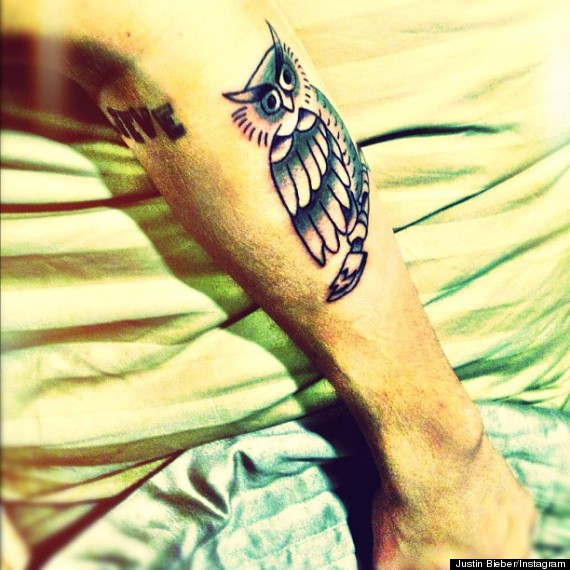 Also on HuffPost:
Loading Slideshow
Chris Brown

Chris Brown shocked fans when he debuted a tattoo of a what looks to be a battered woman on his neck on Sept. 1. Many questioned whether or not it was meant to be Rihanna, but Brown's rep insists his ink is of a sugar skull, which is associated with the Mexican celebration of The Day of the Dead. Days later, Brown debuted his tattoo of a fighter jet, which just so happens to be in the same spot as Rihanna's new ink of the goddess Isis. Hmm....

Rihanna

Here it is: Rihanna's latest tattoo, which she got in honor of her late grandmother. The singer posted the photo on Instagram, writing, "Goddess Isis - Complete Woman - Model for future generations - #GRANGRANDOLLY - always in and on my heart #1love." It's a beautiful tribute, but Chris Brown's follow-up ink makes us question the status of their relationship.

Ke$ha

Ke$ha topped the list for worst tattoo back in June when she debuted her new "Suck It!" mouth ink on Instagram. We don't really know why she decided to get this tattooed on her lower lip, but to be honest, we don't really want to ...

Angelina Jolie

Ah, one of the most infamous celebrity tattoos: Angelina Jolie's ink tribute to her ex-husband Billy Bob Thornton, who she was married to from 2000-2003. Jolie has since got her "Billy Bob" tattoo removed and replaced it with the longitudes and latitudes of the birth places of her six children with fiancé Brad Pitt.

Britney Spears

Britney Spears was thrilled when she got a tattoo of a Chinese symbol on her hip that stood for "mysterious." Sadly, Spears didn't check what she was permanently putting on her body, considering the symbol ended up standing for "Strange." Whoops ...

Chad 'Ochocinco' Johnson

Chad Johnson (formerly Chad Ochocinco) was distraught after his wife of a few weeks, reality star Evelyn Lozada, filed for divorce on Aug. 14. The NFL player allegedly head-butted Lozada following an argument, which left him in jail and out of a job. So, in order to prove his love for his wife, Johnson tattooed her face on his right leg. Well, he better start removing that one.

Dean McDermott

Dean McDermott really loves his wife ... no, really. The actor got Tori Spelling's face tattooed on his left tricep to represent his "undying love" for her. He also has two other tattoos for Spelling, including one of an angel displaying the words "Truly, Madly, Deeply, Tori" and a cross reading "Tori Girl."

Kat Von D

Kat Von D probably regrets her decision to tattoo a picture of ex-fiancé Jesse James as a little boy on the side of her body. (The pair split last summer). At least she has enough ink to distract onlookers from catching a glimpse of the now-awkward tattoo.

Kate Gosselin

She may not think it's a bad tattoo, but Kate Gosselin's ankle ink of Pooh Bear is a little disturbing. Then again, we're sure her eight kids love it ... well, until they hit their teens.

Megan Fox

Megan Fox might have loved Marilyn Monroe when she decided to ink her famous face on her right forearm, but the actress is currently in the process of removing the tattoo. Why? Fox told <a href="http://www.usmagazine.com/celebrity-body/news/megan-fox-why-im-removing-my-marilyn-monroe-tattoo-2011238" target="_hplink">Amica magazine</a> Monroe was "a negative person ... disturbed, bipolar." Adding, "I'm removing it ... I do not want to attract this kind of negative energy in my life."

Kimberly Stewart

Kimberly Stewart obviously loves her dad, Rod Stewart, but did she have to go as far as getting "Daddy's Little Girl" tattooed right "there"? Probably not. It just makes us uncomfortable.

Lily Allen

Lily Allen's tattoo is pretty self-explanatory. That's why it's just unnecessary. The singer has the word "Shhh..." inked on her finger. Ironically enough, Rihanna <a href="http://www.justjared.com/2009/02/19/lily-allen-copies-rihannas-shhh-tattoo/" target="_hplink">reportedly</a> has the same one!

Margaret Cho

Margaret Cho started getting major tattoo work done in 2006 and has continued to ink herself over the years. Our favorite piece of body artwork? Her old-timey barmaid garter and gun! One of a kind.

Mike Tyson

Mike Tyson might have one of the most recognizable tattoos in Hollywood, thanks in part to his cameo in the hit movie "The Hangover." But the ink really got famous when Tyson's tattoo artist sued the producers of "The Hangover 2," claiming the face ink Ed Helms sported was too similar to Tyson's, which he owned the copyright to. The dispute was settled and Tyson's tat is still firmly inked on his face.

Steve-O

Steve-O doesn't just have one bad tattoo, he has dozens. But the "Jackass" star knows his tats are stupid, and that's why he loves them! "I never get a tattoo unless I know it will make somebody smile," he said. Hey, got to love him!

Hayden Panettiere

Hayden Panettiere's tattoo can be seen peeking out of her red-carpet dresses, but do you know it has no meaning? The "Nashville" star accidentally misspelled the Italian phrase "Vivere senza rimipianti," which means "to live without regrets" on her back. <a href="http://www.huffingtonpost.com/2009/05/21/hayden-panettieres-misspe_n_206263.html" target="_hplink">Her tattoo reads </a>"rimipianti" instead of "rimpianti."

Ryan Gosling

Did you know Mr. Ryan Gosling had tattoos? Well, he does. And surprisingly, he thinks they're pretty stupid. "I like when [tattoos] look bad, but no one will do bad tattoos," he told <a href="http://www.wmagazine.com/celebrities/2010/10/michelle_williams_ryan_gosling" target="_hplink">W magazine</a> in 2010 of his various arm tattoos. "So I did one myself. That"s why it"s bad. I"m waiting to get old -- I think old guys with tattoos look good." We have no doubt Gosling will always look good.

Pink

Price check on Pink! The singer has a barcode on the back of her neck, which might just possibly be one of the silliest tats ever. Reportedly the code is made up of her birthdate (9/8/79), the release date of her album "Missundaztood" (11/20/01) and her lucky number (13).

Gucci Mane

Gucci Mane debuted his new tattoo of an ice cream cone with three scoops and the word "Brrr" across the right side of his face in January 2011. If you're wondering what it means, so are we. According <a href="http://www.rollingstone.com/music/news/what-does-gucci-manes-ice-cream-cone-tattoo-mean-20110113" target="_hplink">to his rep</a>, he wants fans to know that he lives his life "Cool as ice... as in 'I'm so icy, I'll make ya say Brrr."

Marc Jacobs

Marc Jacobs has a couple of interesting tattoos, but his most peculiar is an image of Spongebob SquarePants on his right bicep. "I just think the colors of that particular cartoon are really beautiful and really sophisticated and interesting," Jacobs told <a href="http://nymag.com/thecut/2008/02/marc_jacobs_wears_his_spongebo.html" target="_hplink">NY Magazine</a> of the unique ink.