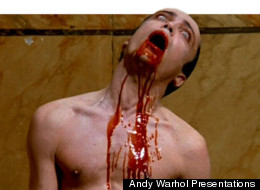 Halloween festivities may have taken place over the weekend, but the fun isn't over at Miami's independent movie theaters.
At Coral Gables Art Cinema, the entire family is invited to watch "Coraline" in costume. Young Coraline, voiced by Dakota Fanning, is bored by her family's mundane life. When she discovers a tunnel that leads her to an alternate universe, she's excited by her new family's alter egos -- but also realizes that they won't let her leave.
For adult scary movies, Miami Beach Cinematheque is playing Andy Warhol's "Flesh for Frankenstein" and "Blood for Dracula," bringing back the creepy but satirical fun of 1970s horror films.
For those who can't get enough of the pin up era, "Bettie Page Reveals All" will be playing at the cinematheque as well, with a special appearance by Bunny Yeager, the first female pin-up photographer.
Also at our indie cinemas: LGBT activists combat AIDS, adopted daughters of China, and the chaos of Ireland in the '90s.
This Week in Miami Cinema
Blood for Dracula Oct. 30 at 8:30 p.m. Miami Beach Cinematheque Tickets: $8 to $10, with "Flesh For Frankenstein" from $10 to $15 The cinematic pairing to "Flesh For Frankenstein," Count Dracula can only live off the blood of a virgin, and decides to head to Italy because of its holy nature. He finds a family of virgins, but must keep away the hunky handyman from ruining his plans.

Flesh for Frankenstein Oct. 29 at 8:30 p.m. Miami Beach Cinematheque Tickets: $8 to $10, with "Blood For Dracula" from $10 to $15 Paul Morrissey recreates the classic story with a brother and sister couple working to create the perfect couple a la Frankenstein.

Coraline Oct. 31 at 6:30 p.m. MTCfilm Tickets: $7.50 to $10.50 A movie perfect for the whole family, Coraline Jones is bored with her life and her family, and accidentally comes across a parallel universe where she has the best parents ever. However, trouble brews when her "other" family doesn't want her to leave. Guests are encouraged to wear their Halloween costumes, and kids will get candy.

How to Survive a Plague Oct. 29, 30, 31 and Nov. 1 at 7 p.m. O Cinema Tickets: $7.50 to $10.50 In the '80s, AIDS meant certain death. A group of LGBT activists wanted to change this, and worked to spur research into the disease and fight oppression surrounding those with it. Find out how they turned it into the manageable disease that more people are surviving every day.

Café de Flore Nov. 12 to 15 at 4, 6:30 and 9 p.m. Coral Gables Cinema Tickets: $6 to $11 The film follows a woman living in 1960s Paris with her disabled son, and a modern day DJ in Montreal. The two have very different stories and struggles, but the audience will find out by the end how they are linked. Actor Kevin Parent will be answering questions after the 7 p.m. screening on Nov. 2 via video link.

Bettie Page Reveals All Nov. 1 at 8:45 p.m., Nov. 2, 3, 4 at 7 and 9 p.m. Miami Beach Cinematheque Cost: $8 to $10 Bettie Page was the queen of pin up, and in this film she talks candidly about her role in modeling, feminism and being just plain risque for her time. The woman who discovered Page and is considered the first female pin up photographer, Bunny Yeager, will be signing copies of her book at 7 p.m. on Nov. 2.

The Well-Digger's Daughter (La fille du puisatier) Nov. 2 at 7 p.m., Nov. 3 at 4 p.m., Nov. 3 8 p.m., Nov. 4 6 p.m. Cosford Cinema Tickets: $7 to $9 Patricia is the widower Pascale's eldest daughter and the light of his eyes, and he has plans to marry her off to his assistant. His plans end when she becomes pregnant by a pilot, off to serve in the front lines during WWI. French with English subtitles.

Somewhere Between Nov. 2 9 p.m., Nov. 3 at 2 p.m., Nov. 3 at 6 p.m. and Nov. 4 4 p.m. Cosford Cinema Tickets: $7 to $9 This documentary follows four girls who were adopted from China into American families since the One Child Policy was enacted. Then, the four travel to the provinces they were born in to confront their past to deal with their future.

Shadow Dancer Oct. 26 at 8 p.m. Cinema Paradiso Tickets: $6 to $10 Set in Belfast in 1993, a single Republican mother Collette lives with her hardcore IRA family. While in London, a failed IRA bomb plot is discovered and Collette is arrested. She's then given the choice to either go to prison for 25 years or return home to Belfast to spy on her family. "Shadow Dancer" is just one of many films playing at Cinema Paradiso for the Fort Lauderdale International Film Festival.