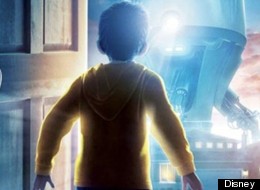 "Mars Needs Moms" is one of the most notorious flops in Hollywood history. With a budget of $150 million, the Robert Zemeckis production -- which was an animated film shot using motion capture technology -- earned just $6.9 million during its opening weekend and finished with only $38.9 million worldwide. All told, Disney, the studio that released "Mars Needs Moms," lost a reported $125 million on the film.
Not that its failure was a total surprise: As reported by the New York Times back in 2011, the studio shuttered Zemeckis' motion-capture production company, ImageMovers Digital, almost a year before "Moms" flopped, and also pulled the plug on the director's planned mo-cap remake of "Yellow Submarine."
Despite that record futility, however, there is still one person who thinks "Mars" was a success: Zemeckis himself.
"It's the best 3-D movie since 'Avatar,'" Zemeckis said at the Philadelphia Film Fest last weekend (via Movieline). "It's the way 3-D should be presented."
Zemeckis blamed the poor box office performance of "Mars Needs Moms," in part, on the advertising. "It was not marketed properly," he said.
In the post-mortem done after the "Mars Needs Moms" release, there were many factors cited for the film's failure. As the New York Times noted, the film arrived in theaters during a wave of kids' movies, audiences were revolting against higher 3D surcharges, and the mo-cap technology was never fully embraced by ticket buyers.
For his part, Zemeckis -- who produced "Moms," but directed the motion-capture spectacles "The Polar Express," "Beowolf" and "A Christmas Carol" -- might be done with the whole thing.
"It was great just to do an inexpensive movie," Zemeckis told the New York Times about making "Flight," his first live-action feature since "Cast Away" in 2000. "I'm really tired of making these huge, over $100 million movies where they literally mean life and death for a studio. It's really rough making these expensive movies. Everyone is hysterical."
For more from the Philadelphia Film Fest, head over to Movieline.
[via Movieline]
Cost: $44 million Worldwide gross $3.4 million Total losses: $40.6 million Director Michael Cimino had all sorts of cachet following his Oscar-winning work on "The Deer Hunter." His next feature? This costly mess, which is still synonymous with Hollywood hubris gone mad, 32 years after its release. Like "Cutthroat Island" did with Carolco, "Heaven's Gate" eventually led studio United Artists to shutter its doors.

Cost: $55 million Worldwide gross: $14.3 million Total losses: $40.7 million The road to ruin. The Warren Beatty and Dustin Hoffman comedy (from director Elaine May) was rife with post-production woes, which led to bad pre-release buzz. As the late Mike Nichols, May's former comedy partner, said: "['Ishtar'] is the prime example that I know of in Hollywood of studio suicide."

Cost: $115 million Worldwide gross: $18.5 million Total losses: $96.5 million The movie that sunk (sorry) both Renny Harlin's directing career and production company Carolco, though who could be surprised? Even Harlin and star Geena Davis knew "Cutthroat Island" -- about a female pirate -- was bad news from the start. "We begged to be let go. We begged that we didn't have to make this movie," he told KCRW last year. "We felt that a pirate movie with a female lead was suicidal, but we were contractually obligated."

Cost: $160 million Worldwide gross: $61.9 million Total losses: $98.1 million Directed by John McTiernan ("Die Hard") and eventually re-cut by author Michael Crichton (who wrote "Eaters of the Dead," which the film was based on), "The 13th Warrior" was another career-altering bust. The film left such a sour taste in the mouth of co-star Omar Sharif that he retired from acting for four years.

Cost: $103 million Worldwide gross: $29.7 million Total losses: $73.3 million Based on the book by L. Ron Hubbard, "Battlefield Earth" was one of the worst-reviewed films ever. Perhaps star John Travolta would have had better luck bringing "Dianetics" to the big screen?

Cost: $105 million Worldwide gross: $10.3 million Total losses: $94.7 Thanks to star Warren Beatty's meticulous nature, this romantic comedy took three years and millions of dollars to produce. When it was finally released in 2001, audiences didn't care: "Town & Country" was an all-time bust and marks the last time Beatty appeared onscreen.

Cost: $120 million Worldwide gross: $7.1 million Total losses: $112.9 million From "Holy Man" to "Showtime" to "Meet Dave" to "A Thousand Words," Eddie Murphy is dependable for one thing: box-office washouts. "Pluto Nash" was his most notorious, a $100 million space "comedy" that couldn't even gross $5 million in total at the domestic box office.

Cost: $74 million Worldwide gross: $7.2 million Total losses: $66.8 million Jennifer Lopez was right: It was "turkey time."

Cost: $145 million Worldwide gross: $25.8 million Total losses: $119.2 million Forget "The Alamo."

Cost: $120 million Worldwide gross: $48.6 million Total losses: $71.4 million How do you know this James L. Brooks romcom was doomed for disaster from the start? Look at the reported budget, which spiraled out of control after reshoots.

Cost: $175 million Worldwide gross: $38.9 million Total losses: $136.1 million Lost in the uncanny valley. The Robert Zemeckis-produced motion-capture spectacle, "Mars Needs Moms," was such a costly mistake, Disney canceled the director's plans to remake "Yellow Submarine" in a similar fashion.

Cost: $325 million Worldwide gross: $219.9 million Total losses: $105.1 million Despite over $100 million in domestic grosses, "Green Lantern" wound up being a write-off for Warner Bros. Worse, any hope to turn this fringe comic character into a franchise like "Iron Man" -- one that could produce income for the studio for years to come -- was lost for years. (Warner Bros. announced plans to reboot "Green Lantern" in 2020.) Hal Jordan wasn't kidding about that whole "blackest night" thing.

Cost: $375 million Worldwide gross: $282.7 million Total losses: $92.3 million John Carter of flops. The costly live-action debut from Pixar director Andrew Stanton reportedly lost Disney $120 million, this despite grossing almost $300 million worldwide.

Cost: $210 million Worldwide gross: $303 million "Battleship" earned $300 million worldwide, but because of high costs, the film reportedly lost Universal parent company NBC $150 million.