Update: The gala has been postponed due to hurricane damage. Visit the Performa website to stay updated.
Performa's upcoming over-the-top gala at Stage 37 in New York will pay tribute to the avant-garde party people by reviving Relâche, a 1924 Surrealist ballet by Francis Picabia and composer Erik Satie. Described as "an evening of perpetual motion and haute couture," the ballet revival will be attended by partygoers likely clad in only the finest black-and-white attire. As a result, we will give a prize to the first penguin we see.
Activities will include the drawing game known as exquisite corpse, a costuming station and a "time machine photo booth." (While we are not sure exactly what this entails, we are certainly hoping it involves Wyld Stallyns.)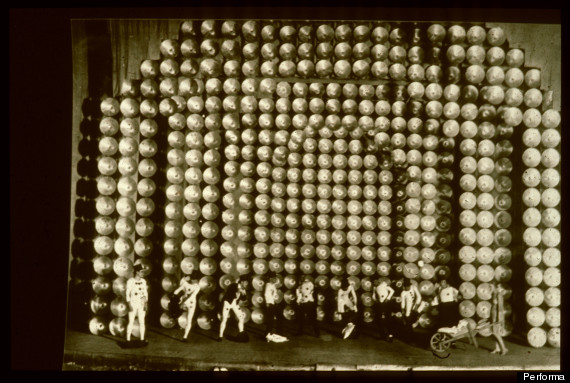 We're not sure what's going on at the original party but it looks so fun!

Contemporary artist Ryan McNamara will play the role of Picabia for the evening, surrounded by aerial acrobats, a 12-piece live orchestra and the original Satie score. Perhaps the most indulgent part will be the Surrealist-inspired menu, set to include Magritte green apples on the place settings and a platter titled "How Many Surrealists Does It Take to Screw in a Lightbulb? (A Fish)."
Tickets range from $150 to $25,000, and VIP guests are expected to include Agnes Gund, Toby Devan Lewis, curators Cecilia Alemani, Milly Glimcher, Dominique Levy, Hans Ulrich Obrist, Yvonne Force Villareal, and artists Ross Bleckner, Ryan McNamara, Cindy Sherman, and Michele Oka Doner. Not bad company, eh?
To get you in the mood, see a racy NSFW slideshow from "Man Ray | Lee Miller: Partners in Surrealism" that recently showed at the Legion of Honor in San Francisco:
SUBSCRIBE AND FOLLOW
Get top stories and blog posts emailed to me each day. Newsletters may offer personalized content or advertisements.
Learn more