Este martes 30 de octubre sale a la renta y venta en Estados Unidos una película de Salma Hayek que seguramente no has visto pero que deberías: "Americano". Entre sus papeles más comerciales como "Puss in Boots" o "Savages" hace unos cuantos meses, la veracruzana también apareció en esta pequeña película independiente protagonizada, escrita y dirigida por el francés Mathieu Demy, que tuvo un estreno bastante limitado.
No obstante, es uno de los papeles más candentes en los que hemos visto a Salma: como una stripper que también trabaja como prostituta en un lugar de mala muerte en Tijuana, y que oculta un secreto con la madre muerta del protagonista. Claro, ya antes habíamos visto a Salmita quitándose la ropa en varias ocasiones. Como recordarás, en "Dogma" también bailó en el tubo y, más inolvidable, en "From Dusk Til Dawn" lo hizo con tremendo pitón alrededor del cuello.
"Americano" es un viaje introspectivo de Martin (Demy), quien recibe la noticia de la muerte de su madre justo cuando se encuentra en una disyuntiva en la relación con su novia Claire (Chiara Mastroianni, hija de Catherine Deneuve y Marcello Mastroianni). Evidentemente, viaja de su casa a París directo hasta Los Angeles para atender todos los asuntos de la muerte de su progenitora y, de paso, descubre varias cosas en su camino, al reencontrarse con la gente y el barrio donde pasó su infancia.
Es ahí donde se topa con Linda (Geraldine Chaplin), la mejor amiga de su madre, quien le ayuda con todo el proceso y lo lleva a la dirección correcta cuando descubre que en el testamento le dejó algo a una misteriosa mujer llamada Alma - el papel de Salma. De L.A., Martin viaja a Tijuana para ver qué papel juega Alma en la historia y qué ocultaba su madre.
La película "Americano" resulta un interesante y nostálgico ejercicio cinematográfico que, además del evidente atractivo de Salma en poca ropa, constituye una curiosa reunión de talentos familiares. Mathieu Demy es hijo de los grandes cineastas Agnes Varda ("Vagabond", "Cleo From 5 to 7") y Jacques Demy ("The Umbrellas of Cherbourg"). Además de las mencionadas Chiara Mastroianni y Geraldine Chaplin (hija, claro está, de Charlie), por ahí también aparece en el reparto Carlos Bardem, el hermano de Javier.
Otro dato curioso es que Demy escribió el papel de Lola pensando específicamente en Salma, quien también pudo presumir sus dotes de cantante, pues entona el tema "Going To a Town" cuando está en el bar que da título al proyecto, El Americano. Así que, fuera de las grandes producciones en las que normalmente uno podría ver a Hayek, resulta siempre enriquecedor ver este tipo de proyectos más pequeños, de cine de arte, que aunque pasan por un puñado de salas de cine, es justo ahora en su estreno en DVD y BluRay cuando uno las puede apreciar más.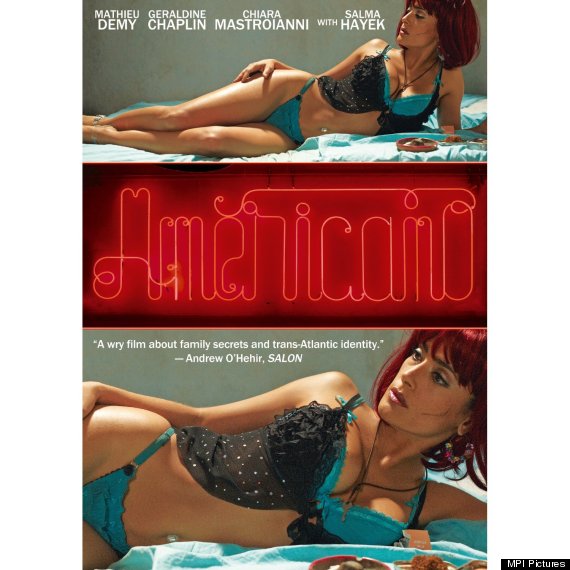 SALMA Y MATHIEU DEMY EN EL FESTIVAL DE TORONTO 2011: SUBSCRIBE TO & FOLLOW THE MORNING EMAIL
The Morning Email helps you start your workday with everything you need to know: breaking news, entertainment and a dash of fun. Learn more