Kanye West made nice on Wednesday with the female paparazzo with whom he got into a nasty scuffle two weeks ago. The videographer, Logan Fazio, allegedly egged the singer and girlfriend Kim Kardashian on after the two coincidentally dined at the same Miami restaurant where Kardashian's ex-boyfriend Reggie Bush was eating.
"Kim, did you know Reggie is here [in Miami] having dinner? Did you wanna go congratulate him on his pregnancy?" Fazio reportedly asked West. The incendiary statement resulted in West's hand aggressively blocking Fazio's camera. Judging from these new photos today, however, it looks like West is congratulating nobody but himself -- for his newfound restraint.
Kardashian, 32, and West, 35, have been dating since at least April. For a timeline of their relationship, click here.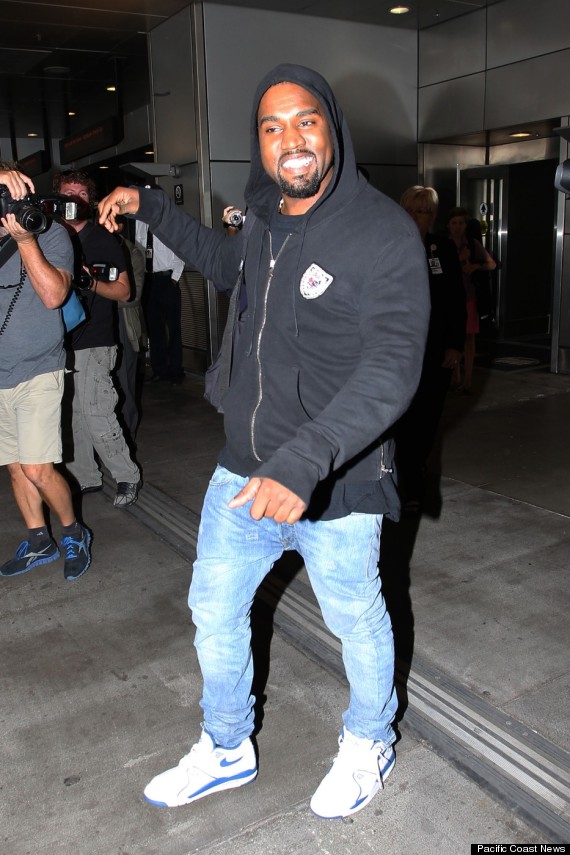 Also on HuffPost:
Loading Slideshow
Justin Bieber

Teen pop sensation Justin Bieber <a href="http://www.huffingtonpost.com/2012/05/28/justin-bieber-paparazzi-fight-teen-singer-questioning_n_1550254.html" target="_hplink">allegedly lost it on a paparazzo</a> who tried to snap photos of the 18-year-old with his girlfriend, actress Selena Gomez, as they left a theater at The Commons at Calabasas, Calif. The photographer has filed a criminal complaint against the singer, claiming she struck him when he attempted to take the photo. So far, no charges have been filed and the District Attorney is said to be investigating the incident. Bieber has been busy promoting his new album, "Believe," and in a recent interview with Power 105.1 radio, <a href="http://au.ibtimes.com/articles/355823/20120625/justin-bieber-paparazzi-scuffle-mariah-yeater-beliebers.htm" target="_hplink">he spoke about how agressive the paparazzi can be. </a> "When they get aggressive, and they get all up in your face, they can be [invading your privacy]," explained Bieber. "But when they are keeping their distance, it's part of [their job]."

Britney Spears

In the middle of her total breakdown in 2007, Britney Spears shaved her head bald and then <a href="http://www.youtube.com/watch?v=TTBbHMEs0Uw" target="_hplink">attacked a paparazzo's car with an umbrella. </a>

Chris Martin

Chris Martin has a long history of incidents with the paparazzi. In 2008 he allegedly pushed a pap <a href="http://news.celebritywonder.com/2008/01/18/Chris_Martin_Takes_a_Paparazzi_Down.html" target="_hplink">who got too close to his pregnant wife, Gwyneth Paltrow. </a> In 2003, he was charged with malicious damage after he allegedly went after a paparazzo's car in Australia.

Gerard Butler

Gerard Butler was charged with misdemeanor criminal battery over an incident involving a paparazzo in October 2008. The photographer was allegedly trailing the actor's limo for hours, and verbally harassing him whenever he got in and out of the car. Butler was said to have then<a href="http://hollywooddame.com/2009/05/15/gerard-butler-facing-6-months-in-jail-for-paparazzi-beat-down/" target="_hplink"> punched the pap several times, leaving him with a bloodied lip. </a> The charges against the actor were eventually dropped.

Hugh Grant

Hugh Grant has a history of getting into it with the paparazzi. In 2009, the actor was trying to leave celebrity hotspot the Waverly Inn, when he got into an altercation with a pap allegedly <a href="http://www.tmz.com/2009/06/10/hugh-grant-kicks-paparazzi-photog-new-york/" target="_hplink">kicking the TMZ cameraman in the groin. </a> In 2007, Grant was <a href="http://www.thehollywoodgossip.com/2007/04/hugh-grant-arrested-for-baked-bean-attack-on-paparazzi/" target="_hplink">arrested for an attack on a paparazzo in London</a>, where the actor threw a container of baked beans at the cameraman, who also alleged Grant kicked him and stated he hopes his children die of cancer. Those charges were eventually dropped.

Kanye West

In 2008, Kanye West was a<a href="http://www.huffingtonpost.com/2008/09/11/kanye-west-arrested-at-ai_n_125672.html" target="_hplink">rrested after he smashed a paparazzo's camera on the floor at LAX. </a> The rapper was charged with vandalism, but was later dismissed of all charges.

Paris Hilton

On June 26, Paris Hilton got caught in the <a href="http://www.tmz.com/2012/06/27/paris-hilton-paparazzi-fight-nightclub-sunset-strip/" target="_hplink">middle of a paparazzi fight inside a Los Angeles parking garage. </a> The 31-year-old heiress and pal Brandon Davis were leaving a night club, when a man in their group tried to pry a photographer's camera out of his hands. Witnesses told reporters that the photographer then tried to hit the man with his camera. Hilton was caught in the middle of the fight and was knocked down into a wall, but wasn't hurt.

Russell Brand

In March, comedian Russell Brand was <a href="http://www.huffingtonpost.com/2012/03/15/russell-brand-arrested-cell-phone-incident_n_1349384.html" target="_hplink">arrested after allegedly stealing a photographer's iPhone and tossing it through a window</a>. The incident took place in New Orleans, and Brand reportedly approached the photog in his car, grabbed the phone and threw it through a window of a nearby building. Brand has had other incidents with the paparazzi before. In 2010, he was <a href="http://www.dailymail.co.uk/tvshowbiz/article-1313158/Russell-Brand-arrested-airport-attacking-photographer.html" target="_hplink">arrested for battery </a>after he pushed a pap at LAX who was allegedly trying to take an upskirt photo of then-girlfriend Katy Perry.

Sean Penn

In 2009, Oscar-winning actor Sean Penn was charged with battery and vandalism after allegedly attacking a photographer in Los Angeles. Penn allegedly attacked the cameraman, who refused to leave him alone after he had eaten lunch. <a href="http://www.tmz.com/videos?autoplay=true&mediaKey=0c7249b2-f471-475e-9ac3-10ace1508769" target="_hplink">Video of the incident shows</a> Penn smacking the man's camera away and telling him to get out, then kicking him. The actor later <a href="http://www.huffingtonpost.com/2010/05/12/sean-penn-cops-plea-in-cr_n_573840.html" target="_hplink">pled no contest to the charges</a>.

Miley Cyrus

Miley Cyrus is followed by photographers everywhere she goes and she's sick of it. In April the 19-year-old singer tweeted that she was so fed up with aggressive paparazzi that she was <a href="http://www.huffingtonpost.com/2012/04/06/miley-cyrus-hounded-by-paparazzi-moving-nashville_n_1408053.html" target="_hplink">considering moving back to Nashville. </a> Miley hasn't gotten into any physical altercations with the paps, but in March 2011, she <a href="http://www.huffingtonpost.com/2011/03/09/miley-cyrus-assaults-paparazzo_n_833565.html" target="_hplink">unleashed a verbal assault</a> on one photographer who bumped into her mom, Tish, while trying to nab a photo. "Are you serious? You just hit my mom with your camera! You just ran into my mom with your camera. Don't you ever do that again. You just almost hurt my mom. Don't you ever even think about it!" she screamed at the paparazzo.

Alec Baldwin

On June 19, actor <a href="http://www.huffingtonpost.com/2012/06/19/alec-baldwin-denies-punching-nydn-photographer-say-rep_n_1608846.html" target="_hplink">Alec Baldwin allegedly punched <em>New York Daily News </em>photographer Marcus Santos</a>, as he was leaving the city Marriage License Bureau with his fiancee, Hilaria Thomas. Santos claims the photographers stepped back to give the actor space, but he lunged at them, first grabbing another paparazzo, before Santos says he interrupted. "Don't touch him.' I knew he was going to attack me. I stepped back, and he kept coming," Santos told the paper. "He comes after me, starts shoving and punching me -- one time, right in the chin. And then he started shoving me, and pushing me. Then he goes the other way." Santos later filed an assault complaint with New York Police Department and the incident is being investigated. The actor's rep released a statement denying that Baldwin ever threw a punch: "As Alec and his fiancee were leaving City Hall, a 'civilian' walking in front of Alec positioned himself to obstruct the view of a photographer aggressively trying to shoot the couple. The photographer was clearly frustrated, pushed past the bystander and assaulted Alec with his camera. There were no punches thrown, and any subsequent physical contact was simply Alec protecting himself."