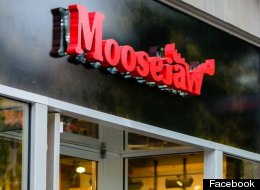 Camping, hiking, skiing and even rock climbing enthusiasts might be surprised they can find what they're looking for in downtown Detroit. Beginning Thursday and lasting through Dec. 22, outdoors and sporting goods shop Moosejaw will open a holiday pop-up on Woodward Avenue between Grand River Avenue and State Street.
Moosejaw's Detroit shop will be open 12 p.m. to 9 p.m. Thursdays through Saturdays. They'll celebrate the opening this weekend, with giveaways of limited edition Moosejaw Detroit items, Atwater beer and foosball from 4 to 9 p.m. on Friday and Saturday.
The foosball isn't just a party trick, however. It will stay in the shop, matching the decor of the disco-themed dressing room.
Moosejaw Vice President of Retail Bryan Lively linked their pop-up to the larger Detroit retail scene. Dan Gilbert's Bedrock Real Estate Services was responsible for the lease, just one of the constant trickle of businesses they've brought downtown.
"Distinctive retail is necessary to create a thriving urban core," Lively said in a statement. "So we're happy to bring the Moosejaw brand to Detroit to help the city's resurgence."
Started in Michigan before expanding to several locations across the country, Moosejaw has four stores in the metro area, as well as shops in Ann Arbor and East Lansing.
Out in New York, camping looks a little different than what Moosejaw will outfit you for. Click through the slideshow to see yurts, safari tents, cabins, and chalets ready to provide a barrier from Mother Nature.
Located in New York's Catskill Forest Preserve on the Willowemoc River, the Willowemoc Wild Forest Yurt gives guests the opportunity to listen to owls hoot, coyotes howl, and birds chirp, while also providing solar lighting, a composting toilet, shower and outdoor grill.

The charming version of glamping, Orenda has 4 charming canvas cabins that are reminiscent of something out of a Pendleton lookbook and endless activities for everyone. Farm-to-table meals are prepped on an open-flame with cast-iron skillets (think center cut pork chops with a rosemary infusion).

This Adirondack-style camping eco "resort" has the rustic version of it all: wine bar, organic garden, wood-fired sauna, sculpture garden, heated spring-water shower, and most importantly -- meals made for you.

This charming yurt located on Upper St. Regis Lake in the Adirondacks boasts everything you need (comfy bed, eight windows, grill, canoe) to enjoy nature while shielding you from things you don't.

Leave it to the B-52's to create the kitchiest, campiest love shacks on Esopus Creek near Woodstock at Kate's Lazy Meadow. Choose from nine cabins as your sleeping quarters, all decked in brightly-colored mid-century meets space age decor, and enjoy the nine acres of outdoor awesomeness.

If you truly want to go off the grid, head to Fourpeaks authentic cabins tucked away in the Adirondacks. Decked out in truly antique furnishings and located amongst the peaks of four mountains (Bassett, Wainwright, Rattlesnake and Ebenezer), there's endless nature to be enjoyed and discovered.

Head to the Catskills for some peace and quiet at Harmony Hill Retreat. The chalet sleeps up to eight of your best buds in the 1,200-square-foot space, complete with kitchen, washer/drier, and fireplace. If it's just the two of you, there are yurts available as well.

Who knows what you'll find while exploring the Nine Mile Swamp, the location of Loomis Lair's yurts. The picturesque setting is named after The Loomis Gang, the largest organized crime family in 19th century America, who used to preside here. Spooky!

Tubing, mini golf, kayaking, swimming, biking -- you can do it all at Lake George Escape. But most importantly you can pack a family of six into one of the log cabins on the premises that has a bathroom, shower, kitchen, and even cable.