Forget what your mom and dad told you about jumping on the bed when you were a little kid. For some, mattress jumping is a very serious business.
Reuben Reynoso works at McRoskey, a handmade mattress factory in San Francisco Calif. His job, the San Francisco Chronicle reports, is to literally jump on top of three mattresses a day -- a process that compresses the cotton in a way that machines are incapable of doing.
"This is not a game," Reynoso told the Chronicle. "Not to me."
The jumping process isn't easy to do, either. Too little bouncing and a mattress won't fit into the machine for its final sewing. Too much jumping and the cotton becomes too compressed.
Sleeping on a handmade mattress complete with its own professional jumper isn't cheap. Some of McRoskey's mattresses retail for as much as $2,730, according to the company's website. The beds are virtually made from scratch and the company has made mattresses as large as 103'' x 113'' and as small as 27'' x 51''.
Despite the high price tag, McRoskey's beds are not too extravagant when compared to other handmade mattresses on the market. One of the most expensive mattress in the world is Swedish designed and retails for $59,750, according to the Expensive Journal. The median price for a queen innerspring bed comes in at $799, according to Furniture Today.
Here's a photo of McRoskey factory staff testing a giant bed in its factory: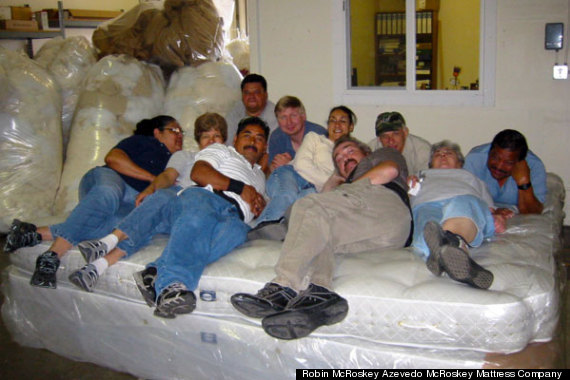 SUBSCRIBE TO & FOLLOW THE MORNING EMAIL
The Morning Email helps you start your workday with everything you need to know: breaking news, entertainment and a dash of fun. Learn more