Like many celebrities, Lady Gaga went all out for Hallowen, not that we would expect anything less from Mother Monster.
The 26-year-old mega-star dressed up as weed. Yes, you read that correctly. But not just as any old strain of marijuana, Gaga's official title was "Princess High the Cannabis Queen." On Thursday, Gaga tweeted to her 30.8 million followers:
So i was weed for halloween. BEST COSTUME EVER ITS SO FUN. Princess High the Cannabis Queen. Photos of party on littlemonsters.com shortly

— Lady Gaga (@ladygaga) November 1, 2012
Gaga has been quite open about her love. In September the singer took advantage of plant's legal status in Holland and lit a joint on stage.
"Holland, is it real?" Gaga asked in a vague accent before smelling the spliff and confirming that it was, in fact, marijuana. Then she lit up the joint and took a few hits, and told the crowd she's a big fan of "wondrous marijuana."
"I want you to know it has totally changed my life and I've really cut down on drinking. It has been a totally spiritual experience for me with my music," she told the crowd.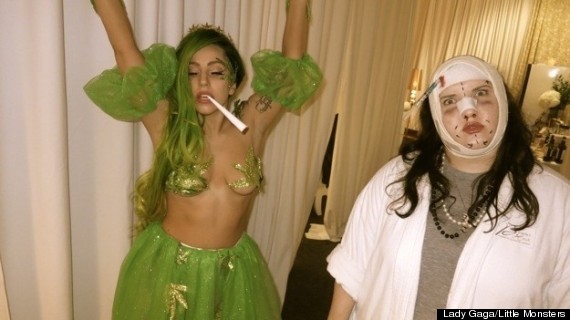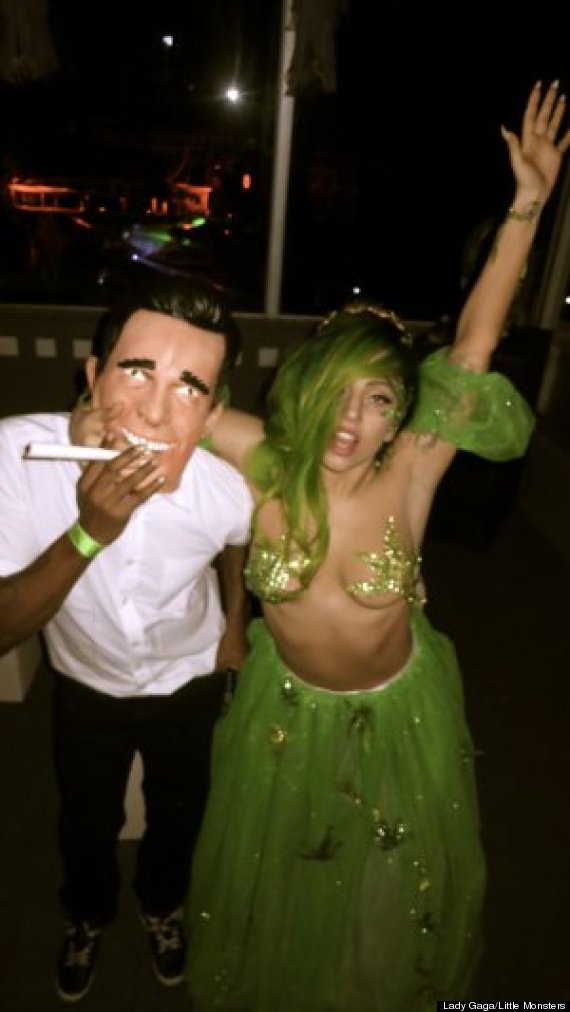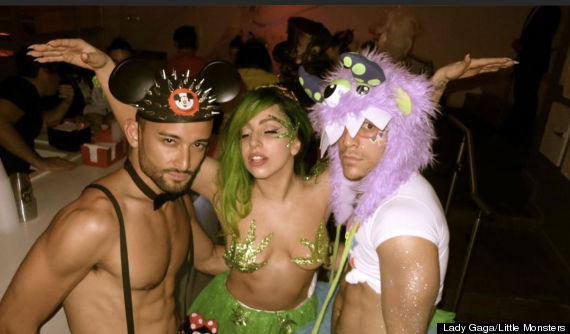 Check out more stars in Halloween costumes:
Celebrities In Halloween Costumes 2012
Katy Perry as Jane Lane and Shannon Woodward as Daria.

"HAPPY HALLOWEEN!! Me and Mariska starting the night!! #boo," the "Smash" star tweeted Wednesday.

Darren Criss is a boy scout and probably a big fan of "Moonrise Kingdom."

We never thought we'd say it, but the "Jersey Shore" star and her fiancé positively geeked it out.

No sleight of hand here. Christina Milian is the Queen of Hearts.

George Clooney's girlfriend is "Black Swan."

Pop starlet Miley Cyrus' mum and sister Tish Cyrus and Brandi Cyrus are all dressed up for Halloween as they head to the Roosevelt hotel for a party in Hollywood.

Jeremy Piven as Che Guevara at the Playboy Mansion Halloween Party in Beverly Hills, California on October 27th, 2012.

Sacha Baron Cohen donned a bizarre monkey-cow costume.

P. Diddy rocked out at the Playboy Mansion Halloween Party in Beverly Hills, California on October 27th, 2012.

Brandon Davis at the Playboy Mansion Halloween Party in Beverly Hills, California on October 27th, 2012.

One Direction singer Liam Payne does his best Batman in London.

Lucy Hale as a unicorn.

In this Image released by Mattel, actress Shenae Grimes, from the series "90210", left, has a fitting of her Monster High Frankie Stein Halloween costume created by "Project Runway" alum Chris March, Wednesday, Oct. 17, 2012, in El Segundo, Calif. Grimes will be attending "Glee" cast member Matthew Morrison's 3rd Annual Halloween Bash, dressed as Frankie Stein, daughter of Frankenstein, from the popular Monster High franchise. This year, the popular Halloween party will be sponsored by Monster High. (AP Photo/Mattel, Rene Macura)

Heidi Klum gets fitted for her 13th annual Halloween party at finale sponsored by HobNob Wines, Svedka Vodka And Smartwater on September 3, 2012 in New York City.

Sarah Hyland as Spinelli from "Recess."

Actress/model Stacy Keibler arrives at Hyde Bellagio at the Bellagio to host a Halloween masquerade party on October 27, 2012 in Las Vegas, Nevada.

Kim Kardashian attends 2nd Annual Midori Green Halloween Party at Avenue on October 27, 2012 in New York City dressed as a mermaid.

Nicole Scherzinger as a vampire.

Kim Kardashian as a leopard.

Holly Madison as Sleeping Beauty.

Fergie as Lindsay Lohan.

Christina Milian as Sulley.

Fergie & Josh Duhamel as Angelyne & Dennis Woodruff.

Christina Aguilera as ???

Paris Hilton as Alice.

Kris Jenner as Wonder Woman.

Ashley Benson as Tweedle Dee (or Dumb).

Hugh Hefner as a vampire.

Holly Madison as the Cheshire Cat.

The Incredibles

Hilary Duff in a Día de los Muertos costume.

Kim Kardashian as Kris Jenner.

Fergie as a sexy cat.

Bonnie & Clyde

Julie Bowen as a scary Bo Peep.

Genevieve Jones & Nicky Hilton as a KISS member and a leopard.

Adam Lambert as a vampire.

As Prince.

Bella Thorne as a vampire bride.

Liam Payne as Batman.

Shanae Grimes as a skeleton.

Scott Disick as Patrick Bateman.

Nicole Richie and friends as Wilderness Girls from "Troop Beverly Hill."