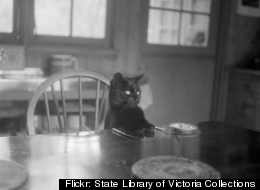 We know pet owners really love their pets. Some cats and dogs get treated just as well as children. They get pet sitters -- so they don't get lonely. They have outfits to keep them stylish. And, it looks like they even get a seat at the dinner table. Yep, pets are just like us.
Don't get us wrong, we here at HuffPost Taste are big fans of pets (learning that watching cat videos made us productive was music to our kitty-centric ears). But being food people, we believe the dinner table to be a fairly sacred place. You might say we have a strict humans-only policy. That is, until we saw how cute these pets looked siting in our seats.
Want to read more from HuffPost Taste? Follow us on Twitter, Facebook, Pinterest and Tumblr.
kalili:

Gaia Gritti:

wongy:

LC2012:

Lesley Wake:Got up from the Christmas dinner table...someone decided to take my seat!

Lesley Wake:Beatrice thinks she's in charge

Lesley Wake:JoJo waiting for turkey on Thanksgiving

ChickEpoo:Mama eats in the living room so begging there is fine with us......