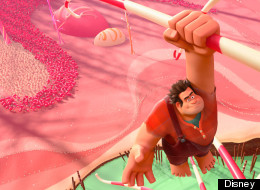 "Wreck-It Ralph" did some major box office damage this weekend. The lighthearted animated picture had a $49.1 million opening weekend across 3,752 theaters. The gross gave "Wreck-It Ralph" the highest weekend opening for any Disney Animation Studios film. The movie that it beat out for the title was 2010's "Tangled" which made $48.8 million in its first weekend.
The $165 million movie shows video game favorite Ralph, voiced by John C. Reilly, deciding that he no longer wants to work as a bad guy. Directed by Rich Moore, "Wreck-It Ralph" has been well-received by critics.
Coming in second was Denzel Washington's "Flight." Directed by Robert Zemeckis, the drama made $25 million in its first weekend across 1,884 theaters. Washington stars as a troubled pilot who ends up crashing his airplane. His performance has been celebrated by critics and his name is being mentioned for potential Oscar nods.
Ben Affleck's Iran hostage crisis feature, "Argo," continued its box office success by taking the number three spot. The film made $10.2 million, putting it at a total of $75.9 million since its release. The movie won last weekend's box office when big-budget sci-fi adaptation "Cloud Atlas" flopped. The film, starring Tom Hanks and Halle Berry, cost $100 million and opened to mixed reviews. It made $5.3 million this weekend for a total gross of $18.3 million. This amount kept it out of the top five for the weekend.
Other films that saw success were RZA's kung fu flick, "The Man with the Iron Fists," at number three with $8.2 million, and Liam Neeson's "Taken 2" at number five with $6 million.
Fright Factor: Mild, OK for younger kids Leave it to the geniuses at Pixar to find a hilarious way to depict the monsters that come out of kids' closets at night. Although there are definitely a few scream-worthy monster faces in the movie, Sulley and Mike Wazowski are genuinely good guys. Boo is quite possibly the most realistic toddler in movie history, making this is a must-see monster flick for the entire family.

Fright Factor: Mild, OK for younger kids The Adam Sandler and Selena Gomez-voiced animated comedy is more of a father-daughter relationship story than a monster flick, so it's a perfect way to introduce young moviegoers to the classic monsters of the horror genre without, you know, any of the actual horror. Kids will meet Dracula, Frankenstein, werewolves, the Invisible Man, and the Mummy.

Fright Factor: Mild-to-moderate, OK for kids Equal parts horror movie, musical, and holiday adventure, Tim Burton's tribute to Halloween is one of the best animated movies of all time. Yes, some of the characters can take off their own heads and limbs, and the villain Oogie Boogie is one mean-looking boogie man, but this is a creeptastic, fantastic monster mash that's got a following among not just kids but Halloweentown-lovers of all ages.

Fright Factor: Moderate, best for tweens Based on Neil Gaiman's excellent children's book, this is a dark comedy about a lonely girl who discovers another dimension where her parents look like giant, handcrafted dolls with button eyes. Because the "Other Mother" is actually quite sweet at first, Coraline doesn't smell trouble until her actual parents are kidnapped. That's when the Other Mother shows her monstrous true self, and kids will be understandably freaked out – and grateful for their parents.

Fright Factor: Moderate, best for tweens This haunted house tale scripted by 'Community' creator Dan Harmon is high on the horror – especially the last act in which the house comes alive and basically tries to eat the kids who dare enter it. To make matters worse, the creepy man-eating house's only resident is "Old Man Nebbercrakcer," the town creep. For older kids and tweens who like a good scare, this delivers.

Fright Factor: Moderate, best for tweens Just because it's animated, doesn't mean it's OK for little kids. This stop-action ghost tale is serious business when it comes to scenes of the undead, most of whom are freaky and frightening and in one case ready to cause mass destruction in a vengeful plot. But for older kids and tweens mature enough to handle it, this story of a boy who can see dead people is a fine monster pick.

Fright Factor: Moderate, best for tweens If your tweens don't know "who to call," it's time to expose them to Doctors Venkman, Stantz and Spengler (Winston too) – who will forever live on in the hearts of Gen Xers as the "Ghostbusters." Some of the monsters are scarier than others -- the terror dogs (eek!) the Stay Puft Marshmallow Man (hilarious!). So whether it's for nostalgia reasons or as a way to get your kids acclimated to monster movies, 'Ghostbusters' is paranormal fun.

Fright Factor: Moderate, best for tweens You know you grew up in the '80s when the word Gizmo conjures memories of this iconic horror movie. There's everything the 9 & up set could hope for: plucky teen protagonists, cute-turned-horrific creatures, and a whole lot of mayhem. Just remember all the ways the slimy little monsters are killed (the microwave! the blender!) before you decide whether your kid's ready for this classic from your own childhood.

Fright Factor: Mild-to-moderate, OK for older kids, tweens This is a dark comedy that is funnier than it is frightening, but there are still some images of the undead that will likely scare younger kids. Beetlejuice himself is a hoot of a ghost, but a manipulative one at that. Tweens and teens will especially dig Winona Ryder's goth girl Lydia, who's the only one who can see the recently deceased inhabitants of her new house.

Fright Factor: Moderate-to-severe, OK for tweens Not for the faint of heart, this PG-rated horror movie (which would certainly be PG-13 nowadays) is one freaky haunted house flick. This is a majorly creepy story about an all-out ghostly invasion of a suburban home. And talk about beleaguered kids: little Carol Anne receives messages from static channels on the TV and poor Robbie is attacked by a possessed tree! The effects might be dated, but the scares are still just as real.