Kim Kardashian is a polarizing figure, and the reality star is aware that she's not everyone's favorite person.
With all the gossip and negative press she has to deal with it's no wonder that even she sometimes needs someone to boost her confidence. The 32-year-old reality star graces the cover of the December issue of Cosmopolitan U.K. with her sisters Kourtney and Khloe, and she tells the magazine that she turns to her boyfriend Kanye West when she's feeling down.
"He's great at boosting my confidence. He gives me compliments in every way possible," Kim told the magazine, and later added that she also turns to her younger sister Kylie, 16, who is surprisingly self-assured for a teenager. "She's such an old soul. I've been going to her for relationship advice for years. She has always steered me in the right direction since she was about 12. She would be like, 'OK, do not call him.'"
"Who cares if I'm not a size zero? I don't want to be. It isn't easy. My weight fluctuates, like any normal girl, and I have times when I feel insecure. So if I come under scrutiny at one of those times, then I might get really down on myself. But the next day, I might be like, "Oh, f**k off, I'm so much better than that," she said.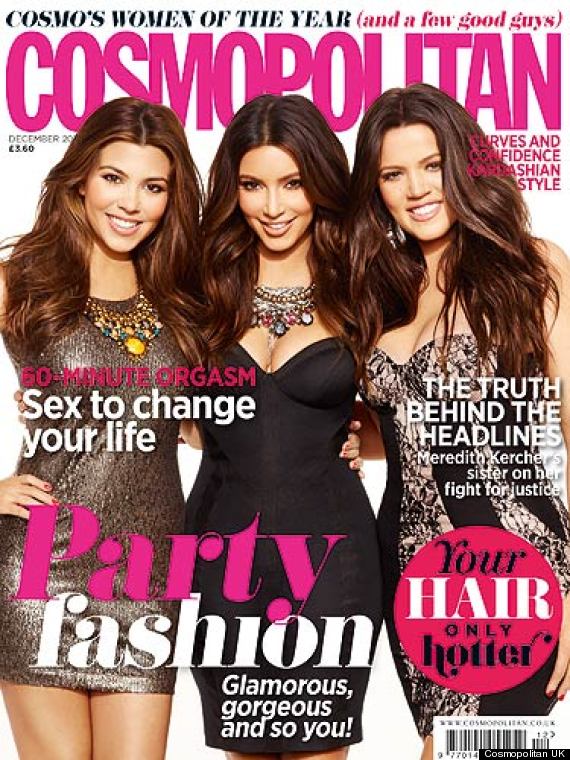 SUBSCRIBE AND FOLLOW
Get top stories and blog posts emailed to me each day. Newsletters may offer personalized content or advertisements.
Learn more