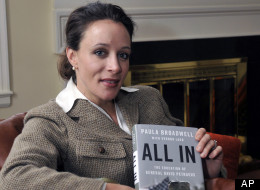 WASHINGTON -- Paula Broadwell, former CIA Director David Petraeus' biographer and alleged mistress, is thought to be camped out at her brother's house in D.C.'s Mount Pleasant neighborhood (not in the "suburb" of Petworth, as was reported by one British newspaper). Which helps explain why her driver's license -- yet unclaimed -- was found not far from the house, in Rock Creek Park.
Check out the historically significant house -- as DCist noted, it was previously owned by the neighborhood's first black family, the Deanes, whose purchase of the house violated a restrictive covenant -- and some other notable, delicious and discreet locations in Mount Pleasant:
Paula Broadwell's Mount Pleasant
Two local television crews are waiting for you.

At least you have the staircase.

If you have to camp out somewhere, you might as well camp out in a house that looks like a Norman Rockwell painting.

The neighbors must love this.

In case you didn't already know, there are more reporters in the back.

What a gorgeous house! The leaves look magnificent this time of year!

Five television cameramen and a handful of photographers in the alley behind the house. Most of them seem to enjoy their phones.

Once again, what a beautiful house!

These guys must be thrilled with the extra vans and trucks in the alley.

There are a lot of these small parks in Mount Pleasant. They're great for walking the dog. If the dog is cute enough no one will care who's walking it.

Learn about the neighborhood you're sort-of trapped in! These Heritage Trail signs are located throughout the neighborhood. Maybe this sad incident will warrant a Heritage Trail sign of its own!

Multiple cleaners and laundromats are in Mount Pleasant. No need for a car when Georgetown Valet is around the corner! Same day service too!

You'll need a drink and maybe even some food after this ordeal. Samber has both! Nice owners.

This neighborhood tradition makes the sourest day a little bit sweeter!

Maybe the best cheap Korean food in the District. Owned and operated by a loving, elderly couple, you may wait a while for your order but it's definitely worth it. We haven't had a bad dish but do recommend the bulgogi.

We're not recommending this for the theme, cuisine or booze, but for their unusual dance parties. Outlaws, a celebration of guys like Johnny Cash, Willie Nelson and Hank Williams, and We Fought The Big One, a night of outsider sounds.

Everybody looks good in Western wear! They're in the midst of a 10% off sale! Things are looking up!

Last Exit is a newer establishment, located in the basement of Radius. We like it because they screen "RuPaul's Drag Race: All Stars" on Monday nights. You may want a little RuPaul in your life. A master of re-imagining oneself with an army of loyal followers. If we have one piece of advice, remember RuPaul's catchphrase in all of this. "If you can't love yourself, how the hell are you going to love anybody else?"

Only go to the Raven if you're in a very good disguise. A lot of the reporters that are camped out in front of and behind your hideaway drink at the Raven.

It's a late night Latin American restaurant. Unwind with a very strong margarita. Watch drunk people embarrass themselves at karaoke.

Maybe not the best place to hang out considering it's mostly windows, but try the iced coffee! Sure it's cold outside, but their iced coffee is great! Get it to go!

Looking for a new wardrobe/disguise?

This bumper sticker is located on a light pole a few blocks from your hideaway. It's been here for, I don't know, four years. No one seems to care.