D.C. Outdoor Skating Rinks: Strap On Your Skates, It's Ice Skating Season In D.C. (PHOTOS)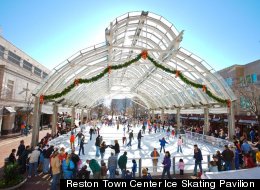 WASHINGTON -- The tradition of holding hands, falling down, drinking hot chocolate and injuring ankles while wearing a turtleneck has begun. Outdoor rinks in the D.C. suburbs have opened. D.C.'s rinks, two of which are new, will soon be open.
Click through the slideshow for locations, hours and opening dates for D.C. area outdoor skating rinks.
D.C.'s most popular rink, this National Mall attraction tends to be filled from opening in mid-November through the holiday season. Opening on November 17. Monday through Thursday 10 a.m. to 9 p.m. Friday and Saturday 10 a.m. to 11 p.m. Sunday 11 a.m.-9 p.m. $7 Adults, $6 Children and Seniors, $3 Skate Rental 7th St. and Constitution Ave NW, Washington, D.C.

This new rink is scheduled to open November 16. It will feature public skating as well as lessons, birthday party and special event rentals. Monday through Friday Noon to 9 p.m. Saturday 10 a.m. to 10 p.m. Sunday 10 a.m. to 7 p.m. $8 Adults, $7 Children/Seniors/Military, $3 Skate Rental 2nd & M St SE, Washington D.C.

Another new park, this one along the Georgetown waterfront with a clear view of the Potomac. It will be the largest outdoor rink in D.C. upon opening. Special opening November 19, the rink opens on December 1. Monday through Thursday Noon to 9 p.m. Friday Noon to 10 p.m. Saturday 10 a.m. to 10 p.m. Sunday 10 a.m. to 7 p.m. $9 Adults, $7 Children/Seniors/Military, $5 Skate Rental 3000 K St NW, Washington D.C.

Now open. Located in downtown Silver Spring, the rink is open and offering lessons and rental opportunities. Sunday 10 a.m. to 10 p.m. Monday through Thursday Noon to 10 p.m. Friday Noon to 11 p.m. Saturday 10 a.m. to 11 p.m. $8 Adults, $7 Children/Seniors/Military, $3 Skate Rental 8523 Fenton St, Silver Spring, MD

Now open. Largest outdoor rink in Montgomery County. Also offers lessons and rentals. Monday through Thursday Noon to 10 p.m. Friday Noon to 11 p.m. Saturday 10 a.m. to 11 p.m. Sunday 10 a.m. to 10 p.m. $8 13 and up, $7 12 and under, $3 Skate Rental 200 E Middle Lane, Rockville, MD

Now open. Special events include Rock 'n' Skate and Cartoon Skate. Sunday through Tuesday 11 a.m. to 7 p.m. Wednesday and Thursday 11 a.m. to 10 p.m. Friday and Saturday 11 a.m. to 11 p.m. $9 Adults, $7 Children Under 12 and Seniors, $5 Skate Rentals 1818 Discovery Street, Reston, VA

Now open. A popular option for snow days and holidays, the Pentagon Row Ice Rink operates on extended hours when schools are closed. Sunday 10 a.m. to 7 p.m. Monday through Wednesday Noon-10 p.m. Thursday Noon to 7 p.m. Friday Noon to 11 p.m. Saturday 10 a.m. to 11 p.m. $8, Adults, $7 Children/Seniors, $3 Skate Rental 1201 South Joyce St, Arlington, VA

Now open. A popular option for presidential candidates, the pavilion is also popular in January for free skating on Wednesday evenings. Sunday Noon to 5 p.m. Monday through Thursday 3 p.m. to 9 p.m. Friday 3 p.m. to 10 p.m. Saturday Noon to 10 p.m. $7 Adults, $6 Children 10 and under, $3 Skate Rental 9201 Center St, Manassas, VA