Jennifer Lawrence Quotes: 17 Great Things The 'Silver Linings Playbook' Star Has Said This Year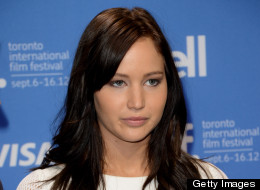 Jennifer Lawrence is many things: An Oscar-nominated actress, a box-office superstar, a magazine-cover fixture and the best quote-giver in all of Hollywood. It's true: In interview after interview during the last year, Lawrence has unloaded on a variety of topics without any discernable filter. She's the current queen of Hollywood real-talkers, and it's part of the reason why Lawrence's fan base spans from teenagers in love with "The Hunger Games" to 60-year-old Oscar voters.
To celebrate Lawrence, HuffPost Entertainment has compiled 17 of her best quotes, sans context, from the past year. Enjoy, and leave your favorite Lawrence quip in the comments section below.
1. "I'm lost as fuck! I've been driving around for, like, 10 minutes. Where the hell is this place?" - Rolling Stone
2. "I have to pee so bad." -- Rolling Stone
3. "I'm the fastest pee-er ever. I'm famous for it." -- Rolling Stone
4. "Whenever I really want a part, I'm not sure what to do. How do I let the director know how obsessed I am and willing to do anything for the movie? Like, I wanted to write this one director a letter, so I wrote him a handwritten note. But then I was like, How many people are writing this guy handwritten letters? Is it going to seem cheesy? What do I do? Do I sleep outside of his house until he agrees to give me the part?" -- Interview
5. "I have an old soul. [laughs] I don't know any real-life lingo, so I have to take it from movies." -- Interview
6. "My run is so weird. That's what I'm most nervous about in this whole ordeal. I'm most nervous about everybody making fun of the way I run. I do, like, karate hands. Instead of running with my hands closed together like a normal person. It's like I'm trying to be aerodynamic or something, so my hands are straight like razors. Karate hands." -- Moviefone
7. "When I dance, I look like I'm a dad at a prom. I never grasped my limbs. Ever since puberty I've just kind of felt like we don't understand each other." -- The New York Times
8. "That dress looked so good on. And then when I was sitting at this table the only thing you could see were children cheering and just [my breasts] about six inches above the table." -- The New York Times
9. "He actually didn't bite me; I ran into his teeth." -- The New York Times
10. "That's how I can go about life free as an idiot: because I have no idea what I'm doing." -- The New York Times
11. "I want a pizza with my face on it." -- The New York Times
12. "I thought you were going to give me a website where I could see lots of orgies. I'm like, 'I could get that from almost any guy here.'" -- Vulture
13. "I left [my flip-flops] in the car. They're in the same place as my soul." -- Vulture
14. "I'm white trash, so that could be the white trash Kentucky version. I'm not sure what it's called. A belly shirt? A half top?" -- The Daily Beast
15. "Sometimes you're going to suck and it's great if somebody could just tell you when you're sucking." -- The Daily Beast
16. "[Katniss] is this Joan of Arc that doesn't see herself that way. She kind of grows into it. And she's strong like a male hero with a vagina. It's good for our 13 year olds. I probably shouldn't have said vagina, but you get what I'm saying. Vagina! If you've got it, shout it." -- The Daily Beast
17. "Yeah, I screamed in [Daniel Radcliffe's] face. We were both doing Letterman. I grabbed him by the shoulder. Of course, I'm in 6-inch heels. That makes me 6-foot-4. I'm towering over him, saying, 'I love Harry Potter!' His security people were nodding to each other -- should we go?" -- The Daily Beast