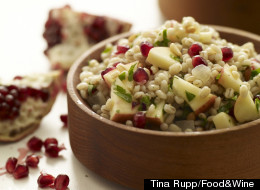 No matter how challenging deseeding a pomegranate may be, it's always worth it for what you find inside. Pomegranate seeds can make even the healthiest dishes taste amazing -- they definitely work their magic in this healthy barley recipe.
With just two days till Thanksgiving we think it's a good idea to eat on our best behavior, and this salad is just the thing. This healthy barley salad recipe is simple to make and boasts the flavors of the season, with pomegranate, apple and thyme.
Get the Pearled Barley Salad with Apples, Pomegranate Seeds and Pine Nuts recipe
Want to read more from HuffPost Taste? Follow us on Twitter, Facebook, Pinterest and Tumblr.
Get more barley recipes.
Get the Creamy Barley With Tomatoes And Spinach recipe by Kitchen Trial & Error

Get the Barley and Grilled-Vegetable Salad recipe

Get the Roast Tomatoes, Onion & Pearl Barley Soup recipe by Senses in the Kitchen

Get the Barley Risotto recipe

Get the Pearled Barley Salad with Apples, Pomegranate Seeds and Pine Nuts recipe

Get the Black Bean and Pearl Barley Burgers recipe by Angry Asian Creations

Get the Beef and Barley Stew with Mushrooms recipe by Simply Recipes

Get the Cauliflower and Barley Salad with Toasted Almonds recipe by The Spice Garden

Get the End-Of-Summer Barley Salad recipe by Running To The Kitchen

Get the Moroccan Chickpea Barley Salad recipe by Simply Recipes

Get the Barley Risotto With Roast Pumpkin & Beets recipe by Senses in the Kitchen