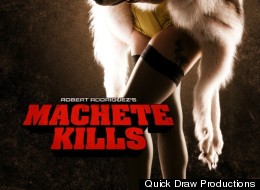 "Machete Kills" is being strangled by a new lawsuit.
Overnight Productions, owner of the action movie "Machete," has filed a $2 million lawsuit against filmmaker Robert Rodriguez's production company, Quick Draw Holdings LLC, and Machete Kills LLC. The suit alleges Rodriguez's company has withheld tax credits and lied about the budget of the upcoming movie "Machete Kills," a sequel to the 2010 mega-hit, according to The Hollywood Reporter.
"Although defendants have produced the sequel, they have failed to meet a condition precedent to their grant of rights, forcing plaintiffs to terminate the agreement," the lawsuit alleges, THR reports. "Defendants have also failed and refused to provide the required budget information to Overnight Productions so that it can determine the producer fee owed with respect to the sequel. As a result, plaintiffs have been forced to bring this action to confirm the cancellation of the grant of rights and to recover the amounts plaintiffs are owed."
Read the full lawsuit here, courtesy of The Hollywood Reporter.
Overnight, run by producer Rick Schwartz, filed the lawsuit against the "Machete" producer and his company on Tuesday, Deadline.com notes.
The producers of 2010's "Machete" are seeking to terminate the agreement made with Rodriguez, granting him the rights to make the sequel, "Machete Kills." If the lawsuit is successful, the rights would revert back to Schwartz and the film could be axed altogether.
The "Machete" franchise has had to fight off lawsuits before.
In February, writer/actress Yvonne DeLaRosa filed a lawsuit against "Machete" director Ethan Maniquis, claiming he had solicited her for ideas back in 2005 and then used those ideas without paying her, according to TMZ. She sued Maniquis and co-director Rodriguez for breach of contract.
"Machete Kills" is the follow-up to the 2010 macabre action/thriller, starring Danny Trejo as Machete Cortez, who is hired by the U.S. government to take down a Mexican arms dealer. The sequel features a host of beautiful starlets, including Alexa Vega, Amber Heard, Jessica Alba, Sofia Vergara, Michelle Rodriguez, Vanessa Hudgens and Lady Gaga.
"Machete," which had a production budget of just $10 million, grossed over $44 million worldwide, according to Box Office Mojo.
Writer Art Buchwald sued Paramount Pictures, claiming that they stole his idea for 'Coming to America.' Buchwald won the lawsuit.

The movie's screenwriter, Benedict Fitzgerald, sued Mel Gibson over not paying him enough money for the film. They settled out of court.

Another movie that spawned a ton of legal trouble: writer/star Sacha Baron Cohen was sued for defamation as well as using footage of people without their permission.

What hasn't 'The Hangover, Part II' been sued for at this point? First the filmmakers were hit with a lawsuit alleging that they copied Mike Tyson's face tattoo without permission. That was dropped, but then they were sued again by a stunt man who suffered injuries on set. (That lawsuit is still pending.) A man also sued the filmmakers, claiming that they stole his life story and used it for 'Hangover, Part II.' Yeesh.

The family of a Louisiana store clerk, who was shot by a young couple on a crime spree, sued Oliver Stone, claiming this movie inspired the crimes. The lawsuit was eventually dropped.