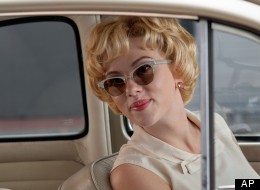 Thanksgiving has come and gone, but the nation's critics didn't let their holiday meals prevent a fresh round of reviews on the latest entertainment offerings.
In music, Rihanna's "Unapologetic" provided a slightly bland listening experience according to some, while Phillip Phillips' "World From the Side of the Moon" found him pushing a overwhelmingly serious sound many critics found slightly annoying. Kid Rock also made a return this week with "Rebel Soul," though the album was deemed way too safe to spark any interest.
A large amount of fabrications and embellishments in Alfred Hitchcock's story left at least one reviewer disinterested in "Hitchcock" and its ludicrous narrative. "Rust and Bone" maxed out on the misery, and "Rise of the Guardians," even through all of its sharp visuals, couldn't seem to overcome a jumbled storyline that lacked focus. But out of all of this week's movies, "Red Dawn" received the toughest reviews leaving many critics to question why the film was ever created.
As always, we have placed all of the week's harshest reviews in the slideshow below. Do you think the critics were accurate? Let us know in the comments section.
Kid Rock's new album didn't offer much substance, according to Slant Magazine. "It's a very safe affair, full of platitudes and conspicuous all-American gestures."

Don't listen to Rihanna's recent album if you're looking for a pop pick-me-up says The Guardian. "For all its musical value, listening to Unapologetic is a pretty depressing experience."

Phillips' super-serious tone was quite the turnoff for Rolling Stone "He's far better in originals like "Gone, Gone, Gone" and his hit "Home," which build from folksy picking to hooting power-ballad choruses, a pleasantly popified take on Arcade Fire. Those songs are redundant too--but the tunes leaven Phillips' overbearing self-seriousness."

The film ended up being quite purposeless, according to Daniel M. Kimmel. "This is one of those movies that has no reason to exist. It is a remake that no one was asking for..."

A overwhelming amount of pain and misery unhinged the film's narrative, says Chris Fyvie. "A work of breathtaking intensity, there's nevertheless a point where so much misery has been thrown on screen that the narrative becomes predictable; imagine something terrible, and it's probably going to happen."

Even a host of untruths about the director's life failed to make "Hitchcock" anymore interesting. "They make it all up, and it's still boring."

A busy storyline weakened the film, says NPR. "Too cluttered and manic to bring real pleasure."