Hot Chocolate Recipes To Warm You Up On Snowy Days (PHOTOS)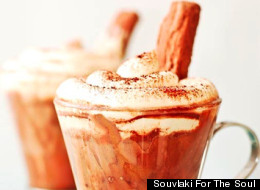 Some of our most childlike instincts turn out to be the best ones: wanting a grilled cheese and soup on rainy days, popsicles and ice cream on warm days and hot chocolate on snowy days. We want you to be prepared for the inevitable snow day with a few go-to hot chocolate recipes, for you and the chilly ones you love.
But not all hot cocoas were created equal. We love a classic milk, cocoa and whipped cream combination -- of course -- but it's really hard for us to not tinker with things, even when they're perfect. We found some of the most stunning, craving-inducing hot cocoa recipes around. For you. Because we want you to be warm and happy. You're welcome!
Want to read more from HuffPost Taste? Follow us on Twitter, Facebook, Pinterest and Tumblr.
Double Chocolate Hot Chocolate

Ditte Isager

Lavender Hot Chocolate

Rick Poon

Vanilla Hot Chocolate

This Week For Dinner

Classic Hot Choolate

Simply Recipes

Mexican Hot Chocolate

Jennifer Iserloh

Orange Hot Chocolate

Knitted Bliss

Gail's Spiced Hot Chocolate

Frances Janisch

Mulled Wine Hot Chocolate

Citrus & Candy

Spiced Hot Chocolate

EatingWell

Triple Hot Chocolate

Souvlaki For The Soul

Spiked Hot Chocolate

Marcus Samuelsson

Hot Chocolate Affogato

www.thestonesoup.com

Thick & Rich Drinking Chocolate

Ken Burris

Vegan Coconut Almond Hot Chocolate With Vegan Whipped Cream

Apron Strings

White Chocolate Chai

Anna Williams

Nutella Hot Chocolate

The Hungry Housewife

Baked Hot Chocolate

Kate Morgan Jackson