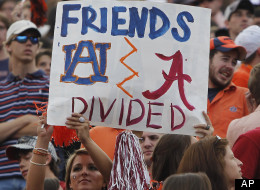 TUSCALOOSA, Ala. (AP) — The Alabama-Auburn rivalry has a storied history, Hatfield-vs.-McCoy level hatred and games and performances that inhabit the state's psyche for decades.
What the Iron Bowl hasn't been filled with is really big upsets.
The Tigers visit Bryant-Denny Stadium and the second-ranked Crimson Tide on Saturday as 31.5-point underdogs hoping to change that tradition.
"I would say if Auburn was able to win it, it would be the most surprising win Auburn's had" in the Iron Bowl, said David Housel, a former Auburn athletic director and author of several books on Tigers football.
He has to go all the way back to 1949 to find a possible exception. That's when the Tigers pulled out a 14-13 win a year after getting pasted 55-0 when the two in-state powers renewed the rivalry following a 41-year break over a disagreement involving an extra 50 cents in per diem money and the selection of officials.
The divide between the two programs nowadays makes those differences look downright silly, if they didn't already. Alabama fan Harvey Updyke is accused of burning Auburn's iconic oak trees at Toomer's Corner after the 2010 Tigers victory. Plus the stakes have been monumental lately.
The winner three years running has won the national title and Alabama (10-1, 6-1 Southeastern Conference) hopes to make it four.
STORY CONTINUES BELOW

Classic Iron Bowl Moments
Heisman-winning quarterback Cam Newton led the Tigers past the Crimson Tide by erasing a 24-point lead for the biggest comeback in school history. Newton threw for three touchdowns and rushed for one as well, including one late in the fourth quarter to seal the 28-27 win.

The Tigers went into the '72 matchup considered enormous underdogs against a 10-0 Alabama squad. With Bama leading 16-3 in the fourth quarter, Auburn blocked two punts within five minutes and returned both for touchdowns. Auburn went on to win 17-16 without scoring a single offensive touchdown during the entire game.

Auburn's pass rush dominated the Tide in the 2005 Iron Bowl, racking up 11 sacks for a total loss of 81 yards. Auburn went on to win 28-18 for its fourth Iron Bowl victory in a row.

In the 2003 matchup, Carnell "Cadillac" Williams' ran for a spectacular 80-yard touchdown on the very first play of the game to put the Tigers on the board. Williams went on to record 204 yards, and Auburn won the game 28-23. Both of Alabama's running backs only combined for 116 rushing yards.

Perhaps one of Alabama's most memorable moments in history, Tide kicker Van Tiffin made a desperate 52-yard field goal attempt to seal a victory for Alabama during the final seconds of regulation. The all-or-nothing play lifted the Crimson Tide to a 25-23 victory over the Tigers, and Tiffin became a hero as elated fans stormed the field to celebrate.

The animosity between Alabama and Auburn comes with a set of assumptions about class and culture on either side of the divide. Iconic Alabama coach Paul "Bear Bryant" famously tapped into this rift a few days before a game against Auburn. Answering a question about an upcoming game against Notre Dame, Bryant is credited with a barb that Auburn fans still remember. "Sure I'd like to beat Notre Dame, don't get me wrong," Bryant told a crowd. "But nothing matters more than beating that cow college on the other side of the state."

Auburn QB Stan White had a tough day as the Tigers failed to put up a single score throughout the entire game against Alabama. White threw a pick in the third quarter that was returned 61 yards for a touchdown. He then took a monstrous hit in the next quarter from John Copeland that knocked him out of the game. Alabama won 17-0, and went on to win the national championship in the Sugar Bowl.

Shortly after Cam Newton and the Auburn Tigers erased a 24-point deficit to stun Alabama in the 2010 Iron Bowl, 62-year-old Alabama fan Harvey Updyke expressed his hatred for the rival university by pouring herbicide over the roots of the iconic Oak trees that at Toomer's Corner in Auburn. The trees, while still alive, have yet to fully recover.

Late in the fourth quarter with Auburn trailing by two, Tigers coach Pat Dye decided to forego what would have been the go-ahead field goal. Instead, he attempted to score a touchdown on fourth and goal to widen the gap between both teams. As the ball was snapped, Auburn running back Bo Jackson made a critical error by running the wrong way and failing to block, resulting in Brent Fullwood falling well short of the end zone. The gaffe cost Auburn the game and Bama won 17-15.

Alabama's Bear Bryant entered the record books when the legendary coach recorded his 315th win during the 1981 Iron Bowl. After trailing 17-14 in the fourth quarter, Bama mounted two touchdown drives to take the game from Auburn, 28-17, despite tallying only 80 passing yards and losing four fumbles.

With the Crimson Tide leading 17-15 late in the game, the Alabama sideline shockingly called for a passing play instead of running out the clock. The play resulted in a fumble, and Auburn recovered the ball to take possession in the final minutes of the fourth quarter. The Tigers went on to score a field goal to beat Alabama 18-17.

For the first time in history, the Iron Bowl was televised to a national audience exposing the entire country to the rabid rivalry. In what was widely considered one of the most electric atmospheres of the annual matchup, 68,000 fans in attendance watched as the senior QB Joe Namath, who passed for 121 yards, rallied the Tide to a come-from-behind win. The first Bama score came from an Auburn center's botched snap, which was recovered by Steve Bowman for a touchdown. Later, Ray Ogden's incredible 107-yard kickoff return helped put the Crimson Tide on top for the win, 21-14.

After legendary Alabama coach Paul "Bear" Bryant passed away, rumors began to circulate through the Alabama campus that rival fans had celebrated the late coach's passing by the Oak trees at Toomer's Corner. Though eventually disproven, the rumor still rankles some longtime Alabama fans, including Harvey Updyke, who cited the rumor as an influence to his 2011 Oak tree poisonings.

Alabama went undefeated in the 2008 regular season in Nick Saban's second season on the sideline in Tuscaloosa. Along the way, the Tide snapped a six-game losing streak to its archrival, holding Auburn to a measly 170 yards. Bama absolutely demolished Auburn in an embarrassing shutout, winning 36-0 for the first ever Crimson Tide Iron Bowl victory in Tuscaloosa, per ESPN.

While Auburn beat Alabama 23-22 in a close game thanks in part to Bo Jackson's late touchdown, the 1982 Iron Bowl is most noteworthy as the farewell for Bear Bryant. The '82 matchup was Bryant's final Iron Bowl game as head coach of the Crimson Tide, and the contest is often considered the end of an era for the famed university. Bryant announced his retirement two weeks later.
Nick Saban's Crimson Tide has steadily maintained its position as one of college football's powers. The Tigers (3-8, 0-7) have fallen far and fast since Cam Newton and the national title-winning team of two years ago engineered a 24-point comeback that was the largest in Iron Bowl history.
Now, Auburn is gunning for a huge upset that would make this season not quite so bad, after all.
Not all Tigers fans are giving up on the game, but they're hardly confident either. David Wilbanks has been to every Iron Bowl since 1971, but that streak comes to an end Saturday.
He gave his tickets to his son and nephew, both Auburn students, partly because Auburn is having "probably the worst season that I can remember since the late 70s."
"I probably would have gone to the game just to keep my streak alive had my son not needed tickets," said Wilbanks, an Auburn graduate who lives in Sylacauga.
"Our family, we are orange and blue and it runs real deep with us. You just don't give up on that game, but things don't look too good and he needed a ticket and what's Dad to do? I figure it's time to pass the torch."
If oddsmakers and perception prove accurate, there might be no better time.
Wilbanks' streak began the year before the "Punt Bama Punt" game in 1972. Alabama, a 16-point favorite, lost a 13-point lead in the final 5:30 when Bill Newton blocked two punts and David Langer ran both in for touchdowns.
"I was on the fourth row in Section 47 and every score on both sides, Auburn and Alabama, took place right in front of us," he said. "We were about on the 10-yard line on that end of the field. That was probably the greatest sporting event of my lifetime."
For Auburn fans, this could join that as one of the most memorable Iron Bowls if the team can pull off a much bigger upset. The Tide might be OK so long as punter Cody Mandell gets decent blocking.
Saban used the "throw the records out" cliche minutes after last weekend's win over Western Carolina, the first of many such claims. It can be thrown out in this rivalry.
The ranked team has won the last six meetings when the opponent was unranked, dating back to Auburn's 17-7 upset of No. 9 Alabama in 2002.
The Tide was a three-touchdown favorite going into last season's meeting and won 42-14.
"I noticed Gov. (Robert) Bentley said the other day you can always throw out the record book and a lot of people say you can throw out the record book when Alabama and Auburn play," Housel said. "That's not true. There have been some upsets, but not many upsets. The best team going into this game wins it far more often than not, so you can't throw out the record book."
Regardless of what's happened before, the winner gets serious bragging rights at church, school or the office.
"You don't have any pro sports in this state, so this is pro football, baseball, basketball all tied into one," Tigers coach Gene Chizik said. "This is what this state is all about, and when you're born in this state you're usually born one or the other, and if you're not, you've got to make a decision real early on which one you are and then you can't flip. That's just the way it is."
Tide linebacker Nico Johnson is an Alabama native. He had to lose as a sophomore to really get it, though.
"If you don't beat them, those 365 days are going to be bad for you," Johnson said.