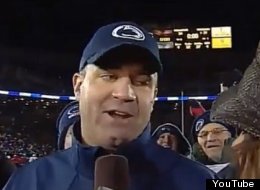 An emotional Bill O'Brien appeared eager to get his words out when Jessica Mendoza of ESPN2 asked him about his players following Penn State's win over Wisconsin in the season finale. Many thought that, in his haste, the first-year head coach didn't get those words out as he intended.
Although the Nittany Lions' head coach meant to call his players "a bunch of fighters," many people believe they heard him call them "a bunch of f***ers."
"They fight hard," O'Brien continued, giving no indication that he was aware of any gaffe. "They're a bunch of great kids. It's been a memorable year."
While there are conflicting opinions on whether he dropped an F-Bomb or not, several took to Twitter to talk about what they thought they heard. What do you think he said? Was that an accidental four-letter word? Or did his voice just crack while saying "fighters"? Let us know in the comments.
WATCH VIDEO ABOVE: (Warning - Profane Language Used Below)
@sbnation

SB Nation
You heard it right. Bill O'Brien didn't say "fighters" on live TV but there was another f-word.
http://t.co/wxuerDcB
@angelicaduria

Angelica Duria
PSU Coach Bill OBrien: "they're a bunch of f*ckers." Ah, gotta love the power of live tv & emotions! We knew what you meant to say
#fighters
@KyBird0329

Kylie Green
Okay after the game during
#BillOBrien
interview what in the world did he say? That sounded like cursing from my end.
@havedendrix

Dave Hendrix
Watching it again... You can tell bill obrien actually said fighters. Wish he didn't though hahaha
@TopperZulu

Topher Z-Freeman
It definitely just sounded like bill obrien said they're a bunch of fuckers instead of fighters haha
@KingLawrence1

Lawrence King
I do not think Bill OBrien dropped the F bomb
@quintusraedels

Quinn Raedels
if you listen for "fighters" you hear Bill say fighters. If you hear for the f word, youll hear that.
#BillOBrien