Here comes yet another blackface controversy: new ads for Illamasqua makeup are causing a stir over a model's extremely darkened complexion.
Jezebel spotted the campaign online when the controversial ads popped up on the makeup brand's Facebook page last night. (The link now reveals an error message stating that the "content is currently unavailable," although the same image was posted to Illamasqua's official Pinterest page three weeks ago, where it remains.)
In the ad, a woman clad in a white hat and white apparel -- with her face done up to match -- stares into the camera next to the slogan, "NOT Dreaming Of A White Christmas." Her counterpart features the same look but in all black... and that's where the trouble began.
On Pinterest, commenters divided. User JaeAesthetic writes that the "black foundation painted skin" and "very light exaggerated lips" give the model a look reminiscent of "minstrel blackface makeup." Another defended the ad's dual nature, saying, "This isn't blackface -- Just an editorial interpretation of the opposite of white."
One of Illamasqua's home countries, Australia, has found itself in hot water over blackface before. In a 2009 episode of the talent show "Hey Hey, It's Saturday," men dressed up in afro wigs and black makeup to portray the Jackson Five. (Luckily, judge Harry Connick Jr. was there to shut that whole thing down.) Last year, Qantas airlines chose a photo of two men in blackface as the winner of a Twitter contest.
A different version of the ad, also posted on Illamasqua's Pinterest page, shows the same version with the tagline "I'm dreaming of a plentiful Christmas."
Illamasqua posted this notice on its Australian brand's Facebook page on Monday night:
"We thank and acknowledge your comments regarding the above image. Obviously it was never our intention to cause offence; Illamasqua has always celebrated the right to self-expression and we continually push creative and artistic boundaries, priding ourselves on working with models of many ethnic backgrounds to reinforce this point. Alex Box, Illamasqua's Creative Director, has emphasised that this campaign is about colour ON the skin, not colour OF the skin, depicting polarity between the two images (both images are the same model) not race."
See the campaign in question below...
PHOTOS: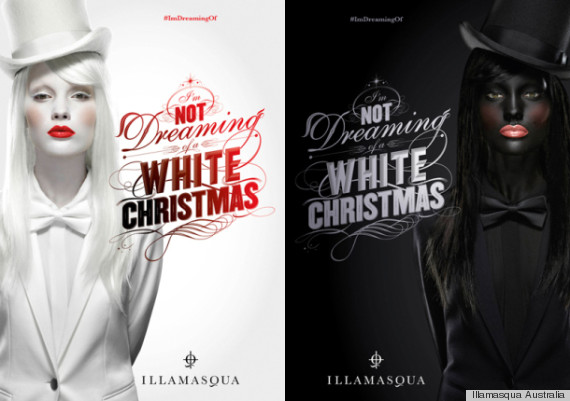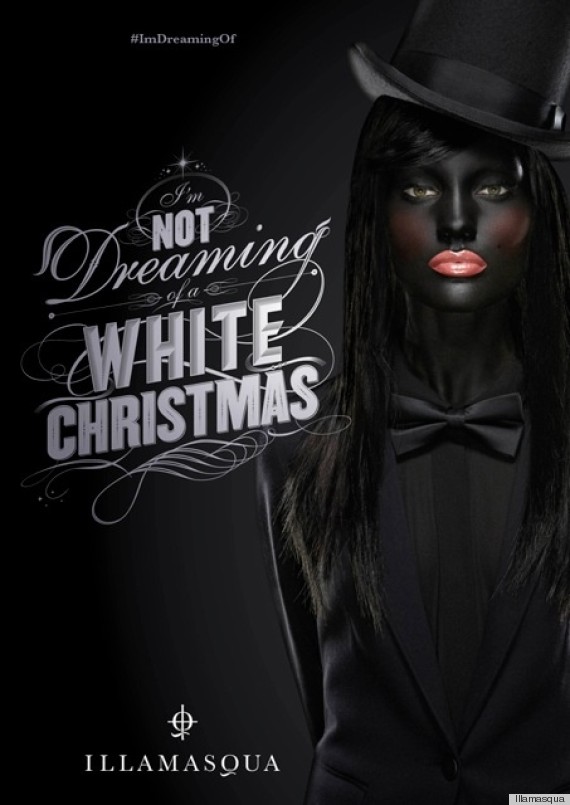 100 Ads That Got People Talking
Levis.

Saatchi and Saatchi's campaign for The Conservative Party ahead of the 1979 general election.

Durex.

Sisley fashion brand.

Sean John's Unforgivable Woman fragrance.

Linford Christie stars in Kleenex's tissue advert.

Lynx.

BMW.

BaF's anti-domestic violence ad.

Red Tape menswear fashion brand.

Controversial French anti-smoking advert,

MacDonald's.

QSOL service provider.

NSPCC

A German MacDonald's advert.

Heinz.

Cadbury's.

Miquita Oliver in Women's Aid advert.

Advert for Chicolate chocolate substitute.

Skin Burn, anti-smoking ad

Barnardo's.

Tipalet cigarette advert.

Benetton

TG4 television program entitled 'Paisean Faisean'.

Courage beer.

Budweiser.

Barcardi rum.

Amnesty International

Skyy alcoholic drink.

Amnesty International

Amnesty International

Anti binge-drinking advert

Van Heusen

BMW

Pitney-Bowes Postage Meter

Government anti-drug driving advert

Anti-abortion advert

Advert against verbal abuse

Fabrica

Benson & Hedges

American Apparel

Amnesty International

Post-It

An M&C Saatchi advert for St Matthew's in the City in Aukland, New Zealand.

Israel is still angry that the supermodel didn't serve in the army, and they are even more angry that she is in a tourism video for the country.

Wonderbra's infamous advert.
Want more? Be sure to check out HuffPost Style on Twitter, Facebook, Tumblr, Pinterest and Instagram at @HuffPostStyle.
--
Do you have a style story idea or tip? Email us at stylesubmissions@huffingtonpost.com. (PR pitches sent to this address will be ignored.)