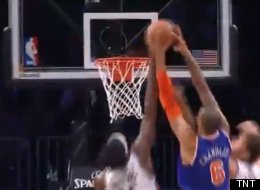 "My goodness!"
TNT announcer Steve Kerr captured the general feeling among New York Knicks fans when Tyson Chandler slammed home a putback dunk over Brook Lopez and Gerald Wallace of the Brooklyn Nets at the Barclays Center on Monday night.
The basket, coming off a missed jumper by Carmelo Anthony, pulled the Knicks within a point of the Nets, 16-15, in the first quarter. Thanks in large part to Chandler's 28 points and 10 rebounds, the teams would be deadlocked at the end of 48 minutes. Although the Nets would prevail in overtime, winning the first matchup of the teams since the Nets hopped the Hudson, Chandler's 12-13 shooting performance was arguably the most impressive takeaway from the game.
@ESPNStatsInfo

ESPN Stats & Info
Tyson Chandler was 12-13 from field for Knicks. Rest of team was 21-72 in OT loss to Nets
#BattleforNY
@ESPNStatsInfo

ESPN Stats & Info
Tyson Chandler: 1st Knicks player to shoot at least 92% from field in a game (10+ shots) since ... Tony Campbell 12-13, 1993 vs Jazz
As ESPN Stats & Info points out, Chander's teammates were not nearly as efficient. According to a shot chart from the game at ESPN.com, all of Chandler's field goal attempts came within three feet of the rim. This ferocious putback was not the only dunk. Here are a few more.
WATCH: Melo sets up Chandler for ally-oop dunk
WATCH: Chandler dunks to finish of pick-and-roll with Felton.