Robert Rauschenberg's 'Canyon' Donated To MoMA (PHOTO)
Describing a work of art as "priceless" tends to be an exaltation collectors like to hear. That is, unless the art is literally valueless, like in the case of Robert Rauschenberg's "Canyon."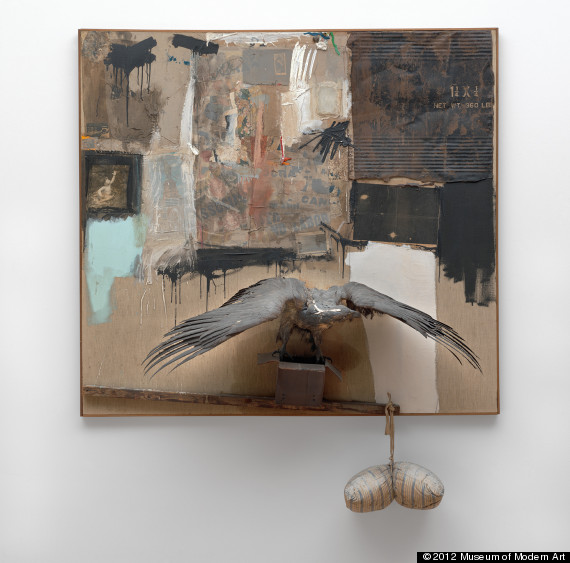 Robert Rauschenberg. Canyon. 1959. © 2012 Museum of Modern Art. Photo by John Wronn.
The artwork in question, created by the assemblage artist in 1959, was recently donated to the Museum of Modern Art by the children of New York art dealer Ileana Sonnabend. The acquisition is no doubt a landmark addition to the museum's already existing Rauschenberg collection, as well as a giant relief to the Sonnabend heirs who inherited the work in 2007.
Why would the Sonnabends be relieved to relinquish such a well-known work by an influential American artist, you ask?
Because the sculptural work is unsellable. The "Combine," or mixed media work, was recently valued at a price of $0 thanks to the prominently featured stuffed bald eagle affixed to the canvas. Since the prized bird is under federal protection, the heirs would be committing a felony if they tried to sell Rauschenberg's masterpiece.
In 2007 the plot of the unsellable artwork thickened when the Internal Revenue Service slapped the Sonnabends with a bill for $29.2 million. The IRS claimed that the Rauschenberg possessed a fair market value of $65 million and the owners were required to pay the appropriate taxes, reported The New York Times.
So, faced with a cumbersome painting that was not only illegal to sell but insurmountably expensive to keep, it makes sense that the Sonnabends decided to donate the work to MoMA. As part of a settlement reached between the IRS and the former "Canyon" owners, the tax assessment was dropped in exchange for the family's agreement to donate the work to a museum where it can be publicly exhibited.
MoMA beat out the Metropolitan Museum of Art for the coveted donation, and the former expressed its excitement to reunite the combine with its other Rauschenberg objects: "If you were going to sit down and close your eyes and dream of an installation, you would envision 'Rebus,' 'Bed' and 'Canyon' in conversation with each other," MoMA director Glenn Lowry told The New York Times.
What do you think of the unsellable Rauschenberg, readers? Let us know in the comments section.
For more on the prices of art, check out the slideshow below of million dollar auction prices:
Christie's Postwar and Contemporary Evening Sale
This Elizabeth Peyton painting is the bargain of the lot. You could have brought this piece home for a measly $290,500. Titled "Princess Elizabeth and Princess Margaret on Their Way to Westminster Abbey," the royal portrait is well under $1 million. Elizabeth Peyton (b. 1965) Princess Elizabeth and Princess Margaret on Their Way to Westminster Abbey oil on canvas 18 x 14 in. (45.7 x 35.6 cm.) Painted in 1994.

If you're looking to spend just a little more while staying under the $1 million mark, this Barnett Newman is for you. The untitled work cost $578,500. Not too shabby for an ink on paper piece the size of standard letter, right? Barnett Newman (1905-1970) Untitled ink on paper 10 7/8 x 7½ in. (27.5 x 19.1 cm.) Painted in 1945.

Ready to cross the million dollar mark and really spend some cash? This Richard Serra could have been yours for $2.88 million. "Schulhof's Curve" would be a great addition to anyone looking to spice up their backyard with a little bit of contemporary pizazz. Property of the Schulhof Collection Richard Serra (B. 1939) Schulhof's Curve COR-TEN steel 44 x 444 x 89 in. (111.8 x 1127.8 x 226.1 cm.) Executed in 1984.

Or perhaps this Mark Grotjahn, priced at $4.17 million, is more to your liking? The signed work painted in 2008 outperformed it's estimated price by more than a million dollars, so it could be a great investment. Works from the Douglas S. Cramer Collection Mark Grotjahn (B. 1968) Untitled (Red Butterfly II Yellow MARK GROTJAHN P-08 752) signed and dated 'MARK GROTJAHN P-08' (lower right edge); signed again twice, titled and dated again 'UNTITLED (RED Butterfly II Yellow Mark Grotjahn P-08) #752 M. Grotjahn 2008' (on the overlap) oil on canvas 725⁄8 x541⁄2 in.(184.5x138.4cm.) Painted in 2008. Estimate: $2,000,000-3,000,000

Now we're getting closer to the high roller categories. If you're willing to shell out a little over $5 million, here's a Franz Kline for $6.47 million. The untitled monochromatic work is a steal compared to another Kline that sold for over $40 million in the same sale. Franz Kline (1910-1962) Untitled signed and incorrectly dated 'FRANZ KLINE '54' (on the reverse); signed again and dated 'KLINE 1955' (on the overlap) oil on canvas 52¾ x 37¾ in. (132.1 x 94 cm.) Painted in 1955.

Or how about this other Klein, courtesy of Yves, for $7.59 million. It's a perfect example of the IKB master's sponge reliefs and well under your $10 million budget. Property Of The Brooklyn Museum Yves Klein (1928-1962) Accord Bleu (Sponge Relief) signed, titled, inscribed and dated 'Yves Klein Gelsenkirchen "Accord Bleu" 58' (on the reverse) dry pigment in synthetic resin, natural sponges and pebbles on board 203⁄8x533⁄4 x3in.(51.8x136.5x7.6cm.) Executed in 1958. Estimate: $7,000,000-10,000,000

For those of you still willing to climb the ladder of wealth, would you be interested in this Gerhard Richter, tagged with a price of $15.3 million. Richter is currently the highest selling artist alive today so strike while it's hot, people. Gerhard Richter (b. 1932) Abstraktes Bild (779-2) signed, numbered and dated '779-2 Richter 1992' (on the reverse) oil on canvas 78¾ x 70¾ in. (200 x 180 cm.) Painted in 1992.

Still with us? Ok, here's a Jean-Michel Basquiat for $26.4 Million. It's where street art meets fine art and it's not even $30 million! Property From A Private Collection Jean-Michel Basquiat (1960-1988) Untitled oilstick, acrylic and spray enamel on canvas 78 x 68 in. (198.1 x 172.7 cm.) Painted in 1981. Estimate on Request

Perhaps, you're looking for something a little more... reflective. Well, the price is going to go up, as well. Here's a large-scale Jeff Koons sculpture, titled "Tulips", for $33.6 Million. Property From The Collection Of Nord/Lb, Hannover Jeff Koons (B. 1955) Tulips high chromium stainless steel with transparent color coating 80 x 180 x 205 in. (203.2 x 457.2 x 520.7 cm.) Executed in 1995-2004. This work is one of five unique versions. Estimate on Request

Alright, you've made it to the end. You're budget is $50 million and boy is there a deal for you. This Andy Warhol print of the Statue of Liberty sold for an impressive $43.7 Million. And look, you've saved $7 million. Go ahead, buy a yacht. Property From an Important Private Collection Andy Warhol (1928-1987) Statue of Liberty signed 'Andy Warhol' (on the turning edge) silkscreen inks, spray enamel and graphite on canvas 773⁄4 x 81 in. (197.5 x 205.7 cm.) Painted in 1962.