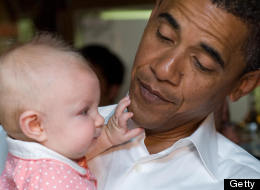 Planning on having a baby soon, but not sure which passport you want the little one to carry? The Economist Intelligence Unit may have your answer.
According to the research group's "Where To Be Born In 2013" index, which predicts the countries that offer the greatest possibility of having "a healthy, safe and prosperous life," the United States isn't the place of choice.
As the Economist magazine notes, the study is based on the results of a series of life-satisfaction surveys and takes into account indicators that include geography, demography, policies and economy.
In 1988, the last time the study was published, U.S led the pack. Today, the top spots are reserved for Europan countries, while the U.S. falls out of the top 10.
America, where babies will inherit the large debts of the boomer generation, languishes back in 16th place. Despite their economic dynamism, none of the BRIC countries (Brazil, Russia, India and China) scores impressively. Among the 80 countries covered, Nigeria comes last: it is the worst place for a baby to enter the world in 2013.
Although European countries score well in the index, only one nation in the top 10 is part of the Eurozone, with France coming in 26th place, and Britain coming in at 27th place. Debt-ridden Greece ranks 34th on the list of 80 countries.
Take a look at the country top ten in the slideshow below.
Caption: A baby smiles during a Panda style baby crawling contest at a newly opened shopping mall in Hong Kong, 21 June 2007. (MIKE CLARKE/AFP/Getty Images)

Caption: A baby with his face painted and pins on his shirt is carried as Canada supporters celebrate in downtown Vancouver following the Canadian's ice hockey team's victory over the USA in extra time on February 28, 2010. (VINCENZO PINTO/AFP/Getty Images)

Caption: A woman pushes a baby carriage as ske skates on a lake nearby Broek in Waterland, on January 8, 2010. (AFP PHOTO /ANP PHOTO ROBIN UTRECHT)

Caption: A baby dressed as Santa is seen during Coca-Cola Christmas In The Park at Auckland Domain on December 13, 2008 in Auckland, New Zealand. (Photo by Sandra Mu/Getty Images)

Caption: Photo taken on December 28, 2010 shows computer engineer Wan Jon Yew with his wife, Tan Hsiou Ling and their baby girl, Wan Vee Ann posing in front of their housing apartment in Singapore. (ROSLAN RAHMAN/AFP/Getty Images)

A baby wearing a Danish flag hat chews on an Australian flag at Amalienborg Palace prior to the wedding of Crown Prince Frederik and Mary Donaldson May 14, 2004 in Copenhagen, Denmark. (Photo by Ian Waldie/Getty Images)

Caption: A father window shops with his infant at a toy store in the central Swedish town of Oestersund on February 11, 2008. AFP PHOTO / SOREN ANDERSSON

Caption: A Norway's handball fan holds a baby wearing ear protectors during the women's gold medal handball match Norway vs Montenegro for the London 2012 Olympics Games on August 11, 2012 at the Basketball Arena in London. (JAVIER SORIANO/AFP/GettyImages)

Australian Prime Minister Julia Gillard is watched by her partner Tim Mathieson as she holds a baby dressed in the colours of the Richmond Tigers as they make their way to an Australian Rules football game after launching the Korin Gamadji Institute at the ME Bank Centre on August 12, 2012 in Melbourne, Australia. (Scott Barbour/Getty Images)

Caption: A baby dressed as a Swiss supporter is pictured before the Euro 2008 Championships Group A football match Switzerland vs. Turkey on June 11, 2008 in the stands of the Jakob-Park stadium in Basel, Switzerland. (DANIEL MIHAILESCU/AFP/Getty Images)
Click here to read more.