Joe Biden D.C. Costco Trip Marks Opening Of Big-Box Giant In Nation's Capital (PHOTOS) (UPDATED)
WASHINGTON -- Vice President Joe Biden reportedly showed his Costco card as he and his wife, Dr. Jill Biden, made a surprise appearance Wednesday morning at the grand opening of the big-box giant's first location in the District of Columbia.
Biden, wearing aviator sunglasses, entered to cheers from the crowd. He paused to speak to several shoppers and workers. "I want to go buy some chidren's books," he told an employee, who then led him through the store.

He paused to speak with Costco co-founder and former CEO James Sinegal.

"Thank you so much for being here," Sinegal told him.

"Are you kidding me?" Biden responded affably. "We go to your store between Stanton and Newark in Delaware... all the time."
NBC4 reporter Tony Tull posted a photo on Twitter, provoking speculation about what, exactly, attracted the vice president to the store's grand opening:
@nbcaaron

Aaron Gilchrist
@perkinsms

Michael Perkins
Needs wax and chamois for the trans-am RT
@TonyTull
: VP Biden makes an appearance here at the Districts first Costco.
@markknoller

Mark Knoller
VP Biden just arrived at local Costco to talk with shoppers about keeping tax cuts in place for middle class families & small businesses.
@charliespiering

Charlie Spiering
Why is Biden at Costco? Maybe because the co-founder raised .4 for Obama's re-election campaign
http://t.co/2FdvmbQd
Another photo, posted to Instagram, suggests that Biden may have come to enjoy the big box store's free samples: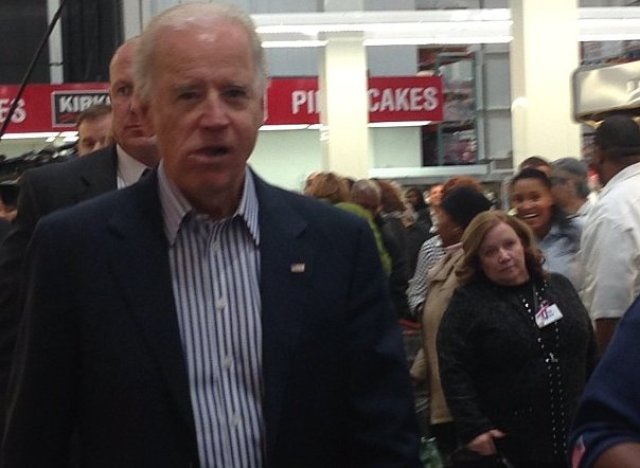 D.C. Mayor Vincent Gray (D) said in a media release that the opening of the 154,000-square-foot store in D.C.'s Fort Lincoln New Town community marks "a huge milestone for retail in the District."
"Having the big-box retailer call the District home as this shopping center's anchor tenant means that many more District residents can partake in its discount shopping options here," said Gray.
UPDATE, 5:20 p.m.: Yahoo has the Veep's Costco shopping list: "a 32-inch Panasonic flat-screen TV, some kids' books, a big apple pie and Duraflame logs."
Biden also reportedly spent some time browsing watches and, reports Yahoo, did indeed eat some samples from the Costco bakery section.
US Vice President Joe Biden eats a food sample during a visit to a Costco store on a shopping trip in Washington, DC, on November 29, 2012. Biden made the visit to the first Costco store located in Washington, DC, during its grand opening. AFP PHOTO / Saul LOEB (Photo credit should read SAUL LOEB/AFP/Getty Images)

Vice President Joe Biden checks out after shopping at Costco in Washington, Thursday, Nov. 29, 2012. Biden went shopping for presents and to highlight the importance of renewing middle-class tax cuts so families and businesses have more certainty at this critical time for our economy. (AP Photo/Susan Walsh)

US Vice President Joe Biden visits a Costco store on a shopping trip in Washington, DC, on November 29, 2012. Biden made the visit to the first Costco store located in Washington, DC, during its grand opening. AFP PHOTO / Saul LOEB (Photo credit should read SAUL LOEB/AFP/Getty Images)

US Vice President Joe Biden pushes a full shopping cart during a visit to a Costco store in Washington, DC, on November 29, 2012, to purchase Christmas gifts. Biden made the visit to the first Costco store located in Washington, DC, during its grand opening. AFP PHOTO / Saul LOEB (Photo credit should read SAUL LOEB/AFP/Getty Images)

US Vice President Joe Biden selects books to give as gifts to charity during a visit to a Costco store on a shopping trip in Washington, DC, on November 29, 2012. Biden made the visit to the first Costco store located in Washington, DC, during its grand opening. AFP PHOTO / Saul LOEB (Photo credit should read SAUL LOEB/AFP/Getty Images)

Vice President Joe Biden hugs Ivey Stewart, a Costco employee, after shopping at Costco in Washington, Thursday, Nov. 29, 2012. Biden went shopping for presents and to highlight the importance of renewing middle-class tax cuts so families and businesses have more certainty at this critical time for our economy. (AP Photo/Susan Walsh)

US Vice President Joe Biden tries on a watch during a visit to a Costco store on a shopping trip in Washington, DC, on November 29, 2012. Biden made the visit to the first Costco store located in Washington, DC, during its grand opening. AFP PHOTO / Saul LOEB (Photo credit should read SAUL LOEB/AFP/Getty Images)

US Vice President Joe Biden looks at watches and jewelry during a visit to a Costco store on a shopping trip in Washington, DC, on November 29, 2012. Biden made the visit to the first Costco store located in Washington, DC, during its grand opening. AFP PHOTO / Saul LOEB (Photo credit should read SAUL LOEB/AFP/Getty Images)

US Vice President Joe Biden selects books to give as gifts to charity during a visit to a Costco store on a shopping trip in Washington, DC, on November 29, 2012. Biden made the visit to the first Costco store located in Washington, DC, during its grand opening. AFP PHOTO / Saul LOEB (Photo credit should read SAUL LOEB/AFP/Getty Images)

US Vice President Joe Biden visits a Costco store on a shopping trip in Washington, DC, on November 29, 2012. Biden made the visit to the first Costco store located in Washington, DC, during its grand opening. AFP PHOTO / Saul LOEB (Photo credit should read SAUL LOEB/AFP/Getty Images)

US Vice President Joe Biden holds up his Costco card alongside Costco co-founder Jim Sinegal (R) during a visit to a Costco store on a shopping trip in Washington, DC, on November 29, 2012. Biden made the visit to the first Costco store located in Washington, DC, during its grand opening. AFP PHOTO / Saul LOEB (Photo credit should read SAUL LOEB/AFP/Getty Images)

Vice President Joe Biden reacts after being asked to sample food from the bakery section while shopping at a Costco in Washington, Thursday, Nov. 29, 2012. Biden went shopping for presents and to highlight the importance of renewing middle-class tax cuts so families and businesses have more certainty at this critical time for our economy. (AP Photo/Susan Walsh)

Vice President Joe Biden talks with Costco employees in the bakery section of the store while shopping at Costco in Washington, Thursday, Nov. 29, 2012. Biden went shopping for presents and to highlight the importance of renewing middle-class tax cuts so families and businesses have more certainty at this critical time for our economy. (AP Photo/Susan Walsh)

Vice President Joe Biden gestures as he talks to reporters as he pushes his cart after shopping at Costco in Washington, Thursday, Nov. 29, 2012. Biden went shopping for presents and to highlight the importance of renewing middle-class tax cuts so families and businesses have more certainty at this critical time for our economy. (AP Photo/Susan Walsh)

US Vice President Joe Biden talks on an employee's cellphone during a visit to a Costco store on a shopping trip in Washington, DC, on November 29, 2012. Biden made the visit to the first Costco store located in Washington, DC, during its grand opening. AFP PHOTO / Saul LOEB (Photo credit should read SAUL LOEB/AFP/Getty Images)

Vice President Joe Biden shakes hands with Costco CEO Craig Jelinek, right, as co-founder Jim Sinegal watches at center, after Biden arrived to shop at the new Costco store in Washington, Thursday, Nov. 29, 2012. Biden went shopping for presents and to highlight the importance of renewing middle-class tax cuts so families and businesses have more certainty at this critical time for our economy. (AP Photo/Susan Walsh)

Vice President Joe Biden smiles as he makes a call on the cell phone of Costco employee Ivey Stewart, left, after shopping at the a Costco store in Washington, Thursday, Nov. 29, 2012. Biden went shopping for presents and to highlight the importance of renewing middle-class tax cuts so families and businesses have more certainty at this critical time for our economy. (AP Photo/Susan Walsh)