Geo Wyeth Interview: Transgender Artist On Technology, Failure And Being A Mac Genius (PHOTOS, VIDEO)
Geo Wyeth is a musician and performance artist who is a rising star in the New York art world. He's also a biracial female-to-male transexual (FTM) who sings openly about living in a world of binaries. His songs are campy and dark, channeling influences and voices like a spiritual puppeteer with brooding vocals that would make Morrissey proud.
For his performance "OUT OF BODY OW! TUF BODY" at Kate Werble Gallery in New York this past January, Wyeth played in a luminescent white tent evoking the architecture of an Apple store. (This resemblance wasn't coincidental; the artist is a former Mac Genius, after all.) We spoke to Wyeth to learn more about his life and work, as well as his incredibly unusual e-mail signature. Scroll down for video and a slideshow.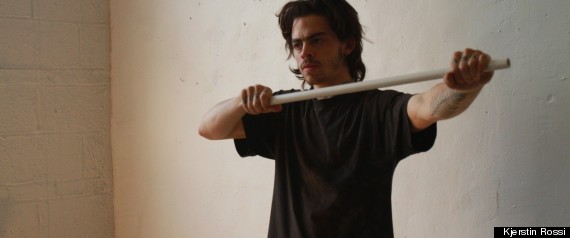 HP: Tell us about your upcoming performance at Human Resources, entitled, "I Am Serious Man."
GW:It is an installation that I'm building that features a giant pair of pants -- glowing pants. It follows this weird character I've created called "Kitchen Steve" as he explores these sonic landscapes I've made with a sampler and keyboards. The character exists outside and inside the sonic landscape.
HP: In previous interviews, you've called your music theatrical. Do you play a different role each time you perform? Does each voice contain a personality?
GW: I realized that more recently, that whenever I have the urge to create anything or make something, I often pretend to be other people or channel an energy or force that later maybe develops into a kind of character. Not necessarily character in a theater way, but in a way that something has character. I am channeling an energy or identity.
I have moved very quickly through a lot of different kinds of performance in my life, a lot of my work sounds very different. I used to feel bad about that. I feel very natural navigating these different zones and territories, but I thought about it as a weakness. Now I think about it as what I do I am channeling these identities. I was playing the accordion a few years ago and that had a particular character -- it was more folky, less layered, more simple and stark. I try to have my antenna up, and am receptive to whatever comes through me.
OUT OF BODY OW! TUF BODY - excerpt from Geo Wyeth on Vimeo.
HP: Why are visuals necessary to your performances?
GW: I really struggled with this. I think a lot of my performance is about not being in my body. Adding visual elements has the potential to make things overly complex and be distracting. It has been a learning process, figuring out what is distracting, what isn't, and what interrupts the sequence -- which is sometimes really great. I use the visual element as its own language that comes with and interacts with the sound and with the body. I have shied away from projection and photography, anything that has that clarity of meaning. I refer to them as props or a set, anything that can compliment or assist the show. It's all part of the same world, evocative in the same way.
HP: How did working at the Apple store shape your ideas about technology and art? Do you see a DIY ethos as working against technology in a way?
GW: I love technology. Technology isn't all computers -- it's anything that is a tool. It used to be a pen and a pencil, you know? I am not anti-technology at all. I am actually sort of fascinated by it and how it changes our relationships to our bodies.
Working at the Apple store has, strangely enough, informed my work in ways that I never anticipated. It was more about the experiences that I had when I was there -- the energy of working in a very corporate environment.
Also, I learned a lot from the interactions I had teaching people how to use their computers. A lot of folks who came in were artists from an older generation, who lived in SoHo since the 60s. Watching somebody like that interacting with virtual material was really strange. Old musicians would come in to learn Garage Band; the link between their bodies and how the sound got created was totally warped. They were so bewildered by how disembodied the experience was of making a piece of art.
The process of building something takes a really long time; you learn things about your body and how your body is interacting with the materials you are using. But when you are working on a computer, you are really just moving on a pad and that is the embodied experience. It just totally blew my mind. How do artists know who they are? How do you differentiate who you are from other people? So much of this knowledge comes from doing things with our bodies. That coldness of feeling also reminded me of New York City and the whole corporate takeover [here].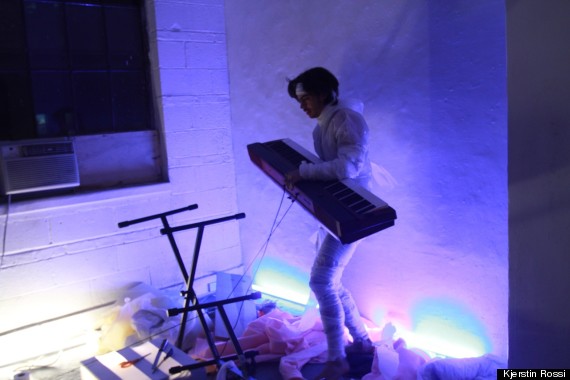 HP: What is the relationship between being a "queer artist" and making "queer art," and is your art autobiographical?
[Sighs] My performances come from a very personal place. My work is queer because I am queer. It comes from the kind of life that I lead. For me, being queer and being an artist are sort of synonymous. All the aspects of who I am are present in the work. There are all kinds of things about my identity that come through the work, and that's true for all artists. Someone recently asked me how gender plays into my performance and I found that sort of odd. Of course it does -- it does for everybody. When you see some dude on the stage with his rock band shredding on his guitar, he is also using gender in performance. Of course my work is queer and of course its trans[gender] and it's also coming from someone who likes macaroni and cheese. I hope that all of who I am is present in the work.
HP: Was that question frustrating?
GW: No, it's kind of a duh question... Anything that is being expressed in culture is where it comes from. Of course people are going to ask me this question because I am my work. It would be different if I wasn't putting my body on the line the way I do in performance. I am in the work in a very visceral way, so I have to expect to be asked about my life.
HP: We really like how you sign your e-mails "Sent from the alien place." What's up with that?
GW: There was this moment a while ago when I lost my godmother, who was very dear to me, and I started sending her e-mails because I really missed her; they didn't bounce back. The Internet is this weird landscape that is so intangible. Like, what is actually happening really? Where is this going right now? It is still weird for me even though I worked at the Apple store.
Wyeth will perform at Human Resources in Los Angeles from January 25-27, 2013.
See him in our roundup of transgender artists you should know in the slideshow below, and let us know your thoughts in the comments section:
Transgender Artists You Should Know
Andy Warhol's muse was both an artist and the work of art itself, as one who created and curated a feminine persona that captured all the archetypes of womanhood from femme fatale to Hollywood glamazon. Caroline Hagood explained in a HuffPost Arts blog: "People can handle ambiguity in art, but not in human beings. As a result, Candy gave them their answer: woman, not man; woman, not cross-dressing man; and not just any woman -- Marilyn freaking Monroe with a secret penis." Candy Darling passed away from cancer in 1974.

Wyeth is a transgender DIY musician whose style merges Broadway level drama with extraterrestrial strangeness. He explained the title of his album "Alien Tapes" to Interview Magazine, saying "The word "alien" came up in the songs a lot to express feeling like an outsider. I regularly feel alienated by my own body and the way it fails me." Read more here.

Volcano is a gender-variant photographer whose flow of self portraits illustrates the fluidity and mutability of identity. Scrambling identifiers for male and female, sex and gender, self and other, Volcano plays with our assumptions while boasting awesome photo names like 'Mo B. Dick.' Read more here.

Mac is a Brooklyn based photographer, writer and publisher. He is editor of Original Plumbing, documenting the culture of FTM trans guys, and Translady Fanzine, a collaborative photographic periodical. Read Mac blog for HuffPost here.

Drucker uses performance, video and photography to explore hidden aspects of transgender history and her own sexual identity. Through lenses of queer and feminist theory, Drucker complicates the binary divisions we take for granted and rocks some stunning outfits doing it. Read more here.

Davis is a genderqueer performance artist, painter, curator and writer associated with the Queer-Core Zine Movement. Davis told Sleek magazine: "I'm intersex, born with both female and male genitalia, so I'm a strange hybrid creature. I'm also part German, quarter Jewish, my father was born in Mexico and my mother is French Creole. People would always stare at me, so I figured I might as well just be on stage!" The cult star has since dabbled in James Franco quantities of artistic forms, and has remained in the spotlight. Read more here.

Stone is a theorist, writer and performance artist. Growing up in a Jewish religious family in New Jersey, Stone donned a black cape and beard. Although she began working as a computer programmer Stone now is a professor of performance studies, using performance art and gallery installations to present and engage theory. She told ArtForum in 1988, "I actually have three ages: 12, 30, and 50."

Born Greg Lankton, the artist began playing with dolls when she was just a child. Lankton later became idolized for her freaky yet seductive folk-art dolls, limbs and shrines. Glamor and decay categorized Lankton's installations that looked like Ms. Havisham's surrealist dollhouse. Read more here.

Sakura is a Spanish-Catalan photographer whose work deals with the brutality of sexual in-betweenness and transition. Raised in an orphanage, Sakura studied political philosophy and served as a reporter before turning to art. Her photographs combine traditional female photography tropes with unexpected imagery, revealing the layers of meaning in a single image. Read more here.

McGarrell was an artist and filmmaker who focused on sculptures made from organic and natural materials. The artist, who called himself "a total gender mash up," was also obsessed with Haitian culture, eventually moving there to become the art director of FOSAJ, which aimed to help local artists achieve international success. McGarrell was killed when a 7.0 earthquake struck Haiti in 2010. Read more here.

Cárdenas is a Los Angees based new media artist who works in social practice and wearable electronics. Her past projects include a 365 hour mixed reality performance in second life and helping design the Transborder Immigrant Tool, a GPS device that helps undocumented immigrants crossing the US-Mexico border locate water stations.

Antony is the lead singer of 'Antony and the Johnsons' and 'Hercules and Love Affair,' who, according to the NY Times, "often appears in white face paint and women's clothing and has an unsettling stage presence in which it seems as if he doesn't know what to do with his hands." Yet his voice is far more distinctive than his style... a haunting alto that quivers madly. Antony once told Out Magazine: "Transgender kids are always living in a dazzle of light and color. I think it's part of nature. It's a normal role we've always been doing something colorful and spirited—involving joy and a relationship to spirit."

Genesis Breyer P-Orridge is best known as the godfather of industrial music and the founding member of Throbbing Gristle, Psychic TV, and Thee Majesty. His most provocative project begam after the death of Lady Jaye, P-Orridge's muse, collaborator, and wife. The couple sought to merge themselves into one being, something P-Orridge has termed the "pandrogyne." Thus the artist has been undergoing cosmetic surgeries to merge forms with his late wife. The process is documented in the film "The Ballad of Genesis and Lady Jaye" Read more here.

Grace is the lead singer of punk band Against Me! Born Thomas James Gabel, Grace publicly discussed her struggles with gender dysphoria this year, coming out as transgender. When she announced the news at a concert it was followed by the song "Transgender Dysphoria Blues." Grace described her troubles to Rolling Stone: "The cliché is that you're a woman trapped in a man's body, but it's not that simple. It's a feeling of detachment from your body and from yourself. And It's shitty, man. It's really fucking shitty."

Stevens is the guitarist for Coyote Grace, a blues-bluegrass band that mixes Southern tradition with themes of transformation. Stevens writes on his band's site how his "gender transition resolved a lifetime of dissonance between being raised as female while identifying as male. Not without cost, Joe's transition closed some doors while opening many others, and significantly informs his songwriting and performance."

Katastrophe is a Bay Area based hip-hop rapper who uses his lyrics to educate the world about people who are different, and bring a queer voice to rap. ""Everyone is uncomfortable with gender. It's an uncomfortable thing, especially if you are born in a body where you have to think about it all the time," he told SF Gate. "Sometimes I feel the reason I was born is to make it something comfortable for me, but also to make it comfortable for the rest of the world."

Iizuka is a filmmaker who directed, wrote and produced "Our Future" in 2011. The film, drawing from Iizuka's own experience, addresses sexual minorities and the difficulties of growing up. The film follows a teenage girl taunted for her masculinity, a gay boy and a transgender dancer.

Sukkhapisit is a transgender filmmaker from Thailand whose films often involve the "other" gender. Her films often follow a straight person falling in love with a transgender or transvestite person unknowingly. "My point is that if you can go to bed with a transgender or fall in love with them, why do you discriminate against them?" asked Tanwarin to the Hindu Times.

Brooks, the first transgender African American actress, is starring in the film "The Promise." The groundbreaking actress said in an interview, "I honestly cannot see myself doing anything but performing."

Kelly, a storyteller par excellance,has written for NYC-based performance series Gayety!, Low Standards, and Queer Memoir; on Showtime's OurChart.com; and in the forthcoming anthology, Trans/Love: Radical Sex, Love and Relationships Beyond the Gender Binary. She's also written for Amos Mac's "Original Plumbing."