The nominations for the 2013 Grammys were announced Wednesday night at the Grammy Nominations Concert Live! in Nashville. Taylor Swift and LL Cool J co-hosted the concert.
Maroon 5 performed at the event, playing two of their biggest hits: "One More Night" and "Moves Like Jagger." They were fresh off their first nomination of the night, for Best Vocal Pop Album.
Currently gearing up for a North American tour, Maroon 5 also performed on "Saturday Night Live" this fall. The band's fourth studio album "Overexposed," was released this June.
Other performers at the event included Ne-Yo, fun., and Luke Bryan.
Keep up with the latest Grammy news on the live blog, and see photos from the 2012 Grammy awards, below.
The 55th annual Grammy Awards have come to a close. Dan Auerbach from The Black Keys was a big winner, but Frank Ocean, fun., Mumford & Sons, Kelly Clarkson and Kanye West & Jay-Z were all honored with Grammys.
From all of us here at HuffPost Entertainment, we hope you enjoyed the show. See you again on Feb. 24 for the 85th annual Academy Awards.
Here's Lena Dunham and Taylor Swift again, just because: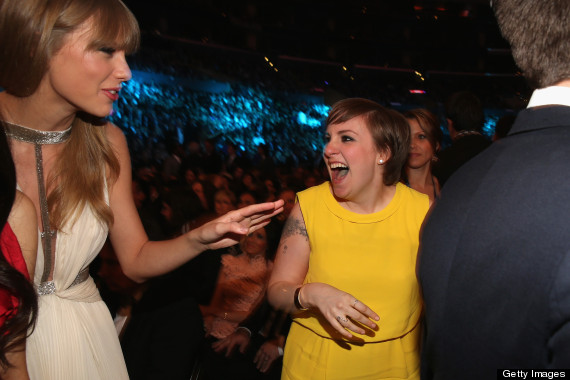 Loading Slideshow
Rihanna in custom Armani Prive

(FilmMagic photo)

Rihanna in custom Armani Prive

LOS ANGELES, CA - FEBRUARY 12: Singer Rihanna arrives at the 54th Annual GRAMMY Awards held at Staples Center on February 12, 2012 in Los Angeles, California. (Photo by Jason Merritt/Getty Images)

Nicki Minaj in Versace

(Getty photo)

Nicki Minaj in Versace

(Getty photo)

Amber Rose in Versace

(Getty photo)

LL Cool J

LOS ANGELES, CA - FEBRUARY 12: Host LL Cool J arrives at the 54th Annual GRAMMY Awards held at Staples Center on February 12, 2012 in Los Angeles, California. (Photo by Jason Merritt/Getty Images)

Kelly Rowland in Alberta Ferretti

(FilmMagic photo)

Esperanza Spalding

(WireImage photo)

Adele in custom Armani Prive

(WireImage photo)

Alicia Keys and Swizz Beatz

LOS ANGELES, CA - FEBRUARY 12: Singer Alicia Keys and producer Swizz Beatz arrive at the 54th Annual GRAMMY Awards held at Staples Center on February 12, 2012 in Los Angeles, California. (Photo by Jason Merritt/Getty Images)

Diana Ross

Diana Ross poses on the red carpet at the Staples Center for the 54th Grammy Awards in Los Angeles, California, February 12, 2012. AFP PHOTO Joe KLAMAR (Photo credit should read JOE KLAMAR/AFP/Getty Images)

Corinne Bailey Rae in Christian Siriano

(WireImage photo)

Alicia Keys in Alexandre Vauthier

(Getty photo)

Kelly Price

LOS ANGELES, CA - FEBRUARY 12: Singer Kelly Price arrives at the 54th Annual GRAMMY Awards held at Staples Center on February 12, 2012 in Los Angeles, California. (Photo by Jason Merritt/Getty Images)

Marsha Ambrosius

LOS ANGELES, CA - FEBRUARY 12: Singer Marsha Ambrosius arrives at the 54th Annual GRAMMY Awards held at Staples Center on February 12, 2012 in Los Angeles, California. (Photo by Jason Merritt/Getty Images)

Taraji P. Henson

LOS ANGELES, CA - FEBRUARY 12: Actress Taraji P. Henson arrives at the 54th Annual GRAMMY Awards held at Staples Center on February 12, 2012 in Los Angeles, California. (Photo by Jason Merritt/Getty Images)

Melanie Fiona

LOS ANGELES, CA - FEBRUARY 12: Singer Melanie Fiona arrives at the 54th Annual GRAMMY Awards held at Staples Center on February 12, 2012 in Los Angeles, California. (Photo by Jason Merritt/Getty Images)

Jessie J in Julien Macdonald

(Getty photo)

Fergie in Jean Paul Gaultier

(Getty photo)

John Legend and Chrissy Teigen

(Getty photo)

Ava Lee and Debra Lee

LOS ANGELES, CA - FEBRUARY 12: BET CEO Debra Lee (R) and Ava Lee arrive at the 54th Annual GRAMMY Awards held at Staples Center on February 12, 2012 in Los Angeles, California. (Photo by Jason Merritt/Getty Images)

J Cole

LOS ANGELES, CA - FEBRUARY 12: Rapper J Cole (R) and guest arrive at the 54th Annual GRAMMY Awards held at Staples Center on February 12, 2012 in Los Angeles, California. (Photo by Jason Merritt/Getty Images)

Jimmy Jam and family

LOS ANGELES, CA - FEBRUARY 12: Jimmy Jam (R) and family arrive at the 54th Annual GRAMMY Awards held at Staples Center on February 12, 2012 in Los Angeles, California. (Photo by Jason Merritt/Getty Images)

Laurieann Gibson

LOS ANGELES, CA - FEBRUARY 12: Creative director Laurieann Gibson arrives at the 54th Annual GRAMMY Awards held at Staples Center on February 12, 2012 in Los Angeles, California. (Photo by Jason Merritt/Getty Images)

Valerie Simpson

LOS ANGELES, CA - FEBRUARY 12: Singer/songwriter Valerie Simpson arrives at the 54th Annual GRAMMY Awards held at Staples Center on February 12, 2012 in Los Angeles, California. (Photo by Jason Merritt/Getty Images)

Birdman, Tyga and Mack Maine

LOS ANGELES, CA - FEBRUARY 12: (L-R) Rappers Birdman, Tyga and Mack Maine arrive at the 54th Annual GRAMMY Awards held at Staples Center on February 12, 2012 in Los Angeles, California. (Photo by Jason Merritt/Getty Images)

Lupe Fiasco

Lupe Fiasco poses at the Staples Center for the 54th Grammy Awards in Los Angeles, California, February 12, 2012. AFP PHOTO Joe KLAMAR (Photo credit should read JOE KLAMAR/AFP/Getty Images)

Rick Ross

LOS ANGELES, CA - FEBRUARY 12: Rapper/producer Rick Ross arrives at the 54th Annual GRAMMY Awards held at Staples Center on February 12, 2012 in Los Angeles, California. (Photo by Jason Merritt/Getty Images)

Diana Ross

LOS ANGELES, CA - FEBRUARY 12: Singer Diana Ross, recepient of the GRAMMY Lifetime Achievement Award, poses in the press room at the 54th Annual GRAMMY Awards at Staples Center on February 12, 2012 in Los Angeles, California. (Photo by Kevork Djansezian/Getty Images)

Ledisi

LOS ANGELES, CA - FEBRUARY 12: Singer Ledisi arrives at the 54th Annual GRAMMY Awards held at Staples Center on February 12, 2012 in Los Angeles, California. (Photo by Jason Merritt/Getty Images)

Mary Mary

LOS ANGELES, CA - FEBRUARY 12: Singers Erica Atkins-Campbell (R) and Trecina 'Tina' Atkins-Campbell arrives at the 54th Annual GRAMMY Awards held at Staples Center on February 12, 2012 in Los Angeles, California. (Photo by Jason Merritt/Getty Images)

Gayle King

LOS ANGELES, CA - FEBRUARY 12: TV personality Gayle King arrives at the 54th Annual GRAMMY Awards held at Staples Center on February 12, 2012 in Los Angeles, California. (Photo by Jason Merritt/Getty Images)

Tonya Wright and Tamar Braxton

Tamar Braxton and Tonya Wright pose at the Staples Center upon arrival for the 54th Grammy Awards in Los Angeles, California, February 12, 2012. AFP PHOTO Joe KLAMAR (Photo credit should read JOE KLAMAR/AFP/Getty Images)

Common

LOS ANGELES, CA - FEBRUARY 12: Rapper Common arrives at the 54th Annual GRAMMY Awards held at Staples Center on February 12, 2012 in Los Angeles, California. (Photo by Jason Merritt/Getty Images)

Lady Gaga in custom Versace

LOS ANGELES, CA - FEBRUARY 12: Singer Lady Gaga attends the 54th Annual GRAMMY Awards held at Staples Center on February 12, 2012 in Los Angeles, California. (Photo by Larry Busacca/Getty Images For The Recording Academy)