 Song of the Year nominees at the 2013 Grammy Awards include Carly Rae Jepsen, fun., Kelly Clarkson, Ed Sheeran and Miguel Pimentel.
The Song of the Year category at the Grammys "recognizes the songwriter(s)." That's in different from the Record of the Year category, which "recognizes the artist's performance as well as the overall contributions of the producer(s), recording engineer(s) and/or mixer(s) if other than the artist," according to Grammy.org.
Jepsen, who was not nominated for Best New Artist, did receive a nomination for Song of the Year for "Call Me Maybe"; Clarkson was honored for "Stronger (What Doesn't Kill Me)"; fun. was hailed for "We Are Young"; Ed Sheeran was singled out for "The A-Team"; and Pimentel was a surprise choice for "Adorn," off his second album, "Kaleidoscope Dream."
At the 54th annual Grammy Awards in 2012, Adele won Song of the Year for "Rolling in the Deep."
It was expected that Bruce Springsteen, Mumford & Sons or Taylor Swift could compete in this category, but the big names failed to make the cut.
For the full list of Grammy nominees, click here.
The 55th annual Grammy Awards have come to a close. Dan Auerbach from The Black Keys was a big winner, but Frank Ocean, fun., Mumford & Sons, Kelly Clarkson and Kanye West & Jay-Z were all honored with Grammys.
From all of us here at HuffPost Entertainment, we hope you enjoyed the show. See you again on Feb. 24 for the 85th annual Academy Awards.
Here's Lena Dunham and Taylor Swift again, just because: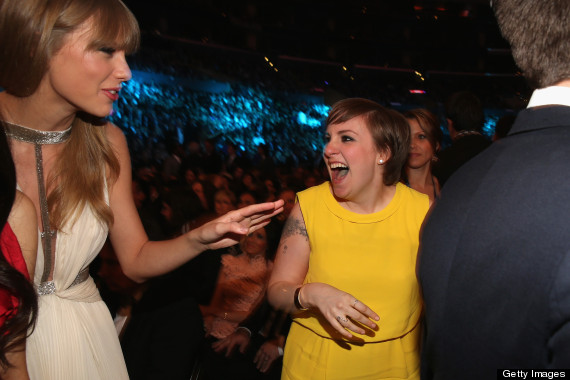 Country Solo Performance - "Blown Away" Best Country Song - "Blown Away"

Record of the Year - "Thinkin Bout You" Best New Artist Album of the Year - "Channel Orange" Best Urban Contemporary Album - "Channel Orange" Best Rap/Sung Collaboration - "No Church In The Wild" by Jay-Z & Kanye West Featuring Frank Ocean & The-Dream

Best Pop Vocal Album - "Some Nights" Record of the Year - "We Are Young" Best New Artist Album of the Year - "Some Nights" Song of the Year - "We Are Young" Best Pop Duo/Group Performance - "We Are Young"

Record of the Year - "Lonely Boy" Album of the Year - "El Camino" Best Rock Performance - "Lonely Boy" Best Rock Song - "Lonely Boy" Best Rock Album - "El Camino" Producer Of The Year, Non-Classical - Dan Auerbach

Album of the Year - "Babel" Best Rock Performance - "I Will Wait" Best Rock Song - "I Will Wait" Best Americana Album - "Babel" Best Song Written For Visual Media - "Learn Me Right (From Brave)" Best Long Form Music Video - "Big Easy Express"

Album of the Year - "Blunderbuss" Best Rock Song - "Freedom At 21" Best Rock Album - "Blunderbuss"

Best Pop Vocal Album - "Stronger" Record of the Year - "Stronger (What Doesn't Kill You)" Best Pop Solo Performance - "Stronger (What Doesn't Kill You)"

Record of the Year - "Somebody That I Used To Know" Best Pop Duo/Group Performance - "Somebody That I Used To Know" Best Alternative Music Album - "Making Mirrors"

Record of the Year - "We Are Never Ever Getting Back Together" Best Country Duo/Group Performance - "Safe & Sound" Best Song Written For Visual Media - "Safe & Sound (From The Hunger Games)"

Country Solo Performance - "Over"

Country Solo Performance - "Cost of Livin" Best Country Song - "Cost Of Livin'"

Country Solo Performance - "Springsteen" Best Country Song - "Springsteen"

Country Solo Performance - "Home"

Best New Artist Country Solo Performance - "Wanted" Best Country Album - "Hunter Hayes"

Best New Artist Best Americana Album - "The Lumineers"

Best New Artist Best Rock Performance - "Hold On"

Best Pop Vocal Album - "Ceremonials" Best Pop Duo/Group Performance - "Shake It Out"

Best Pop Vocal Album - "Overexposed" Best Pop Duo/Group Performance - "Payphone"

Best Pop Vocal Album - "The Truth About Love"

Best Pop Solo Performance - "Set Fire To The Rain [Live]"

Song Of The Year - "Call Me Maybe" Best Pop Solo Performance - "Call Me Maybe"

Song Of The Year - "Adorn" Best R&B Performance - "Adorn" Best R&B Song - "Adorn" Best Urban Contemporary Album - "Kaleidoscope Dream"

Song Of The Year - "The A Team"

Best Pop Solo Performance - "Wide Awake"

Best Pop Solo Performance - "Where Have You Been" Best Rap/Sung Collaboration - "Talk That Talk" Best Short Form Music Video - "We Found Love"

Best Pop Duo/Group Performance - "Sexy And I Know It"

Best Dance Recording - "Levels"

Best Dance Recording - "Let's Go"

Best Dance Recording - "Bangarang" Best Dance/Electronica Album - "Bangarang" Best Remixed Recording, Non-Classical - "Promises (Skrillex & Nero Remix)"

Best Dance Recording - "Don't You Worry Child"

Best Dance Recording - "I Can't Live Without You"

Best Dance/Electronica Album - "Wonderland"

Best Dance/Electronica Album - "Don't Think"

Best Dance/Electronica Album - "> Album Title Goes Here

Best Dance/Electronica Album - "Fire & Ice"

Best Traditional Pop Vocal Album - "Christmas"

Best Traditional Pop Vocal Album - "A Holiday Carole"

Best Traditional Pop Vocal Album - "Kisses On The Bottom" Best Boxed Or Special Limited Edition Package - "Ram - Paul McCartney Archive Collection (Deluxe Edition)" Best Historical Album - "Ram - Paul McCartney Archive Collection (Deluxe Edition)"

Best Rock Performance - "Charlie Brown" Best Rock Album - "Mylo Xyloto"

Best Rock Performance - "We Take Care Of Our Own" Best Rock Song - "We Take Care Of Our Own" Best Rock Album - "Wrecking Ball"

Best Hard Rock/Metal Performance - "I'm Alive"

Best Hard Rock/Metal Performance - "Love Bites (So Do I)"

Best Hard Rock/Metal Performance - "Blood Brothers"

Best Hard Rock/Metal Performance - "Ghost Walking"

Best Hard Rock/Metal Performance - "No Reflection"

Best Hard Rock/Metal Performance - "Whose Life (Is It Anyways?)"

Best Rock Song - "Madness" Best Rock Album - "The 2nd Law"

Best Alternative Music Album - "The Idler Wheel Is Wiser Than The Driver Of The Screw And Whipping Cords Will Serve You More Than Ropes Will Ever Do"

Best Alternative Music Album - "Biophilia"

Best Alternative Music Album - "Hurry Up, We're Dreaming."

Best Alternative Music Album - "Bad As Me"

Best R&B Performance - "Thank You"

Best R&B Performance - "Gonna Be Alright (F.T.B.)" Best R&B Album - "Black Radio"

Best R&B Performance - "I Want You"

Best R&B Performance - "Climax"

NASHVILLE, TN - DECEMBER 05: Hosts Taylor Swift and LL Cool J speak onstage at The GRAMMY Nominations Concert Live!! held at Bridgestone Arena on December 5, 2012 in Nashville, Tennessee. (Photo by Kevin Winter/Getty Images)

NASHVILLE, TN - DECEMBER 05: Hosts Taylor Swift and LL Cool J speak onstage at The GRAMMY Nominations Concert Live!! held at Bridgestone Arena on December 5, 2012 in Nashville, Tennessee. (Photo by Kevin Winter/Getty Images)

NASHVILLE, TN - DECEMBER 05: Hosts LL Cool J and Taylor Swift speak onstage at The GRAMMY Nominations Concert Live!! held at Bridgestone Arena on December 5, 2012 in Nashville, Tennessee. (Photo by Kevin Winter/Getty Images)

NASHVILLE, TN - DECEMBER 05: Hosts Taylor Swift and LL Cool J speak onstage at The GRAMMY Nominations Concert Live!! held at Bridgestone Arena on December 5, 2012 in Nashville, Tennessee. (Photo by Kevin Winter/Getty Images)

NASHVILLE, TN - DECEMBER 05: (L-R) Host LL Cool J, host Taylor Swift, and musician Adam Levine speak onstage at The GRAMMY Nominations Concert Live!! held at Bridgestone Arena on December 5, 2012 in Nashville, Tennessee. (Photo by Larry Busacca/Getty Images)

NASHVILLE, TN - DECEMBER 05: Music fans take cell phone photos of LL Cool J and Taylor Swift onstage at The GRAMMY Nominations Concert Live!! held at Bridgestone Arena on December 5, 2012 in Nashville, Tennessee. (Photo by Michael Kovac/Getty Images)

NASHVILLE, TN - DECEMBER 05: Hosts LL Cool J and Taylor Swift speak onstage at The GRAMMY Nominations Concert Live!! held at Bridgestone Arena on December 5, 2012 in Nashville, Tennessee. (Photo by Kevin Winter/Getty Images)

NASHVILLE, TN - DECEMBER 05: LL Cool J and Taylor Swift onstage at The GRAMMY Nominations Concert Live!! held at Bridgestone Arena on December 5, 2012 in Nashville, Tennessee. (Photo by Kevin Winter/Getty Images)

NASHVILLE, TN - DECEMBER 05: LL Cool J and Taylor Swift onstage at The GRAMMY Nominations Concert Live!! held at Bridgestone Arena on December 5, 2012 in Nashville, Tennessee. (Photo by Kevin Winter/Getty Images)

NASHVILLE, TN - DECEMBER 05: Co-hosts Taylor Swift and LL Cool J speak onstage at The GRAMMY Nominations Concert Live!! held at Bridgestone Arena on December 5, 2012 in Nashville, Tennessee. (Photo by Kevin Winter/Getty Images)

NASHVILLE, TN - DECEMBER 05: Singer Taylor Swift (L) and rapper LL Cool J perform onstage at The GRAMMY Nominations Concert Live!! held at Bridgestone Arena on December 5, 2012 in Nashville, Tennessee. (Photo by Kevin Winter/Getty Images)

NASHVILLE, TN - DECEMBER 05: Singer Taylor Swift (L) and rapper LL Cool J perform onstage at The GRAMMY Nominations Concert Live!! held at Bridgestone Arena on December 5, 2012 in Nashville, Tennessee. (Photo by Kevin Winter/Getty Images)

NASHVILLE, TN - DECEMBER 05: LL Cool J and Taylor Swift onstage at The GRAMMY Nominations Concert Live!! held at Bridgestone Arena on December 5, 2012 in Nashville, Tennessee. (Photo by Michael Kovac/Getty Images)

NASHVILLE, TN - DECEMBER 05: Co-hosts Taylor Swift and LL Cool J speak onstage at The GRAMMY Nominations Concert Live!! held at Bridgestone Arena on December 5, 2012 in Nashville, Tennessee. (Photo by Christopher Polk/Getty Images)

NASHVILLE, TN - DECEMBER 05: Co-host Taylor Swift poses in the press room at The GRAMMY Nominations Concert Live!! held at Bridgestone Arena on December 5, 2012 in Nashville, Tennessee. (Photo by Erika Goldring/Getty Images)

NASHVILLE, TN - DECEMBER 05: Co-host Taylor Swift poses in the press room at The GRAMMY Nominations Concert Live!! held at Bridgestone Arena on December 5, 2012 in Nashville, Tennessee. (Photo by Erika Goldring/Getty Images)

NASHVILLE, TN - DECEMBER 05: Taylor Swift speaks onstage at The GRAMMY Nominations Concert Live!! held at Bridgestone Arena on December 5, 2012 in Nashville, Tennessee. (Photo by Kevin Winter/Getty Images)

NASHVILLE, TN - DECEMBER 05: Co-hosts Taylor Swift and LL Cool J speak onstage at The GRAMMY Nominations Concert Live!! held at Bridgestone Arena on December 5, 2012 in Nashville, Tennessee. (Photo by Kevin Winter/Getty Images)

NASHVILLE, TN - DECEMBER 05: LL Cool J and Taylor Swift speak onstage at The GRAMMY Nominations Concert Live!! held at Bridgestone Arena on December 5, 2012 in Nashville, Tennessee. (Photo by Kevin Winter/Getty Images)

NASHVILLE, TN - DECEMBER 05: Co-hosts Taylor Swift and LL Cool J speak onstage at The GRAMMY Nominations Concert Live!! held at Bridgestone Arena on December 5, 2012 in Nashville, Tennessee. (Photo by Christopher Polk/Getty Images)

NASHVILLE, TN - DECEMBER 05: Co-hosts Taylor Swift and LL Cool J speak onstage at The GRAMMY Nominations Concert Live!! held at Bridgestone Arena on December 5, 2012 in Nashville, Tennessee. (Photo by Christopher Polk/Getty Images)

NASHVILLE, TN - DECEMBER 05: LL Cool J and Taylor Swift speak onstage at The GRAMMY Nominations Concert Live!! held at Bridgestone Arena on December 5, 2012 in Nashville, Tennessee. (Photo by Kevin Winter/Getty Images)

Co-host Taylor Swift poses for a photo backstage at the Grammy Nominations Concert Live! at Bridgestone Arena on Wednesday, Dec. 5, 2012, in Nashville, Tenn. (Photo by Donn Jones/Invision/AP)

Co-host Taylor Swift holds up 3 fingers to signify her 3 Grammy nominations as she poses for a photo backstage at the Grammy Nominations Concert Live! at Bridgestone Arena on Wednesday, Dec. 5, 2012, in Nashville, Tenn. (Photo by Donn Jones/Invision/AP)

Host Taylor Swift at the Grammy Nominations Concert Live! at Bridgestone Arena on Wednesday, Dec. 5, 2012, in Nashville, Tenn. (Photo by Wade Payne/Invision/AP)

FILE - This Dec. 1, 2012 file photo shows Taylor Swift performing underneath a video monitor during the KIIS FM's Jingle Ball at Nokia Theatre LA Live in Los Angeles. Swift is one of many artists performing at the Grammy Nominations concert airing Wednesday, Dec. 5, at 10 p.m. EST on CBS. (Photo by Chris Pizzello/Invision/AP, file)

Hosts LL Cool J, left, and Taylor Swift speak onstage at the Grammy Nominations Concert Live! at Bridgestone Arena on Wednesday, Dec. 5, 2012, in Nashville, Tenn. (Photo by Wade Payne/Invision/AP)