He may be small, but he sure grabs a mighty hammer price. This miniature version of Auguste Rodin's infamous "Le Penseur" (The Thinker) sold for a hefty sum this past week at Bukowski's auction house in Stockholm.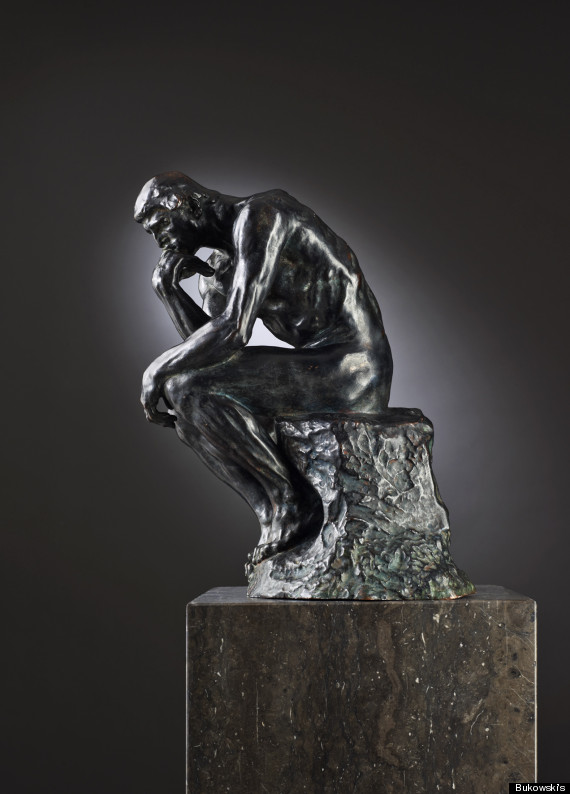 Auguste Rodin, "The Thinker," c. 1915
If you predicted that this 15 inch statue would run for $2.2 million, then you should probably look into getting a job in the field of art appraisal.
The tiny Rodin work, crafted sometime around 1915, is a miniature version of the original "Gates of Hell" masterpiece and part of a sculpture set called the Marabou Collection. According to a statement released by the auction house, part of the appeal is that Rodin's buddy, Jean Limet, coated the small "Thinker" in an unusual blue and red patina. Let us know what you think of the lofty value of "Le Petite Penseur" in the comments section.
Christie's Postwar and Contemporary Evening Sale
This Elizabeth Peyton painting is the bargain of the lot. You could have brought this piece home for a measly $290,500. Titled "Princess Elizabeth and Princess Margaret on Their Way to Westminster Abbey," the royal portrait is well under $1 million. Elizabeth Peyton (b. 1965) Princess Elizabeth and Princess Margaret on Their Way to Westminster Abbey oil on canvas 18 x 14 in. (45.7 x 35.6 cm.) Painted in 1994.

If you're looking to spend just a little more while staying under the $1 million mark, this Barnett Newman is for you. The untitled work cost $578,500. Not too shabby for an ink on paper piece the size of standard letter, right? Barnett Newman (1905-1970) Untitled ink on paper 10 7/8 x 7½ in. (27.5 x 19.1 cm.) Painted in 1945.

Ready to cross the million dollar mark and really spend some cash? This Richard Serra could have been yours for $2.88 million. "Schulhof's Curve" would be a great addition to anyone looking to spice up their backyard with a little bit of contemporary pizazz. Property of the Schulhof Collection Richard Serra (B. 1939) Schulhof's Curve COR-TEN steel 44 x 444 x 89 in. (111.8 x 1127.8 x 226.1 cm.) Executed in 1984.

Or perhaps this Mark Grotjahn, priced at $4.17 million, is more to your liking? The signed work painted in 2008 outperformed it's estimated price by more than a million dollars, so it could be a great investment. Works from the Douglas S. Cramer Collection Mark Grotjahn (B. 1968) Untitled (Red Butterfly II Yellow MARK GROTJAHN P-08 752) signed and dated 'MARK GROTJAHN P-08' (lower right edge); signed again twice, titled and dated again 'UNTITLED (RED Butterfly II Yellow Mark Grotjahn P-08) #752 M. Grotjahn 2008' (on the overlap) oil on canvas 725⁄8 x541⁄2 in.(184.5x138.4cm.) Painted in 2008. Estimate: $2,000,000-3,000,000

Now we're getting closer to the high roller categories. If you're willing to shell out a little over $5 million, here's a Franz Kline for $6.47 million. The untitled monochromatic work is a steal compared to another Kline that sold for over $40 million in the same sale. Franz Kline (1910-1962) Untitled signed and incorrectly dated 'FRANZ KLINE '54' (on the reverse); signed again and dated 'KLINE 1955' (on the overlap) oil on canvas 52¾ x 37¾ in. (132.1 x 94 cm.) Painted in 1955.

Or how about this other Klein, courtesy of Yves, for $7.59 million. It's a perfect example of the IKB master's sponge reliefs and well under your $10 million budget. Property Of The Brooklyn Museum Yves Klein (1928-1962) Accord Bleu (Sponge Relief) signed, titled, inscribed and dated 'Yves Klein Gelsenkirchen "Accord Bleu" 58' (on the reverse) dry pigment in synthetic resin, natural sponges and pebbles on board 203⁄8x533⁄4 x3in.(51.8x136.5x7.6cm.) Executed in 1958. Estimate: $7,000,000-10,000,000

For those of you still willing to climb the ladder of wealth, would you be interested in this Gerhard Richter, tagged with a price of $15.3 million. Richter is currently the highest selling artist alive today so strike while it's hot, people. Gerhard Richter (b. 1932) Abstraktes Bild (779-2) signed, numbered and dated '779-2 Richter 1992' (on the reverse) oil on canvas 78¾ x 70¾ in. (200 x 180 cm.) Painted in 1992.

Still with us? Ok, here's a Jean-Michel Basquiat for $26.4 Million. It's where street art meets fine art and it's not even $30 million! Property From A Private Collection Jean-Michel Basquiat (1960-1988) Untitled oilstick, acrylic and spray enamel on canvas 78 x 68 in. (198.1 x 172.7 cm.) Painted in 1981. Estimate on Request

Perhaps, you're looking for something a little more... reflective. Well, the price is going to go up, as well. Here's a large-scale Jeff Koons sculpture, titled "Tulips", for $33.6 Million. Property From The Collection Of Nord/Lb, Hannover Jeff Koons (B. 1955) Tulips high chromium stainless steel with transparent color coating 80 x 180 x 205 in. (203.2 x 457.2 x 520.7 cm.) Executed in 1995-2004. This work is one of five unique versions. Estimate on Request

Alright, you've made it to the end. You're budget is $50 million and boy is there a deal for you. This Andy Warhol print of the Statue of Liberty sold for an impressive $43.7 Million. And look, you've saved $7 million. Go ahead, buy a yacht. Property From an Important Private Collection Andy Warhol (1928-1987) Statue of Liberty signed 'Andy Warhol' (on the turning edge) silkscreen inks, spray enamel and graphite on canvas 773⁄4 x 81 in. (197.5 x 205.7 cm.) Painted in 1962.