The only exhibition series in the world to focus exclusively on Asia, the Pacific and Australia is celebrating its 20th anniversary this year. The aptly named Asia Pacific Triennial of Contemporary Art, or APT, is heading into its 7th showing, bringing everything from aboriginal art to temporary structures to the Queensland Art Gallery.
This year's triennial is placing specific focus on cultural interactions in the region, highlighting the adaptability of local cultures in the globalized world. Its part of the program's ongoing desire to shine a spotlight on the changing landscapes of contemporary art in the region, and provide emerging artists across its territory with an international stage.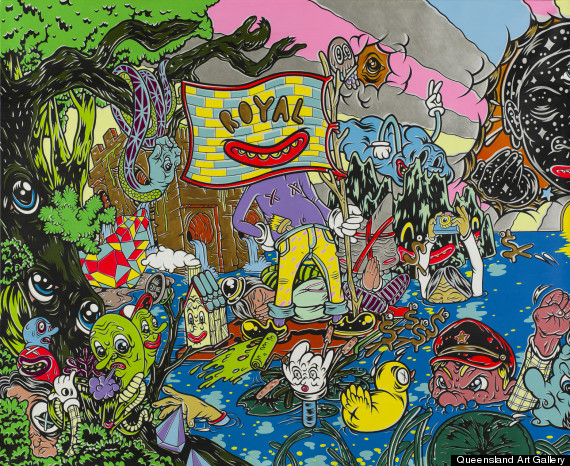 Uji Handoko Eko Saputro (aka HAHAN), Indonesia b.1983, Letters to the Great Saatchi 2011, Synthetic polymer paint on canvas, 190 x 150cm, Purchased 2011. Queensland Art Gallery Foundation, Collection: Queensland Art Gallery
APT7 will feature two co-curated projects that address inter-regional diversity head-on -- "0-Now: Traversing West Asia" and a presentation of contemporary work from Papua New Guinea. The former will showcase works by seven artists and artist groups from the Middle East and Central Asia, while the latter involves a dazzling display of performance masks and carved structures from New Britain and the Sepik. Other major exhibits feature work by up-and-coming artists in Indonesia and Vietnam, reflecting the explosion of artistic diversity happening in both countries.
There's also a little something for fans of the Australian Cinematheque -- one of ATP's film series will reflect on Chinese animation since the 1930s. So get excited for that. Scroll through the slideshow below for a peek at ATP7's art and let us know what you think of the festival in the comments section.
PHOTO GALLERY
BEFORE YOU GO
7th Asia Pacific Triennial of Contemporary Art
PHOTO GALLERY
7th Asia Pacific Triennial of Contemporary Art
The 7th Asia Pacific Triennial of Contemporary art will be held from December 8th, 2012 to April 14th, 2013 at the Gallery of Modern Art (GOMA) and Queensland Art Gallery (QAG) in Brisbane.