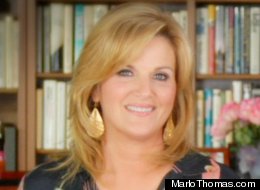 When Trisha Yearwood joined me on Mondays With Marlo, we reminisced about the smells that remind us of home. Trisha remembered how wonderful it was to come home hungry from church and smell her mother's roast beef cooking in the oven. I can relate -- I have fond memories of the way my mother's delicious tomato sauce smelled.
Read here for more on Trisha's inspiring journey to successful careers in both music and cooking:
Trisha Yearwood dreamed of a career in music from the time she was a child. Growing up in a town where dreams of becoming a country star seemed outlandish, Trisha summoned the courage to pursue her destiny after receiving a copy of Carole King's "Tapestry" album for Christmas.

Trisha attended Belmont University, where she majored in music business. After graduating, she landed a receptionist job at Mary Tyler Moore's MTM Records. Here she made important industry connections and began singing on demos for songwriter Kent Blazy.

Through Kent Blazy, Trisha was introduced to Garth Brooks, who helped her eventually connect with producer Garth Fundis. Soon she was performing a showcase that landed her a deal with MCA Records.

In August 1991, Trisha topped the Billboard country singles chart with "She's in Love with the Boy." The popularity of her debut album led her to win the 1991 award for "Best New Female Vocalist" from the Academy of Country Music Awards and the 1992 award for "Favorite New Country Artist" from the American Music Awards.

From 1997 to 2002, Trisha played Lieutenant Commander Teresa Coulter, a recurring character on the TV show "JAG."

Trisha's self-titled debut album has been certified double-platinum, and the ten albums that proceeded have been certified gold. Six of those have been certified platinum. Her album "Songbook: A Collection of Hits" has reached quadruple platinum status.

To say Trisha has had a successful career is an understatement. She has won three Grammy Awards, is a two-time winner of the Country Music Association's female vocalist award and has been honored as the Academy of Country Music's top female vocalist. In 1999, she was inducted into the Grand Ole Opry.

Garth Brooks and Trisha began dating in 2000 after being friends for many years. In May 2005, Garth popped the big question on stage at a concert in front of 7,000 fans. The couple married in December 2005 in a small ceremony at their home in Oklahoma.

Trisha is involved with a number of charity organizations, including Habitat for Humanity and the Sears Heroes at Home organization. Here, she sings at Hole in the Wall Camp with children who have medical illnesses.

Trisha collaborated with her mother and sister to write her first cookbook, "Georgia Cooking in an Oklahoma Kitchen," which was released in April 2008. The book contains family recipes that had been passed down for generations, and personal notes describing them.

Trish and Garth began as friends who performed together, and now that they're married, not much has changed. Here, they perform onstage during the 43rd annual Academy Of Country Music Awards.

The Yearwood ladies released another cookbook in April 2010 called "Home Cooking with Trisha Yearwood." Many of the recipes are dedicated to Trisha's relatives, and come directly from the family's recipe collection.

Trish and Garth attend the 2012 Country Music Hall of Fame Inductions in Nashville, Tennessee.

Trisha's own cooking show, "Trisha's Southern Kitchen" premiered on Food Network in April 2012. On the show, Trisha cooks family recipes and shares tips on how to prepare southern-style food in a healthier way.
Add Marlo On Facebook:
Follow Marlo on Twitter:

Weekly Newsletter

Sign up to receive my email newsletter each week - It will keep you up-to-date on upcoming articles, Mondays with Marlo guests, videos, and more!

Sign up here