1. Belvedere's "Go Down Smoothly" Poster And now for the 2012 ad that surpassed all the rest in its objectification of women, joking acceptance of violence against them and alleged image theft. Congratulations to Belvedere Vodka, who posted this ad on its Facebook and Twitter accounts, then pulled it almost immediately. The company apologized on Twitter:
We apologize to any of our fans who were offended by our recent tweet. We continue to be an advocate of safe and responsible drinking.
As James Poulos at Forbes observed: "If you find yourself rushing to take down an ad that could be interpreted as making light of rape, you're doing internet marketing wrong."
As of April 2012, the actress featured in the image was suing Belvedere, claiming that the company stole her image from another YouTube video.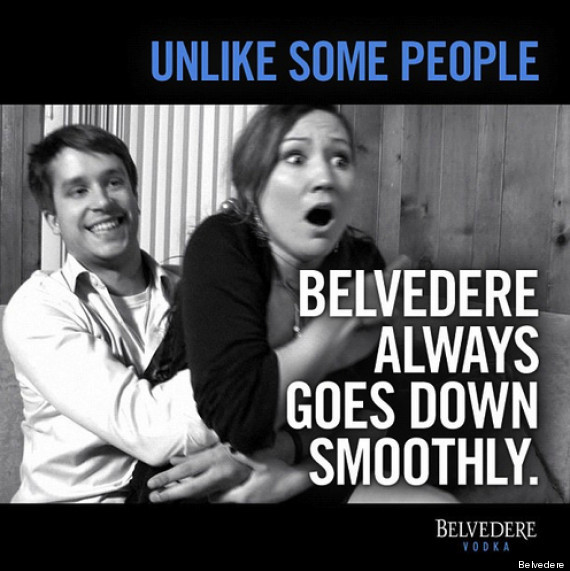 So now that you've seen the worst (at least the worst we can publish here), it seems worth noting that the advertising industry is not uniformly terrible to women. There are good ads, as seen in AdWeek's list of the best advertisements of 2012. Dove created its "Ad Makeover" spot to increase media literacy and raise awareness of the unfortunate messages so many ads send women. (Oddly, Dove is owned by Unilever, the same company that owns Axe. Discuss.) But we need more positive depictions of women in advertisements. After all, as the Missrepresentation video below puts it, "you can't be what you can't see."
LOOK:
What would you add this list? Comment below, or tweet @HuffPostWomen using #worstads.
100 Ads That Got People Talking
FOLLOW HUFFPOST