The American Atheists group wants to share the "true meaning of the holidays" with the masses. As part of that effort, members have put up a billboard in New York City's Times Square that reads, "Keep the Merry! Dump the Myth!"
On the billboard, "merry" is accompanied by a picture of Santa, while "myth" sits below a picture of a Jesus statue.
SCROLL FOR PHOTOS
"The true beauty of the season -- family, friends, and love -- have nothing to do with the gods of yesteryear," Teresa MacBain, the group's communications director, said in a press release. "Indeed, the season is far more enjoyable without the religious baggage of guilt and judgmentalism."
"We know that a large population of Christians are actually atheists who feel trapped in their family's religion," David Silverman, President of American Atheists, said of the billboard. "If you know God is a myth, you do not have to lie and call yourself Christian in order to have a festive holiday season. You can be merry without the myth, and indeed, you should."
The billboard will be displayed in Times Square through Jan. 10.
The group has made a tradition of erecting similar billboards every December, as part of a campaign critics have labeled "entirely unreasonable, inflammatory," and a "below the belt crusade."
In 2011, the American Atheists billboard read, "37 Million Americans know MYTHS when they see them... What myths do you see?" The phrase ran with four pictures: one of Jesus, Santa, Poseidon and the devil.
At the time, a pastor told the Christian Post that the sign showed ignorance.
"Only the most dense and simple-minded person would put [Jesus] in the same category as the other three," the pastor said. "Clearly, even those who lack a personal commitment to Jesus recognize that there was in fact some historical figure by this name -- religious leader and teacher -- around 2,000 years ago"
In 2010, several billboards featured phrases such as, "You Know It's A Myth. This Season, Celebrate Reason."
LOOK: The 2012 American Atheists 'myth' billboard: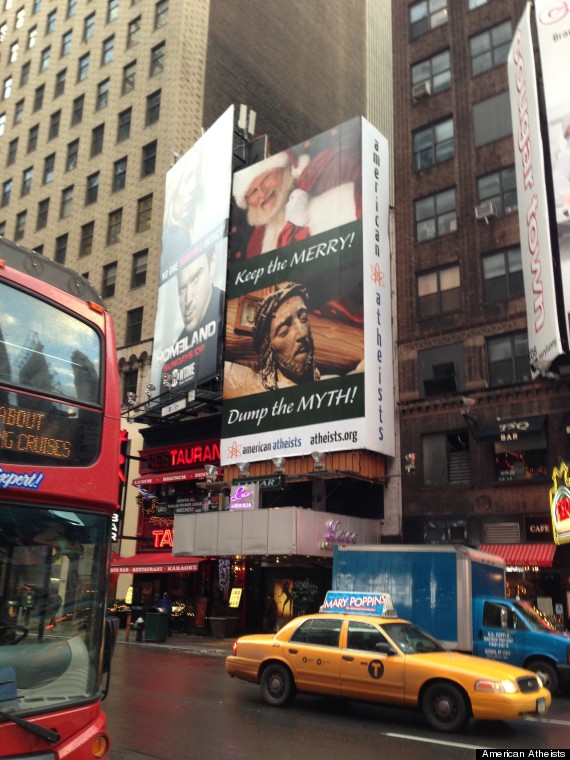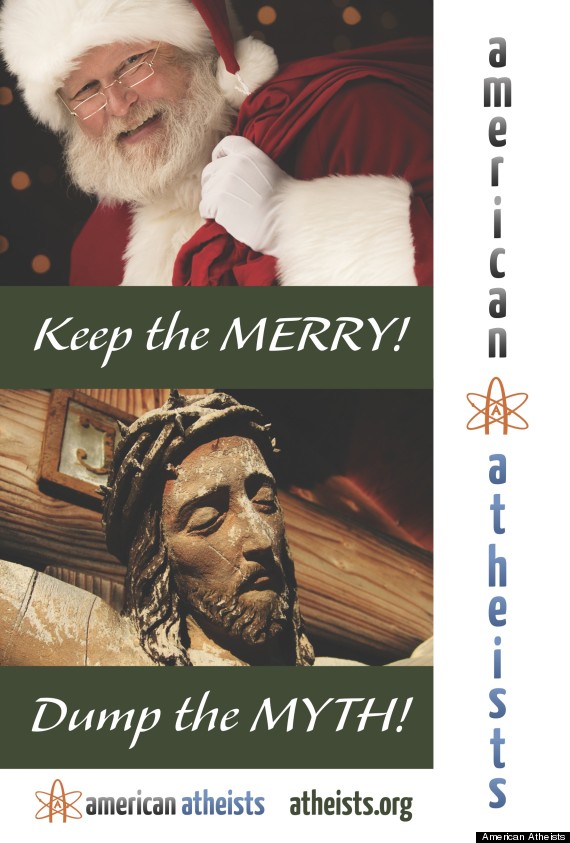 Loading Slideshow
In this Sept. 9, 2010 photo, a billboard erected by atheists in Oklahoma City reads " Don't believe in God? Join the club". Nick Singer, the coordinator of a local atheists' group called "Coalition of Reason," recently received $5,250 from its national counterpart to erect the billboard along Interstate 44 near the Oklahoma State Fair. Oklahoma ranks eighth in the nation for percentage of residents who self-identify as Christians (85 percent), according to an analysis of the 2008 U.S. Religious Landscape Survey conducted by the Pew Research Center's Forum on Religion and Public Life. (Sue Ogrocki, AP)

Atheist billboard on Capital Blvd. in Raleigh, North Carolina, can be seen March 29, 2011. (Chris Seward, Raleigh News & Observer / MCT)

A billboard sponsored by an atheist group is displayed near the entrance to the Lincoln Tunnel in North Bergen, N.J., Wednesday, Dec. 1, 2010. Now, the Catholic League has countered by putting up its own billboard near one of the tunnel's New York City entrances. (Seth Wenig, AP)

An atheistic billboard in Chicago. (<a href="http://www.flickr.com/photos/ericingrum/4038228725/" target="_hplink">Eric Ingrum</a>, Flickr)

A billboard sponsored by a Catholic group is displayed near an exit of the Lincoln Tunnel in New York, Wednesday, Dec. 1, 2010. Similarly, a billboard sponsored by an atheist group is displayed near the tunnel's New Jersey entrance. (Seth Wenig, AP)

<a href="http://www.huffingtonpost.com/2012/03/13/atheist-slavery-billboard-pennsylvania-raises-tempers_n_1342268.html">From RNS' Diana Fishlock</a>: A billboard erected in one of the Harrisburg, Pa.'s most racially diverse neighborhoods featured an African slave with the biblical quote, "Slaves, obey your masters." It lasted less than a day before someone tore it down.

An atheist group <a href="http://www.huffingtonpost.com/2012/03/07/american-atheists-myth-billboard-brooklyn-jewish-rejected_n_1327527.html">was blocked</a> from erecting a billboard in a heavily Jewish neighborhood in Brooklyn, New York.
Earlier on HuffPost: