It's awards season, and that means it's time for the creative teams behind the contending films to wine and dine as many voters and influencers they possibly can, in hopes of getting a leg up on the competition. Monday, I told you about last Friday's "Argo" lunch, where Ben Affleck defended his film against charges of inaccuracy and stressed its relevance to geopolitics. The cheery cast of "Les Miserablés" took an altogether different approach at Tuesday's swanky lunch at the Four Seasons Restaurant in Midtown Manhattan. In place of a planned Q&A, they took a cue from jazz singer Peter Cincotti -- who'd just sat down at the grand piano and bravely whacked out a jaunty version of "Master of the House" mere inches from the bemused gaze of "Les Mis" producer Cameron Mackintosh -- and decided to sing for their supper.
Stage veteran Samantha Barks, who played Eponine on London's West End before reprising the role in Tom Hooper's film adaptation, stepped up first. She sang a sultry version of "Summertime" from George Gershwin's "Porgy and Bess."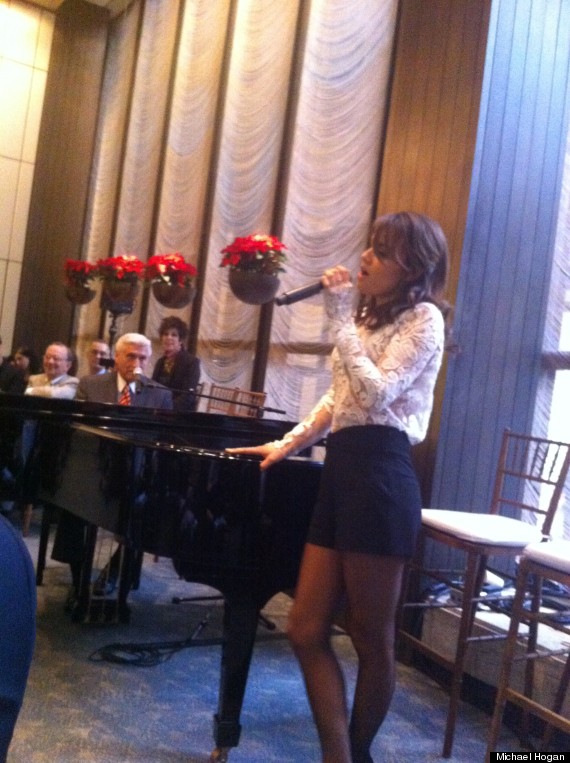 Apparently, that was enough to get Hugh Jackman's competitive juices flowing. After apologizing in advance for the condition of his voice following last night's premiere party, Jackman grabbed the microphone and sang "The Way You Look Tonight" -- changing the last word to "Today," in honor of the time of day -- directly to his wife, Deborra-Lee Furness, who was sitting just a few feet away. Not surprisingly, his voice sounded flawless.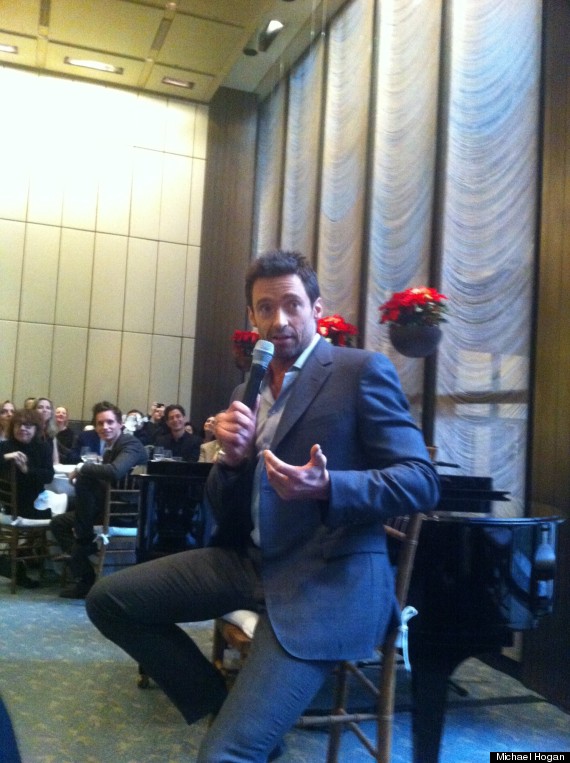 You know who wasn't going to be outdone by Hugh Jackman? Jackman's fellow former Oscar host Anne Hathaway, who is a favorite to win the Academy Award for Best Supporting Actress for her portrayal of tragic Fantine in the movie. But she also wasn't going to go it alone. Here she is beckoning her cast mates to join her at the front of the room.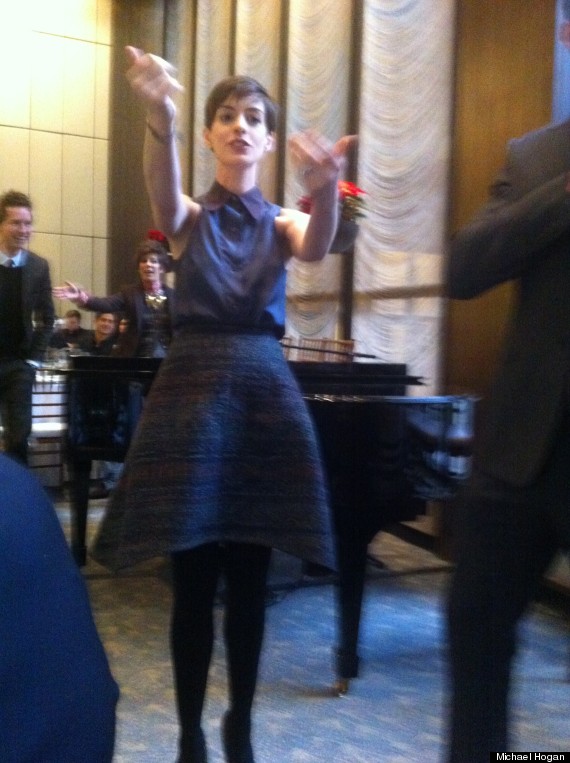 And here they are getting ready. Recognize that pretty face up front? That's Isabelle Allen, who plays young Cosette. Her face is the one you've seen on all those billboards. Standing next to her is young Daniel Huttlestone, who plays Gavroche. I had the great pleasure of meeting them both, and they admitted that it had been a bit weird to see their faces on that huge screen last night. Rounding out the group are Eddie Redmayne and Amanda Seyfried, who play the lovers Marius and (grown-up) Cosette.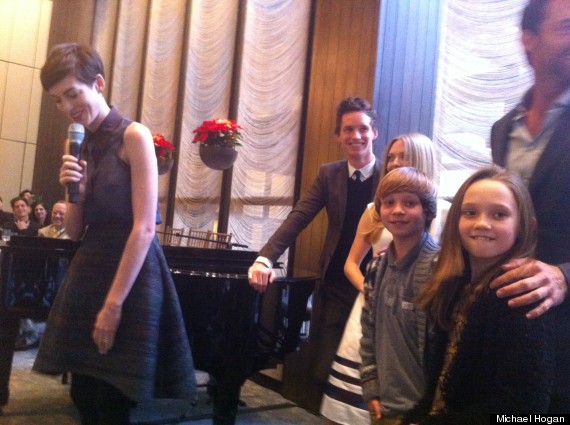 And here they all are singing "Have Yourself a Merry Little Christmas."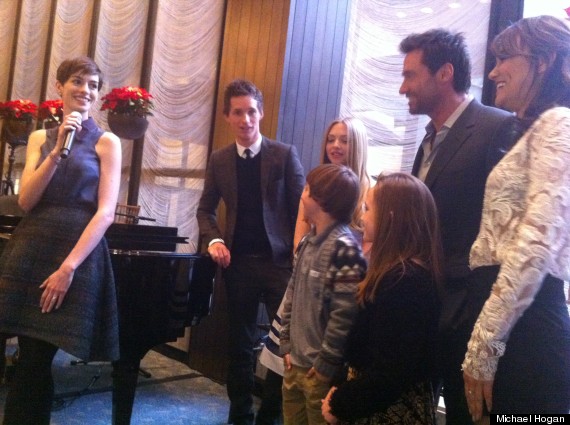 Over lunch, Eric Fellner, co-chief of Working Title Films, which produced "Les Mis" with Universal Pictures, pointed out that it's a rare gift to work with such a spirited group of actors. "They're three weeks into a junket tour, and look at them," he said. No doubt their infectious enthusiasm will catch on with at least some Oscar voters.
As for me, I'm just wondering why on Earth I didn't think to shoot video. Um, next time?
PHOTO GALLERY
BEFORE YOU GO
'Les Miserables' Reactions
PHOTO GALLERY
'Les Miserables' Reactions