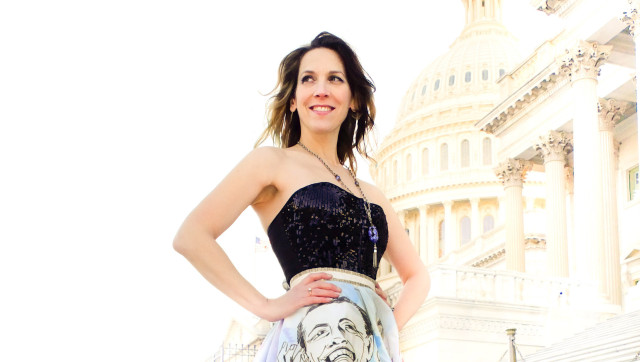 WASHINGTON -- Instead of wearing her love for President Obama on her sleeve, Lola Lombard wears it on her skirt -- right around the right hip.
"I was overwhelmed with the feeling of American pride when Obama was being inaugurated in 2009," Lombard says. " I wanted to express the exuberance of what really matters -- being part of the movement forward. So two days before the inauguration I bought a huge pile of fabric and started painting all over it with symbolic images from our exciting history."
Here are some of those images: "The Capitol and the Washington Monument amidst the 4th of July night sky," says Lombard. Plus "multiracial hands with one person's hand helping up another, a Native American, the Stars and Stripes waving, the Presidential Seal with the words 'Change -- Yes We Can' going around the eagle."
The dress also features likenesses of Presidents Washington, Lincoln and Obama; the Statue of Liberty's face and her torch-holding arm, the words "vote," "hope," "let freedom ring" and "reach for peace," as well as a rainbow, a peace sign and, not far from the Obama likeness, an image of Neil Armstrong walking on the moon and an adapted version of his famous "one giant step" quotation, changed to "reflect the election results," says Lombard.
Lola Lombard's Obama Dress
"People were bundled up partying in the streets. Even before I could get to the [ball], the crowd outside gathered all around me and begged me take off my long coat to see the whole gown," she says. "One guy offered $5,000 in the street!"
Lombard says "we'll never know" if she would have made a Romney dress, had the Republican won the election.
She does know that in the future, she hopes to work on big events -- one day she'd like to design the Olympics' opening ceremony -- and, perhaps looking toward 2016, she's thinking about a project relating to "the subject of feminism," she says. "We are ready for female leadership. America needs it desperately. The world dynamic needs us to be strong, nurturing and creative."
Presidents On Inauguration Day
SUBSCRIBE TO & FOLLOW THE MORNING EMAIL
The Morning Email helps you start your workday with everything you need to know: breaking news, entertainment and a dash of fun. Learn more