We would imagine that an artwork as famous as "Ecce Homo" aka "Beast Jesus", is a hard act to follow. But Cecilia Gimenez, the furry creature's fearless creator, is ready for her second act.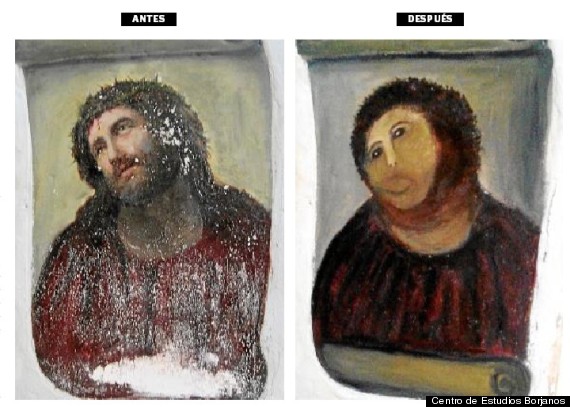 Image on the left shows 19th century Spanish artist Elias Garcia Martinez's ecce homo as it appeared in July of 2012, while the image on the right shows the impromptu restoration job of Cecilia Gimenez.
The Spanish octogenarian who gave us quite possibly the best meme in art history has taken to eBay this week. The painting below is no botched "Ecce Homo" fresco, but the small landscape painting depicting a few buildings from her hometown of Borja is grabbing attention nonetheless.
Titled "Las Bodegas de Borja," the painting started at a price of €300 ($390) and has since risen to an impressive €620 ($808) at the time of publication, with five days left to go. In case you forgot, Borja is the birthplace of "Beast Jesus," which may add to the desirability of Gimenez's work.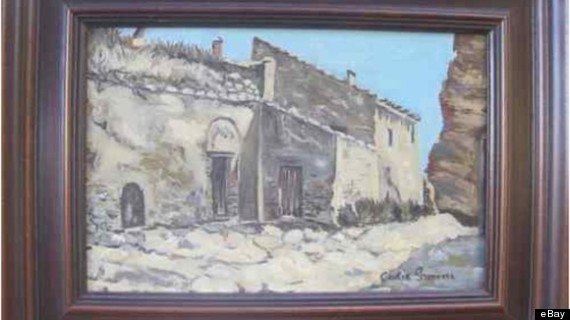 "Las Bodegas de Borja", 33x22 cm
Her eBay adventure is not about the cash, however. The money raised through the sale will go to the Roman Catholic charity Caritas, who placed the painting on eBay after it was donated to them by Gimenez.
For more on the phenomenon that is Beast Jesus, check out our original story here. Let us know what you think of Gimenez's continued art endeavors in the comments section.
PHOTO GALLERY
BEFORE YOU GO
Funniest Comments About Octogenarian's Failed Restoration Attempt
PHOTO GALLERY
Funniest Comments About Octogenarian's Failed Restoration Attempt