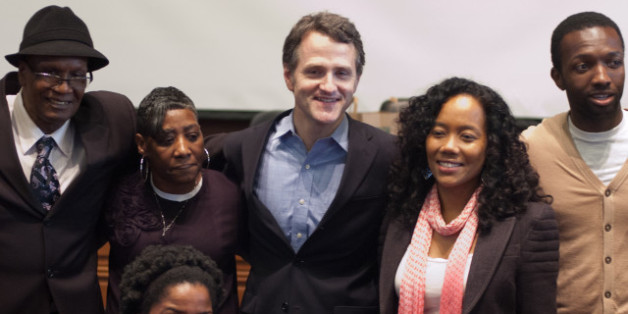 Donnie Andrews, the former Baltimore stick-up man who inspired the Omar Little character on "The Wire," died Thursday in New York City after suffering a heart attack, "The Baltimore Sun" reports. He was 58 years old.
Andrews spent his youth robbing drug dealers on the West Side of Baltimore, and served 18 years in prison on a murder charge before he was paroled in 2005. While in prison, he was introduced to a recovering heroin addict named Fran Boyd, who was the subject of the David Simon book "The Corner." That non-fiction tale of drug culture on the streets of Baltimore was adapted into an HBO miniseries of the same name that grew into "The Wire."
In an interview with "VICE" magazine, Andrews described how he came to be a character in "The Wire." "They made Omar exactly the way I was. David [Simon] wrote 'The West Side Story' [the initial Baltimore Sun article about Donnie] after my conviction in '86 and they basically had everything down-pat," he said. "The gay part they took from a guy called Billy Outlaw, he was a gay stick-up guy." The character was played by Michael K. Williams, and Andrews was given a small part on Season 4 of the show as a man who helped Omar survive in prison.
After he served his priston sentence, Andrews reformed his life and started a nonprofit organization called "Why Murder?" that offered counseling to gang members and worked with inner-city children.
Simon, the creator of "The Wire," served as the best man at Boyd and Andrews' 2007 wedding. "Everything has a second act and a third act. And everybody gets to write their endings," he told "The New York Times."
UPDATE: Michael K. Williams tweeted his condolences after learning of Andrews' passing:
R.I.P. to the original gangsta and a stand up dude Mr Donnie Andrews the man who was the inspiration for Omar Little sending out prayers

— Michael K Williams (@BKBMG) December 14, 2012
Image via: Tim Pierce Flickr.
ALSO ON HUFFPOST:
PHOTO GALLERY
BEFORE YOU GO
Golden Globe Nominees --TV
PHOTO GALLERY
Golden Globe Nominees --TV