How To Throw A New Year's Eve Party Without Going Broke, From Colin Cowie (VIDEO)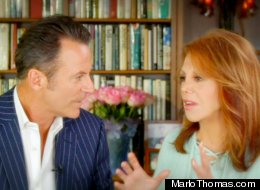 When event and lifestyle expert Colin Cowie visited me on Mondays With Marlo, we discussed throwing a fantastic New Year's Eve party on a budget. Worried that the champagne will stop flowing mid-party? Choose two brands of champagne at different price points, and ask your guests to contribute. This way, you can concentrate on spending your resources on food and decorations.
For more ideas on celebrating the holidays in style, check out Colin's tips:
Holiday Entertaining By Colin Cowie
If you want to show people your real sense of style, open your house to them. The key is setting everything up the night before. That way, the day of the party, you just have to put food and drinks out, and you'll still have time to get ready and look great.

Create a fun and inviting atmosphere for you and your guests with festive music, dimmed lights and candles. Candles are the most important tool when it comes to decorating and creating a romantic ambiance – more is better! You can also make a tablescape on your coffee table and mix tapers with columns and votives. For added glamour, place them on a mirror runner. It's instant ambiance that makes all your guests look good.

Do as much as you possibly can in advance and stick with a clean-as-you-go policy. Don't feel guilty about leaving your guests for a few moments when it comes time to serve.

When decorating, keep a thread of style by identifying your look and color. Have it run from the wreath on the front door to the garland over your fireplace or stair banister to the focal point, bringing it to your tree and keep it going on your dining table.

Be resourceful. It's not humanly possible to do it all. Buy a prepared turkey, but make the soup. Maybe you enjoy setting the table, but cooking is not your thing. Let someone else do it for you -- FedEx is one of my favorite entertaining tools at the holidays!

The artificial trees of today look so real, and you can reuse them next year. If you miss the scent of a fresh tree, get fragrant candles that smell like pine. For an unexpected twist, try adding fresh flowers to your Christmas tree. If your color scheme is red, put red roses in test tubes and nestle them in the branches. For a white tree, use white carnations or lime green spider mums.

Today's bartenders are tomorrow's rock stars. Instead of costly wines, a bartender armed with 3 great cocktails and a shooter will keep you party well fuelled. If you are not hiring a bartender, serve a specialty cocktail. Save time by preparing a few batches before the party. Set out your glasses on trays with an ice bucket, and your guests will help themselves. Include a fun garnish for each cocktail, like a mini candy cane for a peppermint martini.

Make a playlist of your favorite tunes, and intermix it with about 20 percent of holiday music. You will have the right mix of current favorites and holiday music, and "Santa Baby" won't drive you crazy!

Always send your guests home with a favor. I love to give my guests a beautifully wrapped scented candle.
Add Marlo On Facebook:
Follow Marlo on Twitter:

Weekly Newsletter

Sign up to receive my email newsletter each week - It will keep you up-to-date on upcoming articles, Mondays with Marlo guests, videos, and more!

Sign up here