NEWTOWN, Conn. -- Adam Lanza used a semiautomatic Bushmaster .223 rifle during his rampage through Sandy Hook Elementary School on Friday, firing dozens of high-velocity rounds as he killed 20 children and six adults, authorities said Sunday. Lanza, 20, carried "many high-capacity clips" for the lightweight military-style rifle, Lt. Paul Vance, a spokesman for the Connecticut State Police, told The Huffington Post in an email. Two handguns and a shotgun were also recovered at the scene. The Newtown shooting quickly reignited the national debate over gun control. Sen. Dianne Feinstein (D-Calif.) pledged on Sunday that she would introduce legislation to reauthorize a federal assault weapons ban passed during the Clinton administration, but allowed to lapse in 2004. Other politicians, like New York City Mayor Michael Bloomberg, who leads a national coalition group pushing stricter gun-control measures, also used the shooting to call on President Obama to take immediate action tightening gun laws. Any move to clamp down on consumer sales of military-style weapons could fall heavily on Bushmaster and its corporate parent, Freedom Group, a private company owned by a New York-based hedge fund, Cerberus Capital Management. According to its 2011 annual report, Freedom Group is the nation's largest manufacturer of military-style semiautomatics, which it calls "modern sporting rifles." Freedom Group also owns Remington and DPMS Firearms, two other leading manufacturers of military-style semiautomatics. In its 2011 report, Freedom Group described semiautomatic rifles as among the firm's most promising areas of growth. The market for such guns grew 27 percent between 2007 and 2011, the firm said. "The continued adoption of the modern sporting rifle has led to increased growth in the long gun market, especially with a younger demographic of users," the company said. A spokeswoman for the Freedom Group did not respond to voice or email messages. "We produce environmentally sound products and only act within the law," said a statement on the company's website, which appeared to predate the Newtown shooting. "We will not compromise our moral or ethical principles." The massacre in Newtown is far from Bushmaster's first brush with tragedy. The company's semiautomatic rifles were used in at least four high-profile mass shootings since 1999, including a 2009 rampage that left 10 dead across southern Alabama, and a 2010 shooting spree in Virginia that killed eight people over 19 hours. Most notoriously, a Bushmaster .223 rifle was used by the so-called Beltway snipers, John Allen Muhammed and Lee Boyd Malvo, who murdered 15 people in 2001 and 2002. In 2004, Bushmaster settled a lawsuit brought by families of the Beltway victims, which alleged that the company failed to take precautions to ensure that its guns did not fall into the hands of criminals. The company settled the suit for $500,000, but said the settlement was not an admission of culpability. A lawyer for Bushmaster told The New York Times in 2004 that the settlement was paid by its insurance company and did not "involve Bushmaster changing any of the ways it does business with its distributors and retailers." Some gun-control advocates have voiced concerns that companies like Bushmaster are able to exploit loopholes in state versions of the 1994 Federal Assault Weapons Ban, which outlawed the sale of 19 types of military-style assault rifles. At the time, weapons like the Uzi and the Mac 10 were widely used in inner-city gang crime. The federal law lapsed in 2004 but many states have passed their own bans in the interim. The loopholes in the law are evident in Connecticut, which has a state assault weapons ban modeled closely on the lapsed 1994 federal ban, said Ladd Everitt, spokesman for the Coalition to Stop Gun Violence. The Connecticut law bans certain assault weapon models that combine multiple features, such as a pistol grip and a barrel shroud, which increase a gun's lethality.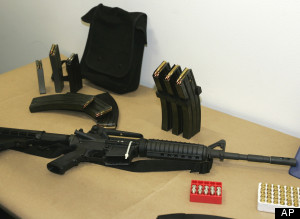 A Bushmaster AR-15 semi-automatic rifle and ammunition is seen at the Seattle Police headquarters in Seattle.
"What's happened is the gun makers figured out how to take their existing assault weapon models, modify them just a bit and bam, they can sell," Everitt said. "If it has a grenade launcher and barrel shroud, you take the grenade launcher off and then you can sell it. If it has a pistol grip and some other banned feature, you drop one of them."
What may be needed is a longer list of banned or forbidden gun models and single gun features that would render more assault weapons illegal to sell, Everitt said.
Lanza's mother, Nancy Lanza, who Lanza also shot dead on Friday, appears to have lawfully purchased and registered the Bushmaster .223 used in the Newtown killings, according to law enforcement sources cited by the Associated Press and other news outlets.
Connecticut Gov. Dannel Malloy (D) told CBS News on Sunday that his state had "pretty tough regulation" compared to much of the rest of the nation.
"But obviously they didn't prevent this woman from acquiring that weapon and obviously allowed the son to come into possession of those and use them in a most disastrous way," Malloy said.

After a tragedy like the Newtown shooting, he said, "you have to start to question whether assault weapons should be allowed to be distributed the way they are in the United States."
In its 2011 annual report, Freedom Group noted that a tightening of gun laws could have a significant negative impact on sales. The company sold $775 million worth of guns and ammunition in 2011.

"No assurance can be given that more restrictive regulations, if proposed or enacted, will not have a material adverse effect on us in the future," the company wrote.
Lila Shapiro contributed reporting.
SUBSCRIBE TO & FOLLOW THE MORNING EMAIL
Get top stories and blog posts emailed to me each day. Newsletters may offer personalized content or advertisements. Learn more