Officials called it a mixup.
Kristine Diven and Micho Detronik had recently purchased a home in the Wayne County tax auction.
That is, until the state of Michigan razed the couple's home without their permission.
The two local artists run a Detroit gallery space called District VII. Officials say the house was demolished due to outdated lists and a lack of communication between the Michigan Land Bank and Wayne County
HuffPost Detroitt spoke to Kristine about what happened, how she plans to deal with it and her relationship to the city.
Tell me a little bit about your background as an artist in Detroit?
I am pro photographer and photography instructor. I moved to Detroit four years ago and then got a space in [the] Rivertown [district]. It's 3,600 square feet and three stories high. It's a large warehouse. We primarily use it for set design and storage of props. And we do gallery exhibits. And we do photography workshops as well.
What about Micho?
He's the first "VJ" (Video Jockey) in Detroit and he's known for a group called Inter Animi which was a rather ridiculous performance art troupe that did a lot of fire and explosives. It was banned from most venues. And then together we do a kind of art called new media art. We do something interactive called mannequin forest. We have these mannequins that we've turned into robots and they are motion-triggered and they move and they blink. We build up steampunk events and steampunk art and we also do projection mapping onto buildings and inanimate objects and we do some guerilla art. We do work together and he has a history of using old TVs from the ceiling and doing a lot of strange video work and mixing.
Tell me about the house you bought. What was it like before it was demolished?
The house was 2,700 square feet, if I recall correctly. It was a duplex, a two family home, and it was on Beaconsfield near the edge of Grosse Pointe. (SEE PHOTO BELOW) The neighborhood is called Morningside.. we won the winning bid for the house and a vacant lot next door that we planned to plant a community garden on.
What were your plans for it?
We were going to board it up for the winter ... and start working on it as soon as we could go into it in the spring. Later we would be able to move upstairs and have tenants on the lower floor, so that we could further offset the costs of renovation. It was $500 for the house and $500 for the lot.
Do you still own the lot?
That's not completely clear -- where Wayne County is. They haven't said yet exactly. We're going try and keep the lots as well, but we no longer have a use for either property now.
How did you find out about your house being demolished?
We looked for properties. We researched several days a week starting in the end of July through the third week of October and a lot of research went into which properties to bid on. We won three properties total. I was visiting friends at a place I volunteer called Arts and Scraps [on Dec. 6] and I was gloating about what an exciting deal we got and how excited we were to start renovating. And went to check on the house and take some more measurements. So that I knew what kind of supplies I needed to seal it up and found just a big mound of debris and rubble.
I had drove up because we were getting very antsy because our deed had not arrived. And we held our breaths during Devil's Night and hoped for the best and it made it through Devil's Night. There was no arson. So we were getting restless because we'd been instructed that we should not board it up until we received out deed. And I had texted my friend Jerry [Paffendorf] who runs Why Don't We Own This and Imagination Station and asked him if others had gotten their deeds yet and he said some had and some had not. And I was getting antsy and making the decision that I was going ahead and board it, even though you're not supposed to. Another woman on the east side had a squatter move in approximately the same day that she won her auction and was concerned that could happen as well or that arson could occur.
What have your communications with the Wayne County been like?
Our communications have been minimal with Wayne County. We've had more communications with Karla Henderson (Group Executive of Planning and Facilities for the City of Detroit); also Greg Holman (Special Projects Coordinator for the City of Detroit). They've been reaching out to other people and they've tracked down the Michigan Land Bank. And I spoke to Kim Homan, the director there. So that's where we've pursued it.
Are you taking any action?
We're not going to sue. It's pretty pointless. It would be a waste of a lot of people's time. It would be a waste of the legal system to try to sue over this. We're getting a little further with the media. Saying a little bit and pushing. I think we're at least making progress, that there's enough attention on this blunder, that they will work hard to make sure it doesn't happen again. Karla is working hard with us to find some properties that the city has access to and Kim Homan is working with a list that Michigan Land Bank has access to. And since they canceled our sale, I don't know if they're going to offer it to us for free or if they're going to offer us an equal property for sale. So that part I have been too confused to really understand -- what the offer will be. But they are working to offer us other properties we can look at and choose from.
I read something about you wanting to set up a website on the issue. What can you tell me about that?
I don't know if we'll plan a whole website, but certainly we'll have a few pages on our own sites and blogs to go over what's happened. I had a little bit of advice from people, but it wasn't enough to really feel safe with this process. We knew that it's confusing and can be risky if you're not used to Detroit and you're not used to buying properties. I hope to take the information that we've learned and struggled through that I hope to be able to post it and make it easy to find so that future people don't end up in the kind of situation like we had.
Have you heard of any other stories like yours since this has happened.
I did track down more houses that were bid on that I also found on the Michigan Land Bank demolish list and I drove up to Morningside and verified that the houses were, in fact, demolished. So no one that I know of has come forward in the media. I know that one of the bidders who bid the most at the Wayne County Auction, he just walked away from the properties. I don't know who else has been affected by it, but I have been reading online how other states handle these situations. It sounds like a very common problem in the world of surplus properties all around the U.S., that there's a lot of different entities involved and they don't always have up-to-date lists of properties. They don't always have standard procedures. ... I don't think this is only a Detroit problem. I read about a 16th century chateau that accidentally got knocked down in Europe. So this kind of stuff does happen.
I know you're concerned about this incident not being used to smear Detroit in the media -- and have pointed out that the mistake didn't involve anyone from city government. I was curious to know why you think Detroit is a good place to buy a property?

Well I moved here from New York and it doesn't feel right. It doesn't feel very kosher to me to move 700 miles to Detroit just to go invest in the burbs. I came here to be part of the changes going on in Detroit. And I'm a city person and I wanted to be involved in the changing and developing [of the city].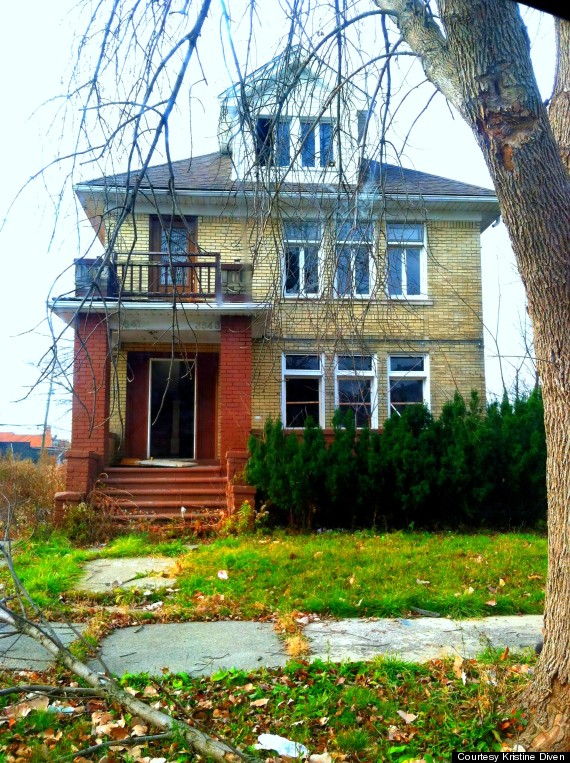 Kristine and Micho's house before demolition.
Also on HuffPost:
Loading Slideshow
Boston City Hall in Boston, MA

The centerpiece of Boston's Government Center, this Kallmann, McKnnell & Knowles-designed building has long been a source of controversy. Throughout the years there have been <a href="http://www.boston.com/business/articles/2011/03/16/after_many_false_starts_a_new_city_hall_plaza_plan/" target="_hplink">numerous proposals</a> to both preserve or demolish the building, but plans on both sides have been throttled. Lewis Butler of San Francisco's Butler Armsden Architects says the issue with Boston City Hall is more than skin deep. "Many people would love to see the Boston City Hall altogether removed, but I think the problem is more what was taken away from that part of Boston to construct the building, rather than the structure itself," he says. "I would like to restore the original neighborhoods in the area around the City Hall and give the new building a relationship with its old neighbors."

Barbie's Dream House in Malibu, CA

The first Barbie Dream House was introduced in 1961 and according to architect <a href="http://hopebuilds.com/index.html" target="_hplink">Hope Alexander</a>, the plastic pink palace has been corrupting young minds ever since. "For those of a certain age this 'building' did more aesthetic mind-twisting than any other structure in America," says Alexander. "Bring in the miniature wrecking ball."

Portland Building in Portland, Oregon

Meadowlands Xanadu in East Rutherford, NJ

If the governor of New Jersey is calling it bad (and the building is in New Jersey), then you know something has got to be wrong. Enter Meadowlands Xanadu (now called American Dream Meadowlands), a yet-to-be-completed retail and entertainment center in northern New Jersey. Ground broke on the project back in 2004, but when the economy tanked, progress halted and prominent politicians and community members voiced concern over the hideous facade. Just last year <a href="http://www.nytimes.com/2011/04/02/nyregion/02xanadu.html?_r=1" target="_hplink">New Jersey Gov. Chris Christie said</a>, "It's by far the ugliest damn building in New Jersey, and maybe America." <em>Ouch</em>. Now, with <a href="http://online.wsj.com/article/SB10001424052702303513404577355750203455944.html" target="_hplink">new developers, a new name and some heavy incentives</a> from the state, completion is slated for 2013. Can this eyesore be remedied before it's too late? Only time will tell.

EMP Museum in Seattle, Washington

Formerly known as <a href="http://www.empmuseum.org/index.asp" target="_hplink">The Experience Music Project</a>, a museum celebrating popular music and science fiction, this building was designed by none other than the famed Frank Gehry. Don't get us wrong--we adore Hanover's Gehry Tower, swoon over his Dancing House and hail LA's Walt Disney Concert Hall. But as one of our editors put it, "Even the best make questionable choices." Okay, so maybe it shouldn't be <em>demolished</em> and, sure, as others have noted, the whole thing is fairly fitting for hosting the largest collection of Jimi Hendrix memorabilia, but, admit it, from this angle, it's pretty hideous.

The Barclays Center in Brooklyn, NY

This center, part of the controversial Atlantic Yards development in Brooklyn's Prospect Heights neighborhood, is indicative of what happens when profits and politics trumps good design. The building, built by Forest City Ratner, is a neighborhood killer. The developer used evictions and demolition of historic resources to make room for a disproportionately large development. Sure, upon completion, the Barclays Center is set to play host to the NBA's Brooklyn Nets, but <a href="http://www.andrerothblattarchitecture.com/" target="_hplink">Andre Rothblatt of Andre Rothblatt Architecture</a>, who nominated the building as a building set for demolition, isn't sold.

Marriott Marquis Hotel in San Francisco, CA

Completed in 1989 the Marriot Marquis in San Francisco is often described as looking like a giant jukebox. It is one of is the most prominent towers along San Francisco's southern skyline, with plenty of open air to display the geometric chunks of concrete holding up the building's mirrored glass billows. Architect Daniel Ewald of <a href="http://www.eta-sf.com/" target="_hplink">Ewald Tajbaksh Architecture</a> calls it "a horribly cheap imitation of an art deco top constructed in reflective glass and grafted onto a generic tower." The jukebox is feeble, tacky, and garish. And those are the last three words anyone wants associated with San Francisco.

Thomas Kinkade Homes in Vallejo, CA

In 2002, when a press release announced "The Village, a Thomas Kinkade community," in Northern California's Vallejo, many journalists thought it was a joke, including <em>California Home+Design</em>'s Senior Editor Mary Jo Bowling. The late "painter of light" (he died this year) was known for his romanticized depictions of the English countryside, complete with Tudor-style homes and thatched-roof cottages--not the architecture one associates with Northern California. Alas, it was true. The result: McMansions with a British accent.

The Ascent in Covington, KY

The Ascent's curving crescent form was designed to maximize views while the blue and white blotchy grid pattern theoretically reflects the sky and river, but Architect Neal Schwartz is less than impressed. "Just when I thought <a href="http://daniel-libeskind.com/" target="_hplink">Daniel Libeskind</a>'s crass recycling of his single and dubious architectural idea had reached its apotheosis, I come across this 'gem,'" he says. Likewise, the interior of the building with its laser-like stripes of lights and mirrors on the ceiling and floor is just as lovely.

The J. Edgar Hoover Building in Washington D.C.

"In a city known for its architectural beauts, this oppressive 1960s concrete super-block creates a hostile presence in the capitol's streets," says <em>California Home+Design</em> blogger Dara Kerr. Since the late 1960s the building has played home to the Federal Bureau of Investigation. The fortress-like building might be perfect for keeping national secrets, but that's about all it's good for.

I-95 Freeway in Philadelphia, PA

It may not be a building, but Andrew Dunbar of San Francisco's Interstice Architects says that the City of Brotherly Love could stand to ditch this monstrosity. The I-95 was built along Philadelphia's waterfront when the car was a welcome guest in our cities. Sadly, Philadelphia is missing out on an opportunity that cities like San Francisco and New York have taken advantage of: making the waterfront a green zone for people. Currently, the only way to see Philadelphia's waterfront is speeding past in a car.

Kaden Building in Louisville, KY

"Growing up, I loved this building because its distinctive patterns resembled my favorite lacy Barbie's dress," says <em>California Home+Design</em> Senior Editor Mary Jo Bowling. But time marches on and tastes change, as they have since this building was constructed in 1966. Today, the exuberant pattern and awkward roofline feel as outdated as go-go boots with round toes and chunky heels. Louisville is emerging as an artistic city with a creative spirit. They can do better.

Mall of America in Bloomington, MN

With its sheer size and generic stores that you would find at any other strip mall in America, Neal Schwartz of Schwartz and Architecture claims that the Mall of America itself is the "poster child for quantity over quality." Says Schwartz on the billions spent on the Mall's creation and maintenance, "One has to wonder what the city itself might have been had these resources gone back to its downtown core." Look out, the Mall is getting even bigger (and likely uglier) with expansion plans coming early next year.

Trump Tower in New York, NY

Architect Hope Alexander doesn't seem very impressed by The Donald, nor does she seem impressed with his taste in buildings. Sitting at the corner of NYC's Fifth Avenue and East 56th Street, the 68-story building is a symbol of 1980s excess. The building is known for its heavy-handed use of brass, mirrors and pink-hued Breccia Perniche marble. "Donald Trump can't seem to drop this inane Obama 'birther' issue, so perhaps the Trump Tower should be dropped instead," says Alexander. "Who would really miss it? You're fired indeed."

New Mint in San Francisco, CA

Opened in 1937, the New Mint in San Francisco isn't exactly "new" and it doesn't seem to be getting any better with age. The building no longer produces circulating coins for the <a href="http://www.usmint.gov/about_the_mint/mint_facilities/index.cfm?flash=yes&action=SF_facilities" target="_hplink">US Mint</a>, though it does still produce proof coins. Architect Tom McElroy calls it, "A waste of prime real estate that's encased behind barbed wire. What's the point? What exactly is going on in there? Send in the wrecking ball!"

MetLife Building in New York, NY

You can't avoid it and you certainly can't forget it; the MetLife Building, originally known as the Pan Am Building, has faced severe criticism since its 1963 inception thanks to its poor proportions and massive footprint. Obstructing the views of some of the city's most famed landmarks, architect <a href="http://www.butlerarmsden.com/" target="_hplink">Lewis Butler</a> suggests "removing it to restore the Park Avenue Corridor and expose Grand Central Station." No one wants to pass the MetLife on their morning commute. It's almost as if it was built solely to make New Yorkers cringe.

Daly City in San Mateo County, CA

"Sometimes one building just won't cut it. There are entire communities here that should be re-envisioned," says Architect Lewis Butler of Northern California's Daly City. The city annexed the famed Westlake neighborhood (known for its Googie-style architecture) in 1950s, which may prove reason for debate. Still, says Butler, "Daly City is an early example of a planned, large-tract suburb and terrible development."

The Ziggurat Building in West Sacramento, CA

Sacramento never gets much respect in California--even its nickname, "Sac-Town," is rather unflattering. The Ziggurat Building located in West Sacramento isn't that flattering to the eye either. Architect Daniel Ewald of Ewald Tajbaksh Architecture definitely doesn't hold it in high regard: "A ten-story office building in Sacramento? That says it all."

AT&T Central Office in Houston, TX

As if going into work isn't depressing enough, imagine heading to this nearly windowless monstrosity. Admittedly, Houston's got its fair share of not-so-lovely buildings (just <a href="http://blogs.houstonpress.com/hairballs/2009/11/10_ugliest_buildings_houston.php" target="_hplink">check out the list</a> curated by the local paper), but this one takes the cake thanks to its foreboding facade. Couldn't they have taken the time to completely remove the former Southwestern Bell logo?

8500 Melrose Ave., in Los Angeles, CA

There are several buildings that run neck and neck to win the title of LA's ugliest building (popular real estate blog Curbed Los Angeles has even <a href="http://la.curbed.com/archives/2007/04/here_it_is_your.php" target="_hplink">hosted competitions</a> to determine which building is the most awful). Lewis Butler says that the every LA highrise--with the exception of John Portman's Bonaventure building--should be torn town. But, according to Cathy Johnson and Rebecca Rudolph of <a href="http://designbitches.com/" target="_hplink">Design, Bitches</a>, the clear winner is the black-and-white, pink-trimmed <a href="http://articles.latimes.com/2005/jan/29/entertainment/et-melrose29" target="_hplink">mini-mall on the corner of Melrose and La Cienega</a>. "Maybe we would let the building stand as a monument to ugliness," says Rudolph.

Morris A. Mechanic Theater in Baltimore, MD

Formerly Baltimore's premier performing arts theater, the now vacant Morris A. Mechanic Theatre has made plenty of "ugliest buildings ever" lists. Opened in January 1967, the building has long been a sore spot for Charm City residents. In May 2012 <a href="http://www.baltimoresun.com/news/breaking/bs-bz-mechanic-theater-demolition-20120501,0,2054658.story" target="_hplink">a developer filed a petition</a> to demolish the building and replace it with a new development. All we can say is good riddance.

Oakley Headquarters in Orange County, CA

Let's be real: Unless you're a serious athlete or, um, <a href="http://images.teamsugar.com/files/upl2/1/15259/19_2009/34fdbff5ffd5cae1_GuyFieri.xlarger.jpg" target="_hplink">Guy Fieri</a>, Oakley sunglasses haven't been cool since 1997. And their Star Wars-esque headquarters, built as "<a href="http://www.oakley.com/about" target="_hplink">a monument to the machine age, a building designed to honor invention</a>," hasn't been cool since, well, ever.

Phillip Burton Federal Building in San Francisco, CA

This big black box was once described by architectural critic Alan Tempko as "a monument to bad government." Architect Andre Rothblatt agrees, saying, "I describe the building design as an imposing and bland monolith that is the picture of bogged-down bureaucracy."

Geisel Library at the University of California, San Diego in La Jolla, CA

For a building that is named after Dr. Seuss (real name: Theodor Seuss Geisel), one would think this building would be more fun than futuristic. Again, maybe we wouldn't completely tear this one down, but, really? If a building is so funky looking that it inspires full-blown urban legends that it appeared as a spaceship in <em>Close Encounters of the Third Kind</em>, <em>Star Trek</em> and <em>Attack of the Killer Tomatoes</em>, maybe it's time to reconsider your design choices.

Denver Public Library in Denver, CO

While we appreciate architect Michael Graves' attempt to break out of the box, this postmodern project is a slight catastrophy. Funky can be good, but this is just fugly.