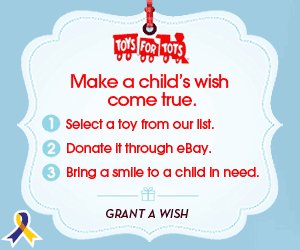 Tis the season for giving, and with that, a great deal of young girls and boys to cross off our collective shopping lists.
For every child in our lives with a wish list, however, are many more needy children who aren't guaranteed a merry Christmas, which is why eBay has teamed up with Toys for Tots to match every donation made through their "Give One" program.
There's never been a more important time to get involved and lift the spirits of a child during this holiday season. Major Bill Grein USMC (Ret), the Vice President of Marketing and Development for Toys for Tots says, "At the beginning of December toy donations to Toys for Tots were down by 1 Million versus last year."
"It's very simple — when you donate a toy to Toys for Tots, eBay will also match that toy," says Glee's Darren Criss. "So when you're donating one toy for Toys for Tots, you're essentially giving two toys, which is pretty nifty."
Purchasing a toy for a child in need has never been simpler, and to make it even more so, our editors have partnered with eBay to present our picks for can't-go-wrong gift ideas below, featuring some of the year's hottest toys showcased at NY Toy Box Experience.
View Our Slideshow of Great Gifts You Can Give With Just One Click
Make A Child's Christmas With Just One Click
Click here to give this toy! An icon of gaming, Mario had a good year to say the least. With the November release of the Wii U console and a slew of new titles (Mario Party 9, New Super Mario Bros. 2, Paper Mario: Sticker Star, and New Super Mario Bros. U) under his belt, 2012 has seen the eponymous plumber in 2D, 3D and now in real-D with Nintendo's first wave of action figures from the famous franchise. It may not be the latest Wii U system, but at 9 inches and a fraction of the cost, this collectible Mario from the Mario Galaxy series will provide gamers young and old the joy of gaming's greatest icon. No joystick required. Click here to browse more from Nintendo.

Click here to give this toy! They're on every phone, tablet, and computer--and now every kid's wish list, with the mammoth gaming franchise's latest foray into the stars--Star Wars, that is. These Angry Birds plushies are the perfect throw-toys for your little Jedi-in-training and come detailed as your child's favorite characters from "a galaxy far, far away." Click here to browse more from Star Wars.

Click here to give this toy! What's old is new again this holiday season. Making its way to 2012's wish lists is the new and improved iteration of 1998's must-have toy with a variety of fun colors for every girl and boy. Just as talkative and playful as ever, the interactive toy with a mind of its own develops its own personality based on how you care for it. Speaking Furbish out of the box, each Furby also comes with a free App to help you translate its quirky language until it develops English words over time. Click here to browse more from Furby.

Click here to give this toy! What would a holiday wish list be without the classics? 52-years-old and she hasn't aged a day, Barbie is available in more variations than ever--from mermaid to movie star, and every personality and career in between to suit any little girl's dreams. Click here to browse more from Barbie.

Click here to give this toy! One of the year's biggest trends in toys just happened to be one of the biggest trends in child education--the tablet. Kids love them for all the reasons adults do, and now you don't have to share your iPhone and worry that a long distance phone call might be made during a game of Angry Birds! The Vtech Brilliant Creations tablet keeps them entertained and focused--a new, exciting way to learn. Click here to browse more tablets.

Click here to give this toy! Give the gift of style to a blossoming fashionista courtesy of the original glamour icon, Minnie Mouse. The Minnie Mouse Fashion Corner Tent includes a cameo from Daisy Duck, because other than a beautiful bow, a girl's best accessory is her best friend. Help a deserving child own the runway with this season's must have fashion staple. Click here to browse more Minnie Mouse.

Click here to give this toy! There was no hiding from the fact that this was a big election year--even for those too young to vote. This year you can give a future Commander-in-Chief a glimpse into life at 1600 Pennsylvania Avenue with LEGO. Complete with a booklet on the design and history of the most famous residence in the world, this Lego set makes learning fun! Click here to browse more from LEGO.

Click here to give this toy! Every kid yearns for the day they get their driver's license--until they grow up and driving becomes a chore. One part of the fantasy never dims, however: the desire for a really awesome car. What's better than a really awesome car? Twenty of them. The Hot Wheels 20 Car Gift Pack is sure to speed up the holiday cheer for a deserving child. Click here to browse more from Hot Wheels.

Click here to give this toy! Music has been proven to play a huge role in the development of children; and more than ever before, young acts are topping the charts! The Dora Boombox let's kids create the playlist for the soundtrack to their youth. Give a child the gift of music, and in a few years you might just be humming their #1 single on the drive to work. Click here to browse more from Dora.