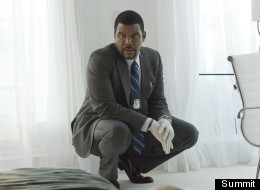 The worst movies of 2012 have one thing in common: This new video compilation put together by Film.com which highlights instances of onscreen characters complaining loudly about "train wrecks" and "bad ideas." (Another thing the worst films of 2012 have in common: badness.)
From "That's My Boy" to "A Thousand Words" to the Tyler Perry two-some of "Alex Cross" and "Madea's Witness Protection," the worst of 2012 represents itself in the video above. Watch the worst movies of 2012 review themselves.
[via Film.com]
RELATED: Moviefone's Worst Movies of 2012
Or: the sequel no one was clamoring for. "Avatar" heartthrob Sam Worthington returned to his sweaty loincloth as Perseus, the son of Zeus (Liam Neeson). He's set on some asinine quest, the details of which have become foggy in the sixth months since we had to suffer through this half-hearted monster mash. Here, he battles a bunch of unimaginatively designed creatures (one spits lava or something), and eventually his father teams up with his mortal enemy Hades (Ralph Fiennes) so they can kick the ass of the evil Titans, who look like giant rock men. It's all terribly dull, even more so thanks to the noxious combination of handheld camerawork and post-converted 3D, which gives the entire movie a muddy, foggy look, like it was shot through a tall glass of swamp water. The worst part of "Wrath of Titans," though, might be its success -- it made enough money overseas to probably warrant another film. Ye gods!

Imagine the unrealized third "Escape from New York" movie, which John Carpenter and Kurt Russell toyed around with, called "Escape from Earth." Now imagine it's totally horrible. That's what "Lockout" is. Substitute the nuclear-powered charm machine that is Kurt Russell with a smirking Guy Pearce, and practical effects with some of the worst CGI ever exhibited in a major motion picture, and you're starting to get a better sense of the film. Even worse: when it was released in America, much of the gooey violence that was in the European cut was surgically removed, leaving an even more toothless, exponentially silly sci-fi romp. Were it not for a couple of winning Pearce moments, I'd want to shoot this movie into the cold, dark recesses of space.

Recently, someone of repute said that videogame adaptations would be the comic-book adaptations of the next decade. However, based on this pair of tired, cartridge-inspired movies, that doesn't seem likely. Both are horror-themed and were released in 3D, so it really felt like you were in the same room as someone else playing the videogame. "Resident Evil" was the umpeteenth iteration of the tired franchise, which has devolved into Mila Jovovich running away from rubbery, computerized monsters while wearing skintight leather ensembles that Trinity from "The Matrix" wouldn't touch with a ten-foot pole; "Silent Hill" was the sequel to a movie nobody remembers in the first place, and featured a character named (and I wish I was making this up) Pyramidhead. There was also an actor from "Game of the Thrones" featured predominantly in "Silent Hill: Revelation," which is such a coincidence because the entire time I was wishing a direwolf would enter the theater and eat off my face, to spare me from having to finish watching the movie. Game over.

Independent comedies don't get much more witless than "Nature Calls," a painful exercise in humiliation for both the actors and whoever has to watch this piece of garbage. (You should get a merit badge for sitting through it.) What's even more shocking is the top-rate talent assembled for this unmitigated disaster -- comedy luminaries like Patton Oswalt, Johnny Knoxville and Rob Riggle. (It also features one of the last performances by Patrice O'Neal.) Foul-mouthed and totally stupid, the plot basically has Oswalt's character kidnapping a bunch of kids and taking them into the woods. Instead of murdering them, though, as you would expect given the scenario, he wants to teach them how to be great boy scouts (or whatever). It's sort of the inverse of "Moonrise Kingdom," in that "Moonrise Kingdom" was about a wilderness scout who leaves his troop, and also "Moonrise Kingdom" was funny and charming and inventive and all of the things that "Nature Calls" is not.

There were a lot of lousy horror movies that were released in 2012, but most of them have faded away in my memory, mercifully lost to the sands of time. "House at the End of the Street" stands out, though, for its totally sustained awfulness, the ugliness of its misogyny and the fact that it stands as a black mark on the otherwise peerless 2012 record of Jennifer Lawrence (even if it was filmed years ago and released by canny distributors looking to cast on her newfound superstardom). The tale of a sexy, amiable young girl (guess who plays that?) who falls in love with a dude that might be a fearsome serial killer, it was trying to mix the forbidden romance of "Twilight" with something far ickier and more in the flavor of "Silence of the Lambs." Fans of either film would be bitterly disappointed, and anyone with a right mind would be turned out by the disgusting misogyny on display. Maybe Lawrence could shoot an arrow through this movie once and for all.

"Total Recall," a sketchily rendered remake of Paul Verhoeven's immortal, razor-sharp sci-fi movie, jettisoned much of the original's charm, humor and over-the-top violence (which, at the time, was a mocking send-up of Reagan-era action movies). The new film instead focuses on a man (Colin Farrell, much better than the material), who discovers that he is a secret agent and the key to a revolution. Gone is any reference to Mars or mutants; instead it's been replaced by a conventional chase scenario and a pair of blank performances by Kate Beckinsale and Jessica Biel.

Why in the world were two horrible horror movies, with eerily similar titles, released in two subsequent weeks? Do the movie studios get together and try to decide the best way for no one to make any money? Anyway, "The Possession" had kind of a cool premise -- it was about a haunted box that a little girl buys at a yard sale. Subsequently, it possesses her and makes life a living hell for her father, who's played by Jeffrey Dean Morgan. It tried to be a kind of Jewish version of "The Exorcist," but it lacked that movie's spritely intelligence, visual panache and inquisitive spirit. "The Apparition" followed a group of grad students as they tried to conjure forth a spirit using their thoughts. Again: a cool idea, but also mired in lackluster execution. It was somewhere between a mid-level "Nightmare on Elm Street" entry uncomfortably grafted to a season four episode of "Buffy the Vampire Slayer." The results were uneven at best, and painfully boring at worst.

This movie should have been so cool: a historical thriller about a serial killer who models his crimes after Edgar Allan Poe short stories, which causes the local constable to enlist in Poe's skills to help solve the case. Ghastly tableaus! Drunken genre authors! John Cusack as Poe! How could it go wrong? Well, in a million and one ways, really. The direction, by "Ninja Assassin" auteur James McTeigue, is listless and light on suspense (it is, however, graphically violent). The whole movie looks and feels cheap. What's worse, it seems poorly researched; like it was made by a bunch of people who had never actually, you know, read Poe. It's especially frustrating that Louis Bayard's brilliant, breathless novel "The Pale Blue Eye," which imaged a young Poe assisting in a murder investigation while attending West Point (a bit of historical/biographical miscellanea that serves as a brilliant setting), remains damningly unmade. And now that "The Raven" was a critical and commercial disaster, it probably never will.

A multi-million-dollar franchise based almost exclusively on doors slowly opening in the background of fuzzy camcorder footage finally runs out of gas for good in its fourth installment. The problem is that this entry sticks doggedly to the formula (security camera footage of ghosts, creepy children and the aforementioned slowly opening doors) while trying, somewhat listlessly, to expand the "mythology" of the series (apparently, it now involves witches). To rub salt in the wound, a couple of weeks before "Paranormal Activity 4" opened, Barry Levinson's super-clever found footage riff on "Jaws," "The Bay," was released in theaters and iTunes to deafening silence. That film had a sense of humor and a sharp satirical edge (and, you know, real scares), but was overshadowed by this dumb-ass sequel. 2012 was the year when the found footage genre was stretched and expanded, with things like "Chronicle," "V/H/S," "Project X" and "[rec] 3," but "Paranormal Activity 4" was a very loud reminder of how confining and tedious the format can be when placed in the wrong hands. Still: next Halloween, look for "Paranormal Activity 5." Woof.

It's not exactly a "good omen" when you can't even tell that there were two filmmakers involved in the same project, because the movie is so hopelessly bland and anonymous. But that's what befell "Chasing Mavericks," a true-life surfing movie that somehow manages to be more grim and cynical than the God-triumphs-all melodrama of "Soul Surfer." All this despite the considerable star power of Gerard Butler, whose face is perpetually framed by damp curlicues of hair, and who seems just as confused as you, as to why he is starring in a movie about surfing. (He almost drowned on the set -- yet another bad omen!) The surfing sequences are occasionally rousing, but they are housed in such a mirthless bore that it's hard to get all that worked up. It's a huge wipeout, dude.

Well, the question was posed: could Tyler Perry carry a movie that isn't one of the gaudy slapstick comedies he himself writes, produces, directs and stars in? The answer came back, in the form of "Alex Cross," as a resounding no. Based on a series of popular novels by James Patterson, it cast Perry as the tortured profiler Alex Cross (a role originated, in a pair of marginally better movies, by Morgan Freeman), who runs afoul of a crazy serial killer, played, with wild-eyed intensity, by a severely gaunt Matthew Fox. Featuring a loose collection of utterly silly suspense set pieces, the movie was eye-rolling in its banality and anonymity. While it looked and sounded like a police procedural you could find on basic cable any night of the week, it was infinitely longer and more abrasively violent. Also: totally stupid. Time to put the fat suit and the dress back on, Mr. Perry.