Detroit Books Published In 2012, From Sports History To Literary Fiction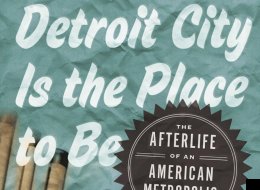 As winter finally hits Detroit, we're suddenly hit with the urge to stay inside and curl up next to a fire with a mug of hot cocoa (perhaps with a liberal dose of peppermint schnapps) and a good book. But that doesn't mean we're done thinking about Detroit -- we never really are.
Fortunately, many an author, like photographers and filmmakers before them, focused on the city this year. One delved into the city's architecture, another chronicled the city's greatest export -- not cars, of course, but the Coney Dog. A couple beautiful photography books would make excellent last-minute gifts, and several authors penned serious takes on the city's history and future, if your New Year's resolution is to read denser fare than mystery novels (there's one of those, too.)
The only thing we're missing: we wish we had more fiction to include on the list, so we could prove New York Times reviewer Adam Langer wrong when he wrote, "it's almost as if novels themselves had had to flee the post-1960s urban blight."
So get writing, future novelists! For background and inspiration, check out our list of the best books published this year about Detroit. If we left out your favorite, tell us in the comments, and happy reading!
Belle Isle to 8 Mile: An Insider's Guide to Detroit by Andy, Emily and Rob Linn, is a hot-off-the-presses guidebook to the city with more than 1,000 entries -- for the tourist, occasional visitor and longtime resident. The three siblings, who have their hands in many city projects, solicited the advice of hundreds of Detroiters to fine-tune their guide.

Detroit: 138 Square Miles by Julia Reyes Taubman. Taubman took more than 35,000 photographs before choosing more than 400 to fill this tome that documents the city's landscape.

American Icon: Alan Mulally and the Fight to Save Ford Motor Company by Detroit News journalist Bryce Hoffman gives a behind-the-scenes look at the car company's resurgence with Mulally at the helm. From one review: "This is business history that reads like a murder mystery or a romance novel!" That's our kind of book.

Detroit Breakdown by D.E. Johnson is a historical mystery where protagonist Will Anderson fakes his way into Wayne County's Eloise Insane Asylum to investigate Phantom of the Opera-themed murders. Danger, suspense and unpleasant 20th century psychiatric treatments ensue!

Found Photos In Detroit by Arianna Arcara and Luca Santese is the result of the two Italian photographers' visit to Detroit for an assignment in 2009. According to NPR, the two artists found old photographs in the city and amassed more than 1,000, a couple hundred that made it into this stirring book. "We thought we could do a better job working on this material that was actually taken from the people that lived in that town ... instead of taking pictures of the aftermath of the crisis," Arcara told NPR.

The Glory Years Of The Detroit Tigers 1920 - 1950 by William Anderson is full of black and white photographs of Tigers past. Though it includes many details about games and stats, it's not just for sports history fanatics -- the book also chronicles, in words and photos, the lighter and odder moments in the three decade period when the Tigers won four pennants and two World Series.

Detroit City Is The Place To Be by Mark Binelli examines the city's crises and possible futures. If that sounds all too familiar, take pleasure in the writer's sharp wit, evident in a Q&A with The New York Times: "Detroit's main problem is that it has no tax base, and so can't provide basic city services to its remaining residents — who, quite sensibly, continue to leave the city in droves, further eroding the tax base. You could make Mike Bloomberg the mayor of Detroit tomorrow and he wouldn't be able to change that math. Unless he started writing personal checks."

Detroit's Historic Places of Worship by Marla O. Collum, Barbara E. Krueger, and Dorothy Kostuch. Photographs by Dirk Bakker and a foreword by John Gallagher. The stunning photos in this survey of Detroit's churches are arranged chronologically, so it serves as a history of Detroiters' faith beginning in the 1800s.

Forgotten Landmarks of Detroit by Dan Austin follows his book Lost Detroit and delves into the stories behind notable architecture of the city's past. The Detroit Free Press copy editor and HistoricDetroit.org founder examines 15 landmarks that have since been destroyed, like the city's first skyscraper, the precursor to the Detroit Institute of Arts and old City Hall.

An ode to Detroit's signature hot dog and the restaurants that serve them, Coney Detroit by Katherine Yung and Joe Grimm might not appeal to those indifferent to a coney's charms -- but who would that even include? From the Lafayette vs. American feud to the secret to the perfect hot dog buns, Coney Detroit is the book you didn't know you needed.

The Unreal Estate Guide to Detroit by Andrew Herscher examines "alternative urban cultures" in Detroit and what happens after land loses its traditional value. The Guide looks at "art and curatorial practices, community and guerilla gardens, urban farming and forestry, cultural platforms, living archives, evangelical missions, temporary public spaces, intentional communities, furtive monuments, outsider architecture and other work made possible by the ready availability of urban space in Detroit." Pro tip: You can also read the book for free online.

Detroit's Delectable Past: Two Centuries of Frog Legs, Pigeon Pie and Drugstore Whiskey by Bill Loomis looks at the food customs throughout the city's history, from typical meals to our long-running love of booze.

Say Nice Things About Detroit by Scott Lasser, a novel, touches on murder, affairs, family duty, and a (perhaps overwrought) plea for Detroit's revitalization. Try to pretend you're not intrigued.

Detroit: A Biography by Scott Martelle offers ideas about the city's current problems through the lens of its history.

Driving Detroit: The Quest for Respect in the Motor City by George Galster, an urban planner at Wayne State University, tells the city's story through a variety of academic disciplines, as well as artistic output and oral histories from residents.