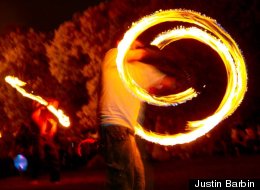 With 2012 nearing its conclusion, HuffPost Chicago reached out to some of city's most prolific trendsetters and thought leaders in style, music and culture and asked them to share some of their favorite local places and things from the year. We'll be rolling them out on the daily through New Year's Day.
Kicking off the series, we asked Justin Barbin, fashion and event photographer and our very own resident street style blogger, to share his picks for the year's most happening parties and nightspots in the Windy City.
Below are his top 10 picks -- ranging from high-profile retail openings to all-night ragers -- as documented through his lens.
Best Chicago Parties & Nightspots Of 2012
Hundreds of Chicago's young professionals packed the multi-purpose space of The Den Theatre to celebrate the inaugural bash for The Numbered Days. With its main purpose to "create a community of passionate, innovative people who want to share ideas and take action," the night was packed with attractive, friendly people in a unique space featuring music from DJs Clash Gordon and Sam Preacher.

The theme for the bash was "Connections," so each guest was encouraged to write their name on a board and draw lines to whomever they were connected to. By the end of the night, the board was filled with a frenzy of criss-crossed lines, new connections, and new friends. Stay tuned for the next Numbered Days loft party on January 26!

Theatre folk know how to throw a party and Redmoon Theater did just that with their annual Boneshaker Halloween Bash, which lived up to the stunning visual artistry for which Redmoon productions are renowned. Imagine those Halloween parties you see in movies where the liquor is overflowing and everyone put some effort into their costumes and you've got an evening here. Along with a five-hour open bar and a visit from the Babycakes food truck, guests enjoyed access to a temporary tattoo artist, various circus performers, a photobooth, and lounges. A live set by The Talking Deads and DJ sets from White Russian and Chaz Vrba kept the guests rocking out all night. To spice things up even more, Redmoon debuted a mobile DJ station that rolled around the dance floor and special spectacles (many having to do with fire) happened every half hour. Redmoon knows how to do Halloween right.

The annual Green Tie Ball was held at A. Finkl & Sons and featured an extravagant Alice in Wonderland theme. Chicago Gateway Green, dedicated to greening and beautifying the regions' expressways, gateways and communities, played host to this fantastic charity event. ABC7's Windy City Live's Valerie Warner and Ryan Chiaverini co-emceed the festivities which featured performances by Redmoon Theater, a DJ set by Pete Wentz, and cover band South of 80 who closed out the night.

Gourmet food from over 70 Chicago restaurants (including III Forks, Public House and 25 Degrees) were served under a sprawling three-tent set up that also included a casino, lounge area and silent auction. This incredible evening saw Chicago's finest citizens dressed to the nines which included Alexi Giannoulias, Roe Conn, Richard Roeper, Grant DePorter (Chairman of Chicago Gateway Green and President of Harry Caray Restaurant Group), Corri McFadden (co-chair of the ball), and Donald DePorter (co-chair of the ball).

Find the hidden doorway, follow the rules, and don't talk on your phone. This is The Violet Hour. Heralded by GQ, Esquire, and Details magazine as one of the best bars in America, the main draw for this swanky establishment is their nationally-renowned cocktail recipes.

There are no bartenders here just "chemists" who will teach you a thing or two about sophisticated drinking. Heavy velvet drapes, high-backed leather chairs, and intimate alcoves define the luxurious décor of Violet Hour which harkens back to the speakeasy days of the 1920s. This establishment has been open for a few years now, but this was definitely my go-to spot for intimate gatherings with friends this year.

This is the perfect spot to end the night since the doors stay open until 4 a.m. (5 a.m. on Saturdays!) Focused on dancing and having a good time, this won't be your place for a quiet conversation or to put your feet up, so be ready to boogie. Two levels each with its total-request DJ (the top floor spins modern beats while the basement features oldies and guilty pleasures) and five different themed bars spread throughout a maze of decorated rooms keep you moving and liquored up long into the wee hours of morning. Make sure to get on stage for a drunken sing along that gets broadcast via live feed throughout the bar (don't worry, it won't be kept on their records...I hope.)

"Luminous Fields" gave seasoned Chicagoans another reason to visit Cloud Gate (a.k.a. The Bean) besides being a tour-stop to visiting guests. The interactive light show (the first artistic installation involving The Bean) was crafted by Luftwerk, a Chicago-based collaborative vision of Petra Bachmaier and Sean Gallero, with original music composed by Owen Clayton Condon of Third Coast Percussion.

Lasting 10 days (which included Valentine's Day), "Luminous Fields" was the perfect nightspot for snuggling with your boo on a frigid winter's night while being immersed in a psychedelic light show extravaganza.

The Lookingglass Theatre hosted its annual Madhatter's Ball complete with acrobats, crazy costumes and the requisite debauchery at the newly-opened Riverfront Theater in River West. A 70-foot-tall tent played host to this circus-themed soiree that featured breathtaking acrobatic performances from The Actors Gym. For those who couldn't get enough partying, Lumen Nightclub hosted the official afterparty with an array of scantily-clad circus folk.

More than 800 Chicagoans gathered at the summer's most unique fundraiser, helping Lookingglass raise over $54,000 to advance their commitment to creating new theatrical work and increasing its work with Chicago-area students and families through educational and community programming.

Taking place along the shores of Lake Michigan from spring through fall, this unique nightspot brought a piece of Burning Man to The Windy City. Fire dancers and local musicians united for a mesmerizing display of spinning fire and percussive beats all featuring Chicago-area artists.

Perfect for the whole family and filled with friendly spectators, what could make this any better? It's completely free – just remember to pick up after yourself!

2012 can be put down in history as the year Dimo's stood up to "The Man." Formerly known as Ian's, Dimo's came about after opting out of an Ian's franchise deal. Long live small businesses and incredibly innovative pizza! S'mores, Mac 'n Cheese, and Crab Rangoon pizzas are just a few of their award winning creations that span the sweet and savory spectrum of flavors. Make sure to check back weekly to see a new featured specialty pizza. This Wrigleyville staple is the perfect stopover after a long night of bar-hopping through Chicago's bro-iest neighborhood -- There's no better place to get your 'za on than at Dimo's, brah.

Burberry Chicago unfurled a beige carpet (in lieu of red) to herald the grand opening of its latest masterpiece down Michigan Avenue. The British fashion house made it rain confetti along the Magnificent Mile as a parade of gorgeous models dressed in iconic Burberry trench coats armed with umbrellas stood guard at this exclusive invite-only affair.

All of Burberry's five stories were jam-packed with Chicago's most fashionable for an evening that included appearances from Burberry Chief Creative Officer, Christopher Bailey, Billy Dec, Chef Art Smith, and more. A rousing performance from Carl Barat and music from DJ Matt Roan rounded out one of the best parties Michigan Avenue has seen in recent years.