President Obama's Hawaii Vacation Wardrobe Leaves Much To Be Desired (PHOTOS)
President Obama can wear a power suit with the best of them, but he often runs into trouble in his off-duty wear. We were painfully reminded of this when we glimpsed a pic of POTUS on his annual Christmas vacation in Hawaii, where he had been sunning with Michelle, Sasha and Malia since Saturday. (Word has it that he jetted home today to deal with the fiscal cliff.)
On Christmas Day, the president and first lady paid a visit to military families at Marine Corps Base Hawaii and joined them for their holiday dinner. Michelle greeted the crowd in one of her chicest go-to summer outfits, a black and white Narciso Rodriquez bubble dress, with her new ubiquitous headband. But President Obama, bless his heart, was basically a mess: baggy pleated khaki pants and a billowing turquoise button-down shirt... with short sleeves. Oh, and it was tucked in. With a belt.
We can tolerate a bright hue (Michelle Obama has certainly worn her fair share), but with men's clothes, fit is key. Obama's shirt is too big around the waist, the shoulders and the sleeves. The pants are too roomy at the top, too long at the bottom and wrinkled to boot.
Listen, we've griped about his dad jeans, which even he admitted weren't the best. ("I'm a little frumpy" were his exact words.) But we've gone a while since seeing the baggy denim -- we thought we were out of the woods.
Apparently not. Good thing POTUS is headed home today and back into the comforting wool of his power suits. We can all breathe easy now.
PHOTOS: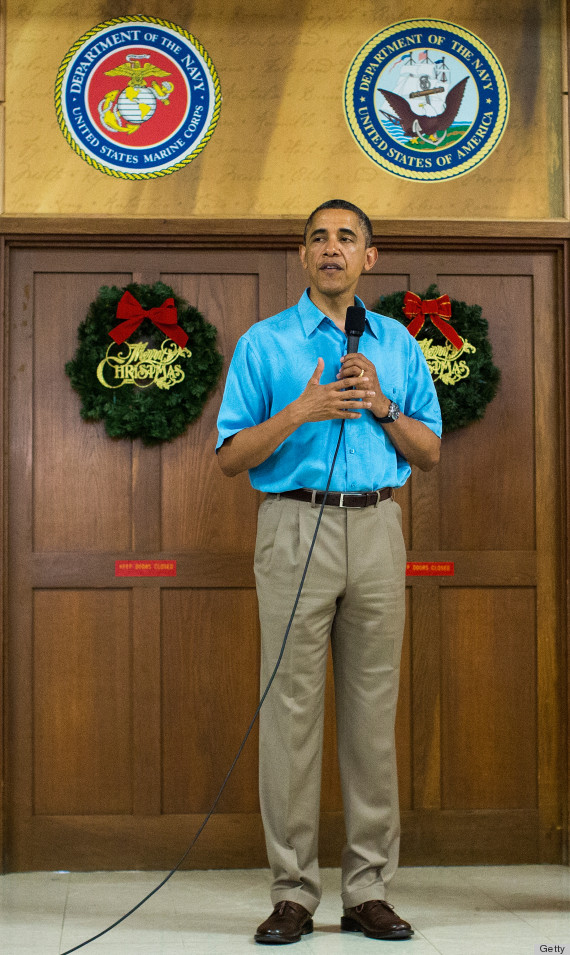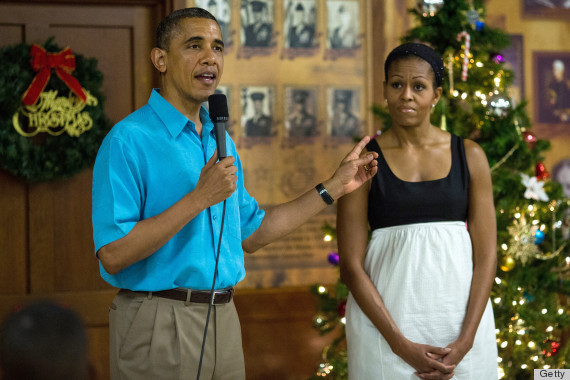 See more embarrassing moments, sartorial and otherwise, from presidents' vacations:
Most Embarrassing Presidential Vacation Photos
Ok so he was Vice President at the time, but the '80s really weren't kind to anyone, including Bush and his son, Jeb (seen here in August 1983). (Photo by Cynthia Johnson/Liaison)

George H.W. Bush reacts to a putt missed by Jeb while on vacation in Kennebunkport, August 1989.

George H.W. Bush walks the wintery streets of downtown Kennebunkport while on vacation in 1989. We know it's cold in Maine in the winter, but this hat has got to go.

Bush1 reacts to a missed putt while playing golf with Bush2 at Kennebunkport's Cape Arundel Golf Club while on vacation in August 1990. Bush2's look is totally priceless--and nice hats fellas.

George H.W. Bush reacts to a shot he took while on vacation in November 1992 in Boca Grande, FL.

Then President-elect Bill Clinton took a run during his stay on Hilton Head Island, South Carolina for Renaissance Weekend, December 31, 1992. Just no.

Then president-elect, Clinton played volleyball in Santa Barbara in November 1992. (PAUL RICHARDS/AFP/Getty Images)

Clinton was really into the game on Hilton Head on New Year's Eve 1993. (ROBERT GIROUX/AFP/Getty Images)

Why the sad face? President Clinton misses a putt on his first day of vacation in Martha's Vineyard in August 1993.

Mr. President--seen here in Arkansas in January 1995--just...don't. (PAUL RICHARDS/AFP/Getty Images)

See, presidents are just like us! The Clintons took the quintessential American vacation shot of the 1990s while white-water rafting on the Big Kahuna Rapids of the Wyoming's Snake River in 1996.

On vacation in Wyoming in August 1996. (Photo by Dirck Halstead/Liaison)

President Clinton scrutinizes the double scoop of blueberry ice cream he was served at Martha's Vineyard's Mad Martha's Ice Cream Shop in 1997. What is that not enough ice cream for you, Bubba? And don't get us started on Hillary's headband...we shudder at the thought of our own collection.

'I'm so happy to be swimming!" Clinton seems to say in this 1998 St. Thomas vacation photo. (PAUL J. RICHARDS/AFP/Getty Images)

President Clinton watches as his golf ball heads into the trees while on a Martha's Vineyard vacation in August 1999. (PAUL J. RICHARDS/AFP/Getty Images)

George W. sweats it out during a round of golf in August 2002. (PAUL J. RICHARDS/AFP/Getty Images)

Oh look, a 2003 Bush family outing around the Kennebunkport property on Segway scooters!

D'oh!

Ok, so he wasn't President yet, but this is no way to get yourself elected. Obama "rides" a wave in Hawaii in August 2008. (AP Photo/Alex Brandon, File)

On New Year's Eve in 2009, Obama made the classic golf player gesture as he watched a golf ball after putting at Mid-Pacific County Club in Kailua, Hawaii. (AP Photo/Chris Carlson, File)

Obama seems to have issues eating ice cream cones. This photo was taken while the family was on a weekend vacation in Bar Harbor, Maine on July 16, 2010.

Is the shaved ice really that cold? Obama takes a lick while on holiday vacation in Hawaii in 2010. (JEWEL SAMAD/AFP/Getty Images)

We're not really sure what this is about but we're betting he was worried about his 9th hole put in December 2010. (Photo by Cory Lum - Pool/Getty Images)

The President got a mouth full of little baby fingers on Christmas Day 2011 on the Marine Corps Base in Hawaii. (AP Photo/Carolyn Kaster)

The kid didn't know he's the president... (MANDEL NGAN/AFP/Getty Images)

...And another classic golfer reaction from the President while on vacation in Martha's Vineyard in August 2013. (AP Photo/Jacquelyn Martin, File)
Want more? Be sure to check out HuffPost Style on Twitter, Facebook, Tumblr, Pinterest and Instagram at @HuffPostStyle.