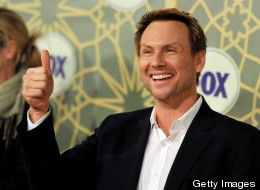 While 2012 has been a big year for movies, it also played host to some major box office bombs. Children's movie "Oogieloves In The BIG Balloon Adventure" famously crashed-and-burned, taking the title for the lowest-grossing wide release of all time, Tyler Perry's critically panned "Alex Cross" made $10 million less than its budget, and Gerard Butler's surfing flick "Chasing Mavericks" saw a total gross of just $5 million.
But the film that made the absolute least money this year? A little movie by the name of "Playback," starring Christian Slater. The horror film showed for one week at one movie theater, earning a total gross of $264. "Playback" played the week of March 16 - 22. Calculations from The Daily Mail show that approximately 33 people bought tickets to the movie to reach this total.
While Christian Slater provided the main star power to "Playback," the film also featured Johnny Pacar ("Make It or Break It") and Toby Hemingway ("The Black Swan"). The film, which had an estimated budget of $7.5 million, starred Slater as a crooked cop who is working to expose evil in his small town.
Slater's upcoming projects include a role in "The Power of Few" with Christopher Walken, and "Nymphomaniac" with Shia LaBeouf.
Box Office Turkeys In 2012
Opening Weekend: $11.5 million (Jan. 27) More like none for the money. Katherine Heigl's long-delayed romantic-comedy-thriller hybrid was ignored by audiences and slaughtered by critics.

Opening Weekend: $6.5 million (Feb. 24) Despite a charming cast (Paul Rudd, Jennifer Aniston), "Wanderlust" had one of the worst opening weekends of 2012.

Opening Weekend: $4.7 million (Feb. 24) Gone: Not just a title, but a way to describe this thriller's fast exit from movie theaters.

Opening Weekend: $30.1 million (March 9) With a price tag reportedly north of $250 million, "John Carter" needed a lot more than just $30 million on opening weekend to be considered a hit. It was reported that Disney lost as much as $165 million on this flop.

Opening Weekend: $6.1 million (March 9) Audiences didn't need a thousand words to dispose of Eddie Murphy's latest comedy bomb; two were sufficient enough. "No thanks."

Opening Weekend: $10.6 million (April 27) Another strong comedy that was cast aside by audiences, "The Five-Year Engagement" failed to recapture the glory of "Forgetting Sarah Marshall," the last collaboration between star Jason Segel and director Nicholas Stoller.

Opening Weekend: $7.2 million (April 27) Nevermore.

Opening Weekend: $29.6 million (May 11) Not a total bomb, but a turkey nonetheless. Despite the presence of Johnny Depp, Tim Burton's "Dark Shadows" failed to break $80 million overall in North America. Overseas, the grosses were a bit better, helping salvage what could have been a complete washout for Warner Bros.

Opening Weekend: $25.5 million (May 18) Because of a massive budget, "Battleship" was sunk.

Opening Weekend: $14.4 million (June 15) No encore for this Tom Cruise bust.

Opening Weekend: $13.4 million (June 15) Lo for the days of "Jack and Jill."

Opening Weekend: $3.8 million (June 22) This low-budget, low-stakes romantic comedy set against the backdrop of the apocalypse opened in over 1,600 theaters, which raises the question: Why?

Opening Weekend: $12.7 million (July 27) "Watch," said "The Watch." "Nah," said audiences.

Opening Weekend: $1.8 million (Sept. 7) The cold light of day shined on "The Cold Light of Day" and left the Lionsgate release with one of the worst wide-release openings of the year.

Opening Weekend: $6.2 million (Sept. 21) More like dread, right?

Opening Weekend: $2.6 million (Sept. 28) Maybe 20th Century Fox should have backed down. After debuting in 2,515 theaters, "Won't Back Down" now holds the record for worst saturated (2,500 theaters or more) opening of all time.

Opening Weekend: $11.4 million (Oct. 5) Tim Burton in 2012: 0-for-2.

Opening Weekend: $4.1 million (Oct. 12) Not even festival buzz could keep this film from earning a pittance on opening weekend.

Opening Weekend: $1.7 million (Oct. 12) Audiences shrugged.

Opening Weekend: $9.6 million (Oct. 28) With a budget of over $100 million, the box-office returns for "Cloud Atlas" were some of the most disappointing of the year. Too bad, since the movie is the kind of ambitious filmmaking that Hollywood rarely attempts. (Perhaps the ticket sales are the reason why.)

Opening Weekend: $2.2 million (Oct. 28) Wipeout.

Opening Weekend: $443,901 (Aug. 29) What list of turkeys would be complete without the biggest turkey of them all. Congratulations, Oogieloves ... whatever you are.